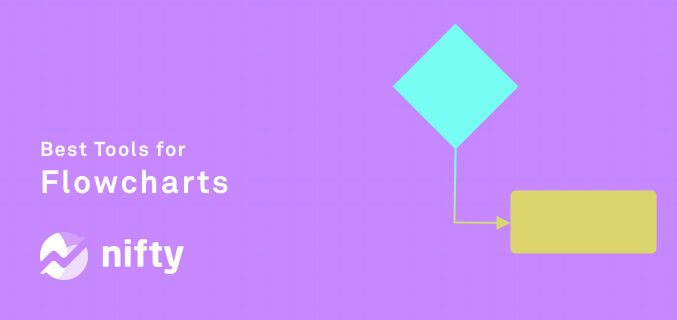 Flowchart software makes things easier for everyone on the team. With it, you can:
See a step-by-step breakdown of the entire process
Train your team, document the workflow, and plan your projects effectively
Customize the flowchart based on your unique and personalized needs
The catch? There are diverse types of flowchart software available today. Selecting the right one can make all the difference to your success.
In this article, we will look at the 10 best free flowchart software you can try in 2023 (and beyond).
10 Best Flowchart Software to Use in 2023
1. Nifty with Miro: A Reliable Flowchart Maker Meets the Best Project Management Tool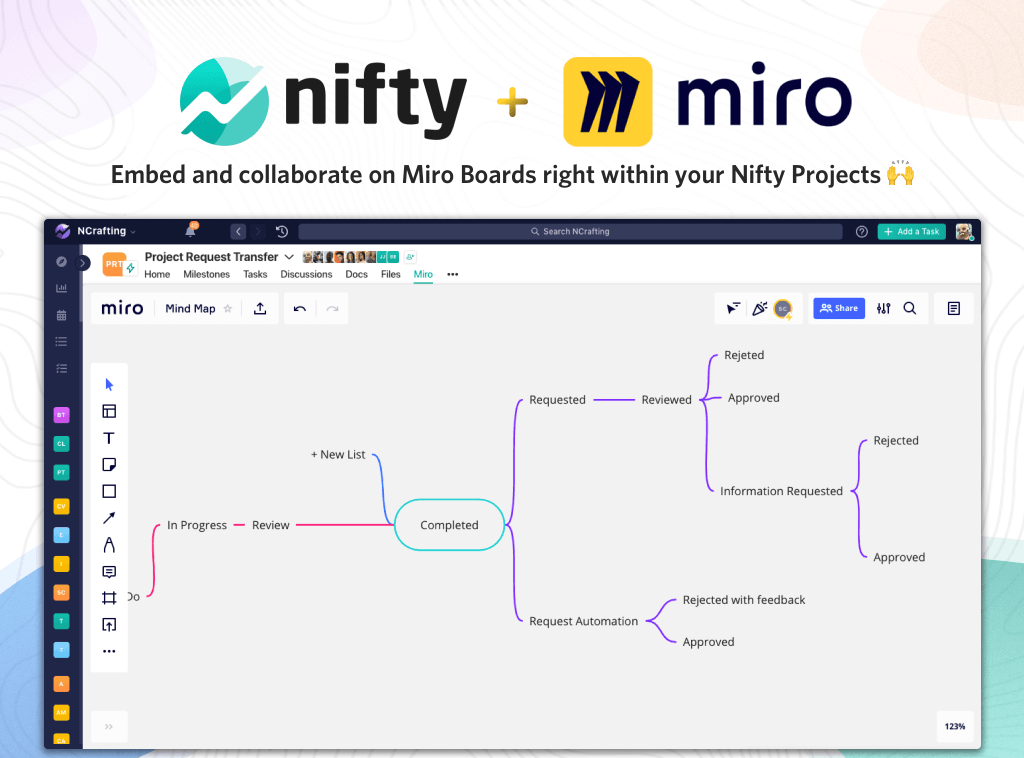 Useful for: People who want to leverage the power of a useful project management solution along with a robust whiteboarding solution.
While Nifty doesn't have a flowchart option, you can leverage the built-in Miro integration and create a flowchart of choice. Miro is the industry-standard whiteboarding solution, and Nifty is the number one project management platform, making both a natural fit.
Whether your team might be creating mind maps, informational architecture for websites or products, marketing campaign frames, etc., the Nifty-Miro integration allows you to bring these workflows into a singular tool.
Features:
Easy to use UI: The Nifty-Miro interface is extremely simple and easy to use. You can capitalize on Miro's competent design system and ready-to-use templates to create important visual assets such as flowcharts within seconds!
Embed: You can export your Miro board using the embed option and view the board within the Nifty dashboard:
Integration with PM software: Miro's integration with Nifty empowers users to leverage the best of both worlds–powerful project planning and intuitive whiteboarding.
Global collaboration with teammates: Miro is one of the best flowchart tool in the industry, and it allows multiple users to edit the visual assets at once. With clear cursor indicators, users from all over the world can collaborate easily.
Pricing:
Free plan: Free forever (unlimited users and tasks)
Starter plan: $49/month, billed monthly
Pro plan: $99/month, billed monthly
Business plan: $149/month, billed monthly
Unlimited plan: $499/month, billed monthly
G2 Rating: 4.7/5 (427 reviews)
Capterra Rating: 4.7/5 (402 reviews)
Signing up for Nifty gets you access to Miro's paid features for free.
Sign up for free
2. Lucidchart: A Flowchart Software That Combines Data Import and Collaboration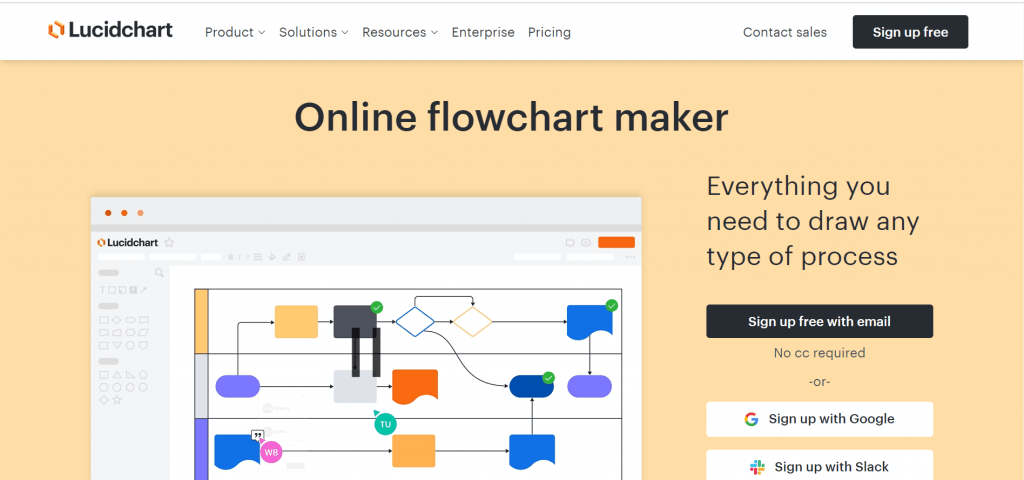 Useful for: Those who want an intelligent online diagramming tool or app that allows them to customize shapes, import critical data, and more.
Lucidchart empowers you to simplify complex ideas into crystal-clear flowcharts. Whether you're a professional or an individual, this tool's drag-and-drop interface lets you create aesthetically sound visuals with ease.
You can also collaborate seamlessly with real-time features and enhance team productivity. Finally, its extensive library of shapes and templates can cater to all your diverse needs around the clock.
Features:
Versatile flowcharts: You can use the tool's flowchart creator to visualize complex systems–from processes and systems to data and programs.
Flowchart shape library: You can access a dynamic flowchart shape library that comes power-packed with shapes, symbols, and swimlane containers to draft simplistic and complex diagrams.
Advanced flowchart features: Lucidchart offers advanced features such as conditional formatting, layers to show phases of a process, data linking, action buttons, and external links to create complex diagrams.
Contextual diagramming: You can import diagrams from Visio, OmniGraffle, or Gliffy and literally pick up diagramming from where you left it off.
Pricing:
Free: $0
Individual: $7.95/user
Team: $9/user
Enterprise: Contact sales
G2 Rating: 4.5/5 (4710 reviews)
Capterra Rating: 4.5/5 (1963 reviews)
3. Textografo: The All-Purpose Text-based Flowchart Software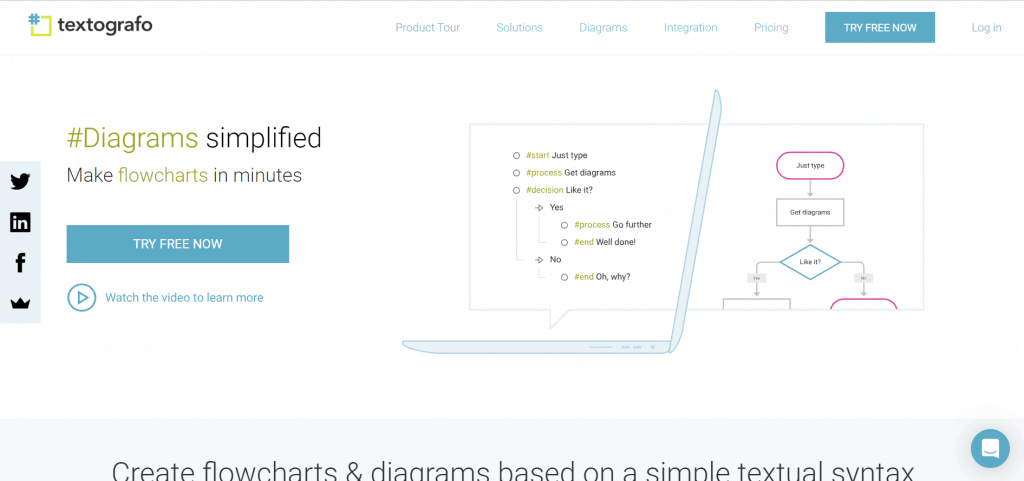 Useful for: People who want a more text-based approach to flowcharting and intelligent diagramming application creation.
In one of the firsts, Textografo revolutionizes flowcharting with a text-based approach. This flowchart tool enables you to translate ideas into visuals with simple text descriptions.
Excellent for those who value efficiency, this tool generates diagrams from text and reduces complexities in the process. What's more, sharing interactive diagrams becomes a breeze with its default collaboration features.
Know why 50,000+ users trust Nifty over others.
See yourself
Features:
Textual syntax: You can create flowcharts and diagrams using a simple text syntax. You don't need to struggle with connecting or positioning shapes.
Personalization: You can personalize the flowcharts using animations as well as themes and present them to make an impact.
Involve the team: You can also involve everyone on the team and work with greater sync as well as collaboration. Plus, you can gather real-time feedback on what's working and what's not.
Pricing:
Essentials: $5/month
Premium: $19/month
G2 Rating: 4.5/5 (1 review)
Capterra Rating: 3.8/5 (5 reviews)
4. SmartDraw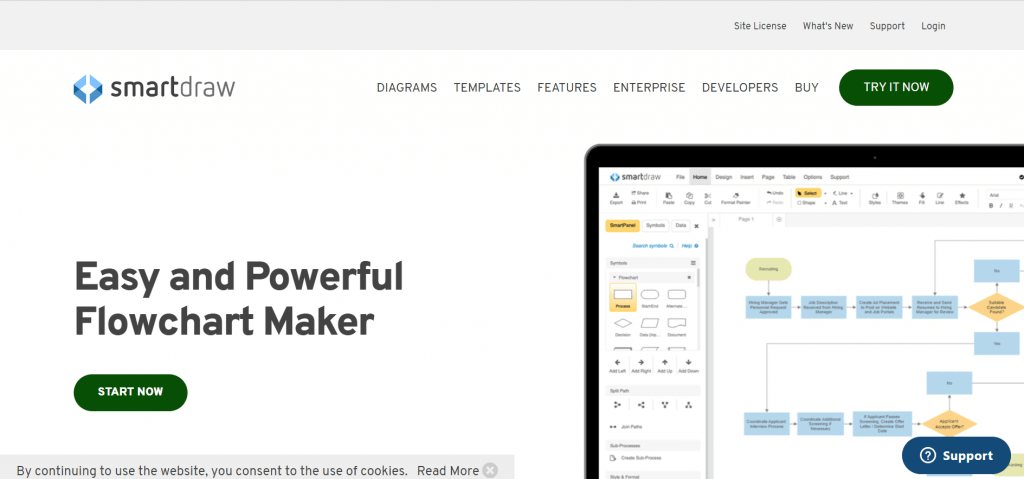 Useful for: SMEs and individuals who want a user-friendly platform for building professional flowchart designs from scratch.
SmartDraw's user-friendly interface streamlines the art of creating flowcharts professionally. Moreover, you can visualize complex processes efficiently without a steep learning curve. This flowchart tool also offers an extensive template library, automatic formatting features, and compatibility with popular applications.
Features:
Quick-start templates: The tool offers over 70+ different diagram types that you can choose to create flowcharts and floor plans.
CAD drawings: A stand-out feature, SmartDraw empowers you to draw professional-looking floor plans and architectural drawings like a pro!
Integration like no other: SmartDraw integrates with multiple tools and allows you to add diagrams to Google Workspace, Atlassian's Confluence and Jira, Microsoft Office, etc.
File-saving and sharing: You can also save and share files to Google Drive, OneDrive, Dropbox, and more. 
Data automation: You can build diagrams such as org charts, ERD, and class diagrams using the tool's built-in extensions. Plus, you can:

Enhance diagrams with shape data and generate manifests
Connect to your AWS account and generate a visual automatically
Pricing:
Individual: $9.95/month, billed annually
Team: $8.25/user/month, billed annually
Site: $2,995 billed annually
G2 Rating: 4.6/5 (236 reviews)
Capterra Rating: 4.1/5 (111 reviews)
5. FigJam: Build Online Flowcharts with Increased Customization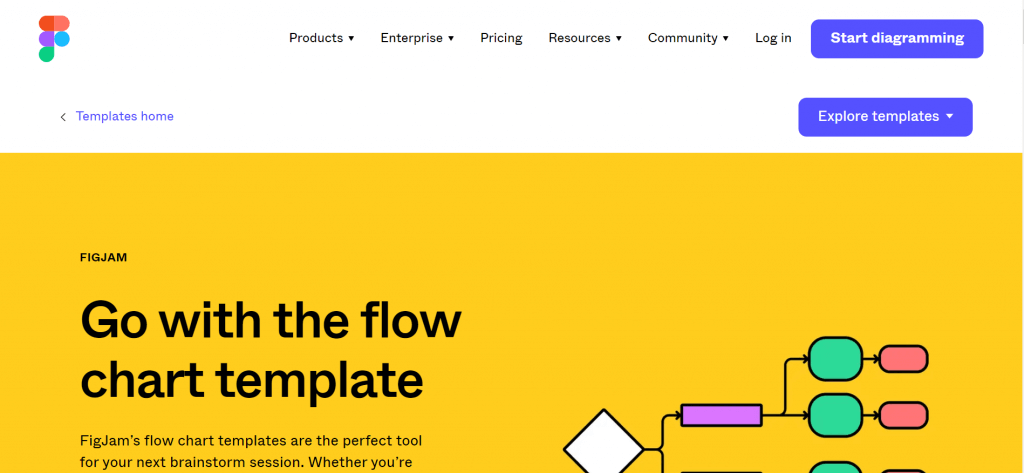 Useful for: Collaborative teams and individuals who are laser-focused on interactive brainstorming and flowcharting.
FigJam promotes collaborative creativity thanks to its interactive canvas. Ideal for brainstorming and flowcharting together, this tool offers real-time collaboration and features such as sticky notes and drawing tools. You can easily leave comments directly on the canvas and interact with others without much effort.
Sign up for Nifty to access Miro's premium features for free.
Sign up now
Features:
Shapes and connectors: You can use the tool's shapes and connectors to seamlessly map outflows as you go.
Template gallery: Access over 300+ templates expertly curated to get your idea off the ground. Some of the templates include wireframe kits, product development roadmap templates, etc.
Customization: You can choose from drag-and-drop shapes or community-contributed custom shapes for improved customization. You can also use the color picker to select the right hue.
Realism: You can also add code blocks, screens, etc., within your diagrams from Figma libraries for improved context.
Pricing:
Starter: Free forever
Professional: $3/editor/month, billed annually
Organization: $5/editor/month, billed annually
Enterprise: $5/editor/month, billed annually
G2 Rating: 4.5/5 (416 reviews)
Capterra Rating: 4.8/5 (18 reviews)
6. Whimsical: For Creating Fast Flowcharts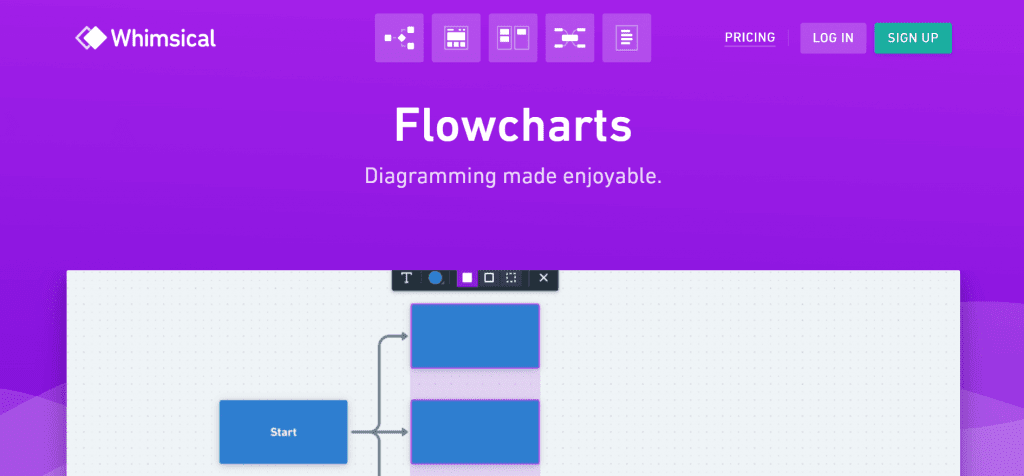 Useful for: Those looking to create business modeling designs (read: flowcharts, wireframes, Mind Maps, sticky notes, and so on) as simply and clearly as possible.
Whimsical's intuitive interface simplifies all your flowcharting needs. You can easily and swiftly import data and create flowcharts with the tool's drag-and-drop functionality. You don't need a steep learning curve to use this tool and create creative as well as original flowcharts.
Beyond the simple flowcharts, you can also leverage its wireframing and mind-mapping features and add a layer of versatility to your projects.
Features:
Templates: You can use ready-made templates to communicate your project requirements with speed. You don't need to spend time conceptualizing your visuals, you can get going within seconds.
Integration: The tool seamlessly integrates with a cocktail of other apps and software–from Jira and GitHub to Zapier and GSuite.
Pricing:
Starter: Free
Pro: $10/editor/month, billed annually
Organization: $20/editor/month, billed annually
G2 Rating: 4.6/5 (176 reviews)
Capterra Rating: 4.7/5 (52 reviews)
7. Draw.io: An Open-Source Platform for Flowchart-Making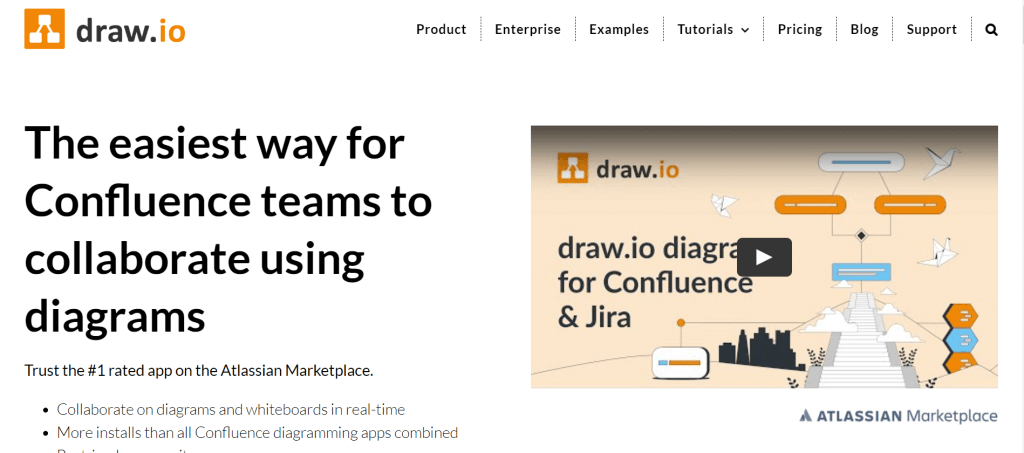 Useful for: Individuals who want greater customization and diverse options when creating flowcharts.
Want to make flowcharts? Check. Want to create network diagrams? Check. Wish to build UML diagrams? Check. Draw.io offers customization at its best.
You can tailor your flowcharts with shape libraries and flexible options. Its most-loved features include offline functionality, integration with cloud storage, and support for various file formats.
Features:
Flowchart creator: It offers an easy-to-use flowchart creator that will leave you spoilt for choices for choosing shapes and templates.
Offline and online modes: A flowchart software should allow you to edit it in the online and offline modes – and this is exactly what Draw.io does.
Experiment with diagrams: Draw.io allows you to create all diagrams imaginable–from wireframes and mockups to tree and mind maps.
Endless integration: Draw.io is also a highly compatible tool that seamlessly integrates with common apps such as SharePoint, OneDrive, Atlassian, Google Drive, Dropbox, etc.
Social sharing: Draw.io also enables you to share flowcharts and diagrams via email and on social media platforms such as Facebook, Twitter, etc.
Pricing:
Cloud: 20 users – $20/month; 2,000 users – $532.5/month
Data Center: 500 users – $6,000/year; 2,000 users – $10,000/year
Server: Contact team
G2 Rating: 4.4/5 (388 reviews)
Capterra Rating: 4.6/5 (711 reviews)
Try Nifty without any risk. No credit card required. Free forever.
8. Microsoft Visio: The Best Flowchart Software for Microsoft Users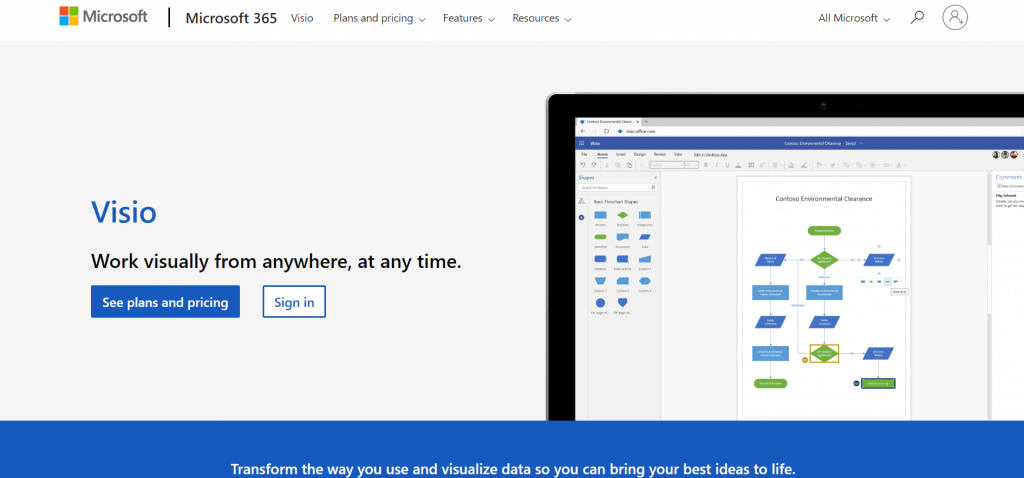 Useful for: Professionals and SMEs who are already invested in the Microsoft ecosystem and want to create detailed diagrams such as org charts, floor plans, flowcharts, and more.
If your organization primarily operates with the Windows operating system, do yourself a favor and invest in this flowchart software. Microsoft Visio is available in three products:
Visio Online
Visio Standard
Visio Professional
Think of Microsoft Visio as a comprehensive diagramming and flowchart-making tool that offers a range of readymade templates and shapes for you to choose from.
Features:
Powerful integration with Microsoft Office: Since Microsoft Visio belongs to the Microsoft Office suite of products, you can easily integrate this software with other Microsoft apps and tools. That's not all. You can also integrate with other popular tools such as Zapier, GitHub, etc.
Data-linked diagrams: You can connect process flow diagrams and flowcharts to data in real-time, paving the way for accurate flowcharts to the T.
Seamless export and sharing capabilities: You can also export files in numerous formats (think: GIF, JPG, PDF, PNG., etc.) and share the file using OneDrive, a QR code, a link, and so on.
Traceable versioning: The tool also allows you to see who is making the changes in real-time and prevent confusion or, worse, misrepresentation of critical project data.
Pricing:
Visio Plan 1: $5/user/month
Visio Plan 2: $15/user/month
G2 Rating: 4.1/5 (46 reviews)
Capterra Rating: 4.5/5 (3021 reviews)
9. Creately: An Incredible Free Flowchart Software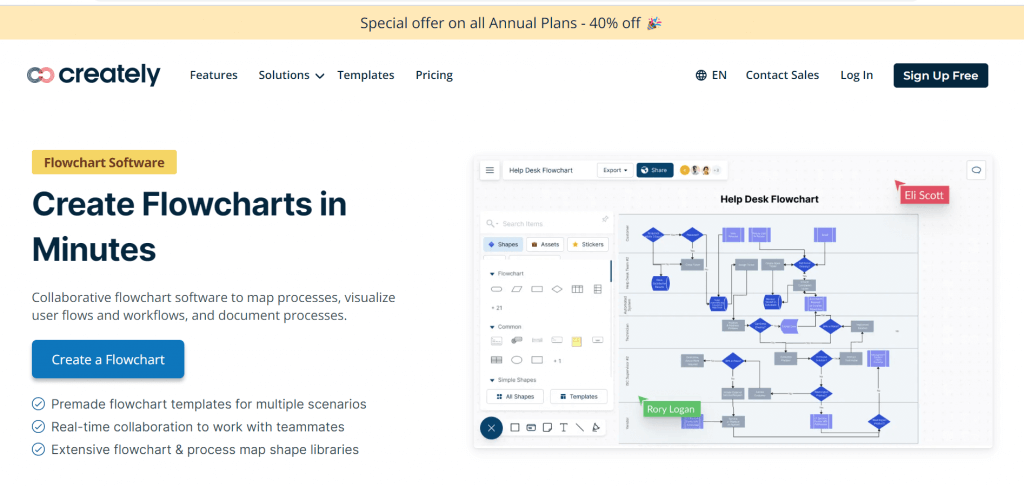 Useful for System administrators, web designers, UI engineers, etc.
If you want an online diagram maker for your desktop and mobile app (both Android and iOS), Creately is well worth looking into. The biggest advantage of using Creately is that you can export editable SVG files and work on them in the offline/online mode (as needed).
In addition, Creately allows you to build a data-first visual workspace where you can:
Brainstorm on new ideas
Plan your projects
Features:
Visio files: You can directly import your Visio files into Creately.
Easy to use: Creately makes the process of creating diagrams super easy by:

Automatically picking the right connector
Offering a vast library of shapes
Enabling you to select the shape from the Icon Finder/ Google
Automatically building complex shapes from written content

Collaboration: Another area where Creately shines is its collaboration features, including robust email functionalities.
Security: If you are worried about data compromise, Creately allows you to share links in the 'view only' or 'edit' mode as required.
Templates: Creately offers an extensive library of templates (70+ diagram types) that comprise examples from various industries and topics, such as UI/UX user flows, HR recruitment processes, and so on.
Pricing:
Starter: $5/month/user
Business: $89/month
Free: $0
Enterprise: Contact sales
G2 Rating: 4.4/5 (942 reviews)
Capterra Rating: 4.4/5 (162 reviews)
10. Cacoo: The Most Hassle-Free Flowchart Software Out There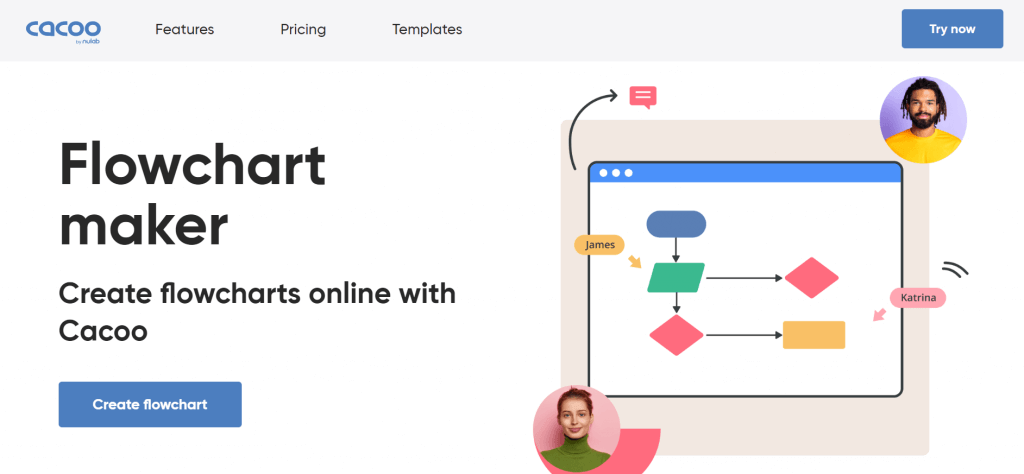 Useful for: Companies, teams, individuals, and students.
Whether you want to make flowcharts or wireframes, this web-based, easy-to-use flowchart software can help you on all accounts and use cases. Simply click the connector button and create each point within the customizable flowchart templates maker. You can also drive smart team management, owing to its in-app video call functionality.
Features:
Organization: With Cacoo, you can organize your team groups and edit the sharing settings, allowing the team to access their charts from a centralized place.
Collaboration revision history: Numerous users can edit the diagram simultaneously.
In-app video and chat: You can communicate with team members within the tool by making use of chat, video, or comment features.
Real-time screen share: You can screen share with others in real time and communicate more effectively without creating gaps in understanding or information.
Library of templates: For your flowchart symbols, you can choose from hundreds of predefined templates.
Export and sharing: Finally, Cacoo allows you to share and export your diagrams at the click of a button.
Resources and help: Cacoo has a rock-solid knowledge base in place with plenty of tutorials and helpful videos on how to get started.
Pricing:
Free: $0 (unlimited users)
Pro: $6/month (1 user)
Team: $6/user/month (Up to 1,000 users)
G2 Rating: 4.4/5 (162 reviews)
Capterra Rating: 4.7/5 (152 reviews)
4 Benefits of Using Free Flowchart Software
Flowchart tools are must-haves if you want to create diagrams and graphs on the fly. Here's how they can benefit your project process:
Easy to use: You can use a drag-and-drop editor to create graphs and charts that encapsulate important data.
Visual understanding: If you want to drive better clarity of project tasks, deliverables, and expectations, a flowchart can enforce greater clarity.
Instant communication: A flowchart also drives better collaboration among team members and allows everyone to communicate in real-time.
Powerful analysis: Finally, flowchart tools can allow project managers to engage in effective analysis and drive data-backed efficiency.
How to Choose the Best Flowchart Software?
Selecting the best flowchart software is not a decision to be taken lightly. As one-dimensional and simplistic as the best free flowchart software tool may seem, it must have the following functionalities:
A library full of different shapes
Ready-to-use templates
Extensive compatibility with popular third-party tools and software
Drag-and-drop editor to make charts easily and with little to no learning curve
A wide variety of export options
Multiple pricing plans based on usage basis
Advanced features such as track changes, flowchart wizard, messaging, accessing permissions, restoring changes, and so on
In addition, here are seven important questions to ask when making your decision:
1. User-Friendliness: Is the software easy to learn and use? Does it have an intuitive user interface with drag-and-drop functionality? Is it accessible to both beginners and experienced users?
2. Diagram Types: Apart from flowcharts, does the software support other types of diagrams (think: org charts, mind maps, process maps, etc.)?
3. Collaboration: Does the software allow multiple users to collaborate in real-time? Can users comment, chat, or make edits simultaneously? 
4. Integration with Other Tools: Can the software integrate with other tools you commonly use, such as project management software, task management, or data visualization tools, for instance?
5. Export and Sharing Options: Can you easily export your diagrams to various file formats (PDF, PNG, etc.)? Is sharing straightforward through email, links, or embedding professional diagrams in other documents?
6. Web-Based Software: Is the tool web-based and can be accessed from any device with an internet connection, or does it also offer offline functionality?
7. Advanced Features: Ask if the software offers advanced features of top flowchart software, such as automation, data linking, integration with data sources, and so on, to make flowcharts a breeze.
Flowchart Tools Can Make Your Life Easier, Choose Wisely!
Drawing flowcharts manually is tedious, time-consuming, and pointless. However, with the right flowchart software in your hands, you can:
Automatically connect shapes
Diagram easily with an intuitive editor
Resize shapes as per the text
Use predefined templates
Drive informed decision-making
In the case of project management, a picture can say a thousand words and save invaluable time, effort, and resources in deciphering a vast amount of data.
Our final two cents: Go for the free trial version of the top 3 tools from the list of 10 best flowchart software mentioned above and see which tools sit well within your project needs, scope, and, of course, aspirations.
Remember, your flowchart tool is much more than software for creating random shapes; treat it as a visual asset–one that can set the right standards for project planning and boost team productivity.
👉 Start using Nifty to create flowcharts with Miro inside your project!
FAQs
What is flowchart software?

Flowchart software allows you to:

Create a visual representation of your project process, systems, and workflows
Use shapes, symbols, and lines to create clear and organized visuals of tasks, decisions, and actions
Decode complex concepts and demonstrate them to the team as simply as possible
Is there any free software to design diagrams and flowcharts?

Yes, absolutely! You can find many free flowchart software options to design diagrams and flowcharts. One such example is Nifty's integration with Miro.

This integration offers a user-friendly interface and a host of features to help you craft diagrams and flowcharts. The end result is easy-to-comprehend ideas—showcased visually and collaboratively.
Why are flowcharts useful?

Flowcharts bring numerous project manager-friendly benefits to the table, such as:

Visual and Process Clarity: Flowcharts break down the inter-connected processes into simple steps so that you can:

communicate ideas more effectively
make better sense of the order of tasks
drive smart and informed decisions

Error-Spotting: They're useful for identifying inefficiencies, gaps, and potential errors within your workflows.
Better Communication: Flowcharts facilitate smoother communication among stakeholders and team members so that everyone is on the same page.
Accurate Documentation: Flowcharts also double up as valuable and accurate documentation for key processes. You can use them to streamline onboarding new team members and maintain consistency without breaking a sweat.
Problem-Solving: When analyzing problems, flowcharts can help map out various scenarios and guide your team to the right course of action.