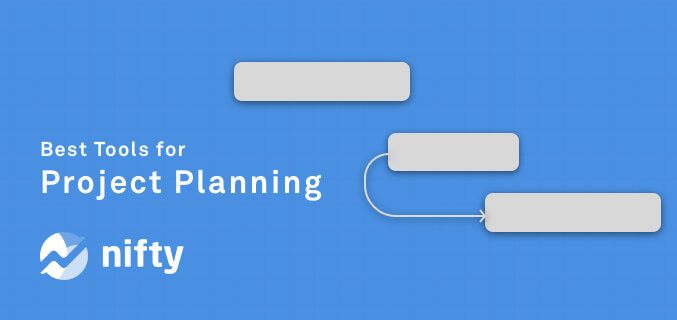 Every project manager wants to use robust project planning tools. After all, the mere thought of using a productivity-enhancing tool can put you into hustle mode, right?
However, only 35% of project managers are somewhat satisfied with the current level of PM maturity. To add a layer of clarity to your decision-making, here are the 12 best project planning tools that can add value to your project management style and process.
But First, What are Project Planning Tools Exactly?
A project planning tool, at its core, is a user-friendly software that enables you to:
Keep tabs on the project

Organize and manage tasks/resources/timelines throughout the project

Get a clear visual understanding of the project's progress and potential roadblocks
Drive collaboration and boost productivity
Not using the right project planning tool can lead to an investment wastage of 11.4%, making these tools a prerequisite for project success.
12 Best Project Planning Tools in 2023
1. Nifty: The Best Project Planning Tool
Overview: Nifty is an all-encompassing project planning tool that simplifies project management for teams of all sizes and scopes. With its user-friendly interface and intuitive navigation, Nifty offers a seamless planning experience.
Top features:
Visual Project Timelines: Nifty offers a host of interactive views such as Kanban, List, Calendar, etc., so that you get a grasp of the project timelines and the current status of resource allocation—at a glance:
Collaboration & Feedback Loops: The tool also offers a built-in "Discussions" feature where team members can share ideas and discuss progress in real time—seamless collaboration at its best:
Time Tracking & Reports: Another area where Nifty shines is its integrated time-tracking functionality. You get access to customized reports that provide insights into:

The workload of each team member
The team member's logged hours that are broken down by projects and tasks
Task Tracking: You can also track your tasks, notes, files, etc., from a centralized dashboard. No more switching between tabs and wasting time:
Verdict: Nifty is your all-in-one project management tool that offers a comprehensive set of features for planning, collaboration, and monitoring, all combined in a single platform.
Pricing:
Free plan = Free forever usage with unlimited users and tasks

Starter plan = Starts at $49 per month, billed monthly

Pro plan = Starts at $99 per month, billed monthly

Business plan = Starts at $149 per month, billed monthly

Unlimited plan = Starts at $499 per month, billed monthly
Plan your next project like a pro.
Use Nifty
2. Hive: Ideal for Team Collaboration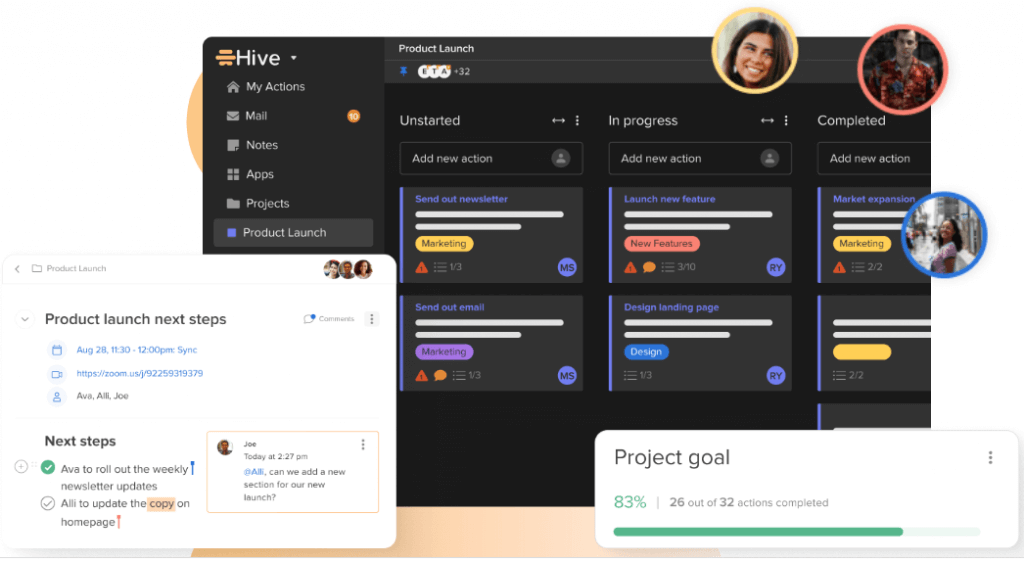 Overview: Hive is one of the best free project planning tools that makes hybrid work a breeze. Whether your team works remotely, in-office, or in a hybrid capacity, this software fuels your team's collaboration and communication like no other.
Shaped by users, this tool understands your project needs and offers ready-to-use projects as well as action templates, cutting down your work in half.
Top features:
Action Cards: Turn emails into actionable tasks directly from the inbox
Chat-to-Task: Convert chat messages into tasks and eliminate the need to switch tools
Productivity Analytics: Leverage data-driven insights for workflow optimization
Time Tracking Integration: Experience seamless integration with popular time-tracking tools
Verdict: Hive's laser-focus on collaboration features (think: shared to-do lists, group chat, and file sharing) makes it an ideal choice for teams that demand seamless communication during project planning.
Pricing:
Free forever: $0
Teams: $12 per user per month, billed annually
Enterprise: Contact the sales team
3. Monday: Best for Google Users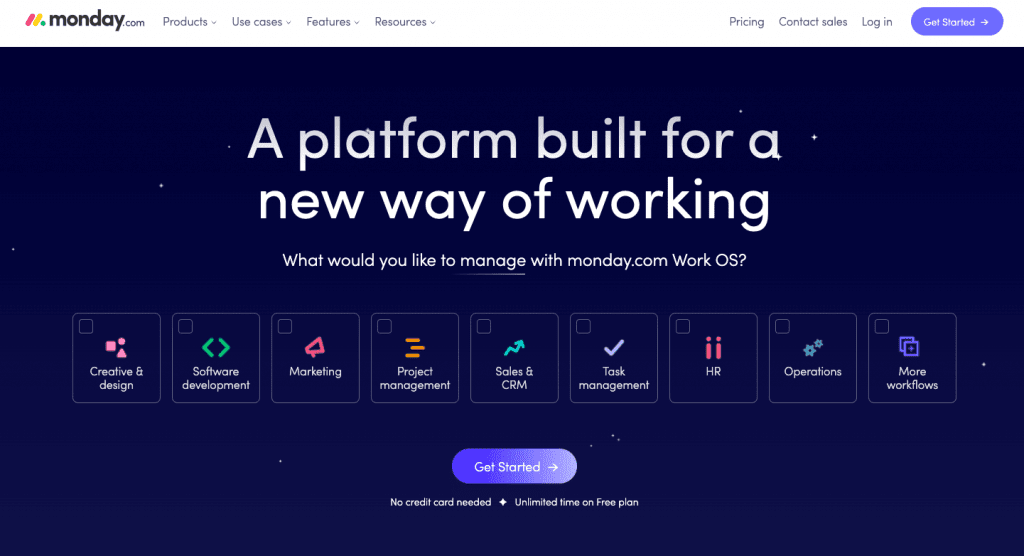 Overview: Monday is a versatile project planning tool that seamlessly integrates with Google. This feature-rich platform allows users to sync data effortlessly and streamlines project planning for Google-centric teams.
Top features: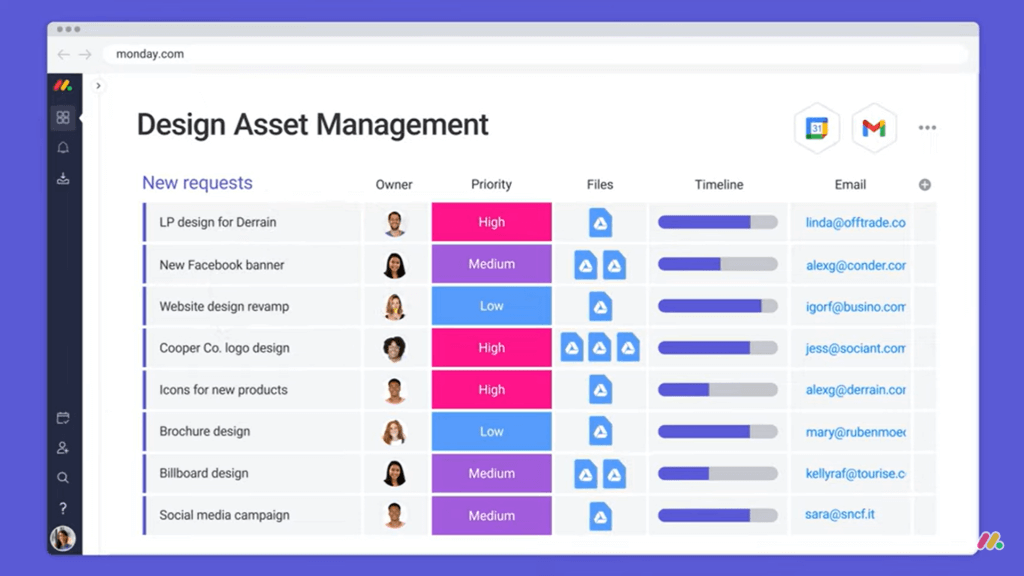 Google Drive Integration: Attach files from Google Drive to tasks directly and automate repetitive manual work by setting up simple automation recipes
Google Calendar Sync: Sync project timelines and deadlines with Google Calendar
Gmail Add-On: Create tasks and assign them from the Gmail inbox; you can collaborate with team members to ensure everyone stays in the loop 24×7
Google Forms Integration: Generate items directly from Google Forms responses
Google Docs: Organize Google Docs, Sheets, and Slides in the context of your workflow
Simply integrate all these Google apps into Monday.com and get complete visibility of all your projects and workflows. Plus, you can gain valuable insights from different dashboards and views. The best part is that you can access and work on all your Google files directly on the Monday.com board.
Verdict: Monday's ability to integrate smoothly with Google Workspace (read: Google Drive, Google Sheets, Calendar, and Gmail) makes it the top pick for teams that are heavily reliant on Google's ecosystem.
Pricing: The pricing is charged on a per-seat basis, with 3 seats being the minimum requirement:
Free forever: $0
Basic: $24 per seat per month, billed annually
Standard: $30 per seat per month, billed annually
Pro: $48 per seat per month, billed annually
Enterprise: Contact the sales team
Big brands are moving from Monday to Nifty. See why
4. ClickUp: Better Suited for Customizable Project Management
Overview: ClickUp is a flexible and customizable project planning tool that adapts to various project management methodologies. The magic with ClickUp lies in the fact that you get a host of project-planning features such as customizable views, automation, time tracking, and more that can be tailored to varying project complexity.
Top features:
Customizable Task Views: Choose from over 20+ views such as List, Board, Calendar, and Gantt charts:
Project & Tasks: ClickUp's project and task tracking is the perfect replacement for tools such as Asana, Jira, etc. You can manage any type of work and flex it to your custom needs.
Real-Time Chat: The tool's chat functionality allows you to:

Tag individuals/groups
Assign comments for each action item
Link tasks together and drive productivity

ClickUp AI: A newly added AI-powered feature, ClickUp AI offers:

100+ prompts that are expert-crafted for every role
Ideas, action items, summaries, etc., within seconds

AI templates to fast-track your writing and workflows
Verdict: ClickUp's highly customizable features allow you to tailor the platform to your unique project management needs.
Free forever: $0
Unlimited: $7 per user per month, billed annually
Business: $12 per user per month, billed annually
Enterprise: Contact the sales team
5. Celoxis: Best for Enterprise Project Management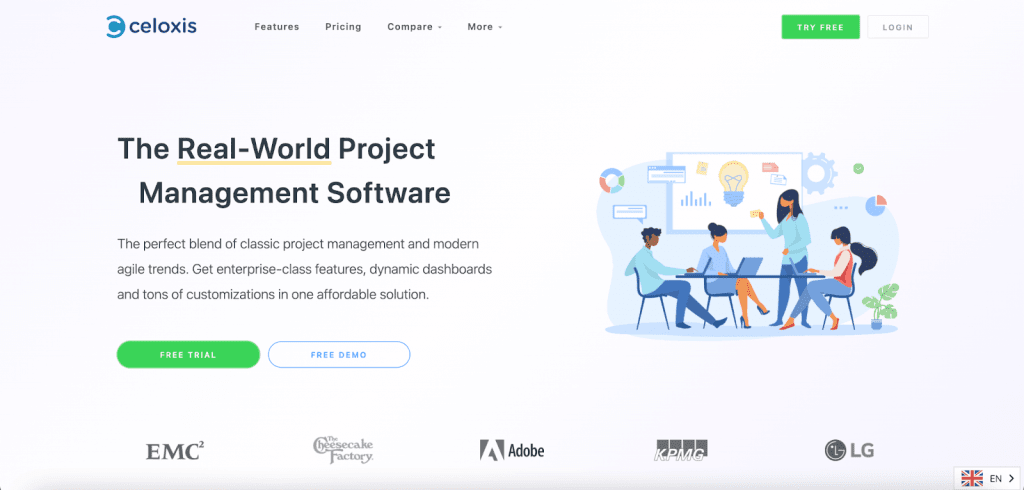 Overview: Celoxis is an enterprise-level project planning tool with advanced workflows and data-driven insights. The tool is used by bigwigs such as HBO, Adobe, LG, and more. From managing your project portfolio to monitoring profits, this one-stop solution delivers on all accounts.
Top features:
What-if Analysis: Leverage expert-approved strategies based on your custom metrics as well as resource capacity.
Custom Workflow Apps

:

Define and optimize your business processes using expert data insights as the main fuel.
Project Planning: Create dynamic project plans that are wired to auto-adjust during resource time-offs, task delays, and so on.
Verdict: Celoxis primarily caters to larger organizations with complex projects.
Pricing:
Cloud: $22.5 per user-month, billed annually
On-premise: Contact the sales team
Plan your next project with ease.
Try Nifty
6. Runn: Best for Resource Management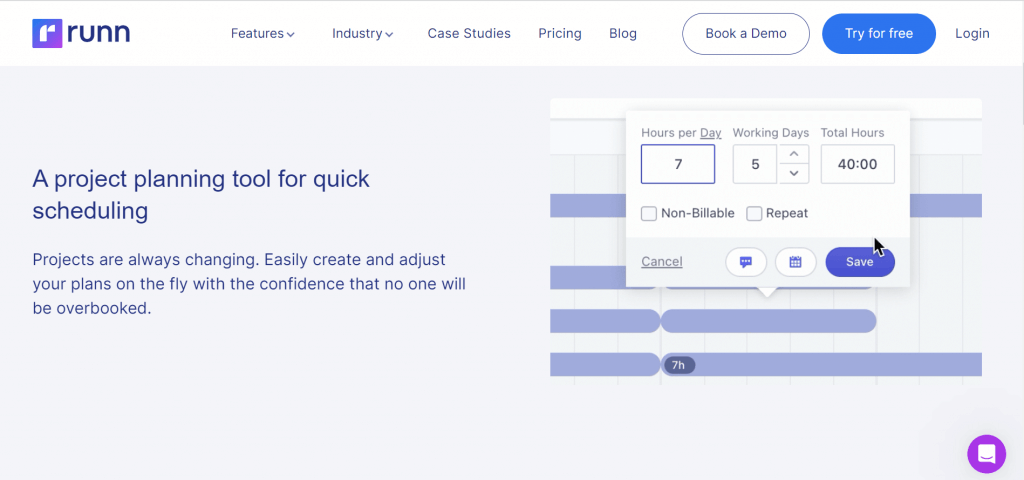 Overview: Runn is a tool that champions real-time project planning. With features like resource forecasting, capacity planning, and skill tracking, Runn can help you optimize resource utilization across projects.
Top features:
Skill-Based Resource Allocation: Allocate team members based on skills and expertise. Runn brings up available resources so that you can focus on core tasks.
Schedule and Budget Planning: You can plan your schedule way ahead of time and stay on top of the work in the pipeline. Plus, you can track your project plan against the budget and deliver ROI-driven results.
Project Health Check: You can visually see the project progress, important milestones, and resource status.
Historical Data Analysis: You can also identify resource allocation patterns and trends and optimize the results for future planning.
Verdict: Runn is the top choice for large-scale enterprises that are on the lookout for a comprehensive view of resource availability and utilization. This ensures that the teams are well-equipped to handle project demands.
Pricing:
Free: $0 (Up to 5 users)
Pro: $8 per user, billed annually
Enterprise: Contact the sales team
7. Wrike: Ideal for End-to-End Project Planning
Overview: Wrike is one of the most widely used project management platforms available today. You can leverage the tool's advanced features to streamline workflows, predict risks, automate tasks, and more. The biggest advantage is that you can customize Wrike according to your organization's best practices.
Top features:
Customizable Workflows: Adapt to various project management methodologies and visualize workflow priorities as needed.
Process Automation: You can set up triggers, rules, and auto-approvals and automate time-consuming tasks.
Templatized Plans: You can use tried-and-tested customizable templates, reports, and blueprints to automate key processes across your projects.
Verdict: Wrike's ability to adapt to various project views and methodologies makes it suitable for teams with diverse project management approaches and preferences.
Pricing:
Free plan available
Professional: $9.80 per user per month
Business: $24.80 per user per month
Enterprise: Quote available on request
Pinnacle: Quote available on request
8. Kintone: Best for Customized Project Management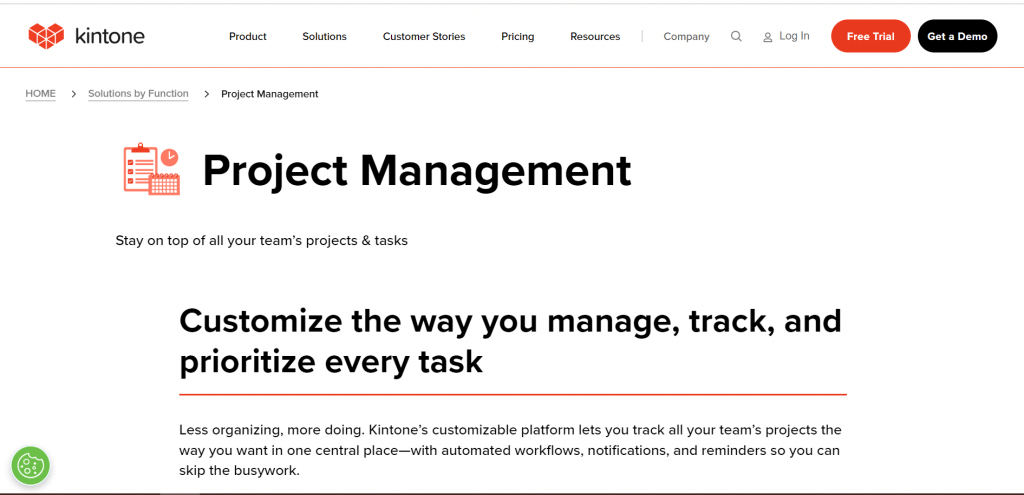 Overview: Kintone is a no-code, highly customizable platform that empowers you to stay on top of your projects and tasks. 
Top features:
Drag-and-drop builder: It offers a drag-and-drop builder to help you convert complex processes into automated workflows. These workflows take on the grunt work of managing the project for you.
Data-driven Convenient Collaboration: You can leverage the tool's organized threads as well as task records to get instant access to important information–no mindless searching!
Spaces: You can easily build a dedicated 'Space' to organize critical aspects of your project (think: files, data, conversations, and so on).
Verdict: Kintone's no-code platform enables you to design exacting project management workflows that match your unique requirements to the T.
Pricing:
$

24 per user per month (Minimum 5 users at $120 per month)
9. Hansoft: A Robust Agile Project Planning Tool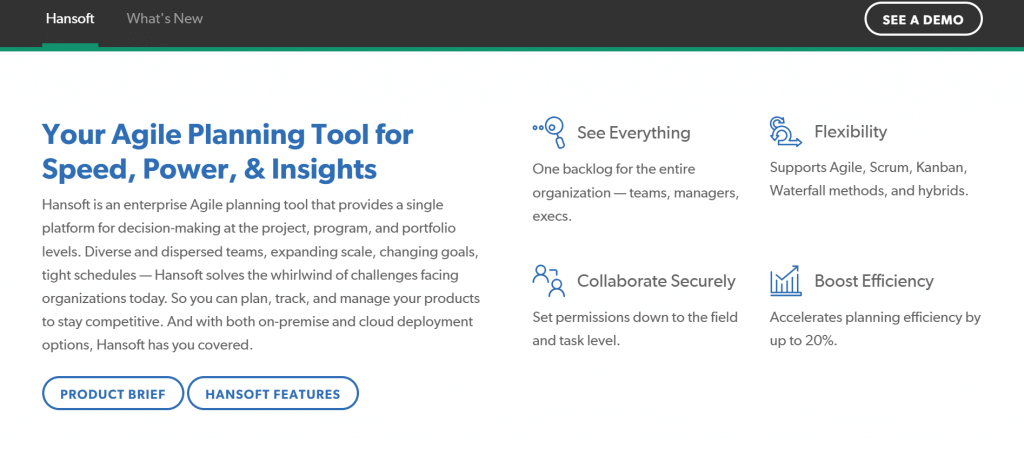 Overview: Hansoft is a project planning tool with a focus on Agile methodologies. Its agile-friendly features include sprint planning, backlog management, and release tracking, making it an ideal choice for Agile teams.
Top features:
Backlog Management: You can create a healthy product backlog to help prioritize and organize deliverables easily.
Scalability: You can also experiment with Agile and Kanban methodologies to scale the team's needs.
Customized Reports and Dashboards: You can create customized dashboards and reports and view the most relevant data first.
Verdict: Hansoft caters to teams following Agile practices and offers useful features that facilitate iterative planning and adaptability.
Pricing: Available on request
10. ProofHub: Best for Gantt Charts and Time Tracking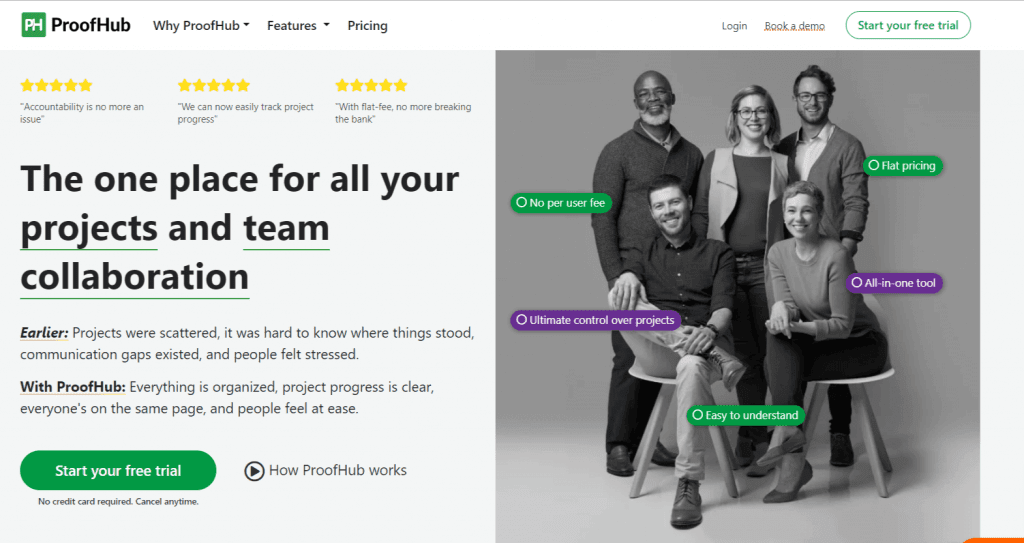 Overview: ProofHub is a simple yet powerful project planning tool that combines task management, discussions, and file sharing in a single platform. With Gantt charts and time tracking, ProofHub is a reliable option for streamlined project planning.
Top features:
Task Management: You can easily delegate work, organize tasks, and leverage multiple task views such as Table, Board, Gantt, etc.
Reports: Get a detailed overview of project status, resource and time utilization, time logged, task completion, and other parameters.
Calendar: You can view all your reminders, events, milestones, etc., in one place.
Verdict: ProofHub's Gantt charts and time-tracking features make it ideal for teams that want to visualize project timelines and monitor progress.
Pricing: It offers flat pricing; there's no fee per user.
Essential: $45 per month, billed annually
Flat pricing: $89 per month, billed annually
11. Teamwork: Known for Versatility and Project Templates
Overview: Teamwork makes project planning simpler by helping you visualize timelines, break down projects, monitor risks and resources, and create a stronger alignment with business needs.
Top features:
Project Health Check: You can get an overview of project performance and areas for improvement.
Milestones and Tasks: You can exercise more granular control over your project plan by breaking the plan into realistic chunks of work.
Risk Management: You can also manage risks at the outset and avoid pitfalls later on.
Verdict: Teamwork's extensive feature set and project templates make it an excellent choice for teams that want to save time on project planning.
Pricing:
Free forever: $0
Starter: $5.99 per user per month, billed annually
Deliver: $9.99 per user per month, billed annually
Grow: $19.99 per user per month, billed annually
Scale: Contact the sales team
12. Trello: Best Free Project Planning Tool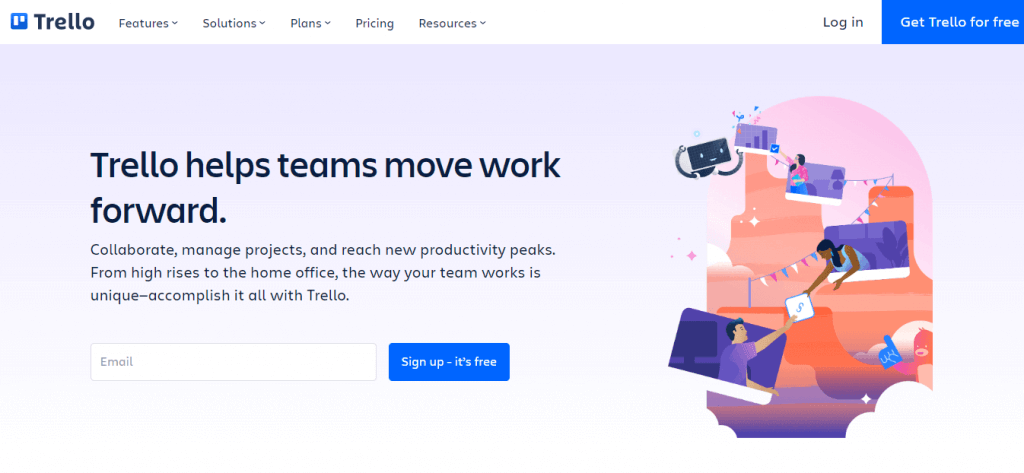 Overview: Trello is a popular and user-friendly project planning tool that follows the Kanban methodology. It allows users to organize tasks on boards, making it best suited for small teams and personal projects.
Top features:
Kanban Boards: It helps you visualize tasks and project progress easily.
Power-Ups: It offers third-party app integrations for extended functionality.
Butler Automation: You can create custom automation rules for a streamlined workflow.
Card Aging: You can access clear indications of inactive cards and prioritize tasks like a pro.
Verdict: Trello's Kanban-style task organization makes it perfect for teams seeking a simple yet effective method to manage tasks and workflows.
Pricing:
Free: $0
Standard: $5 per user per month, billed annually
Premium: $10 per user per month, billed annually
Enterprise: $17.5 per user per month, billed annually
How to Choose the Best Project Management Planning Tools?
As a seasoned project manager, you must know that asking the right questions during your evaluation is the first step toward making a well-informed choice. Here are 8 essential features to keep in mind as you make this critical decision:
1. Ease of Use = "Simplicity and Efficiency"
Opt for tools with a user-friendly interface and seamless navigation.
Key questions to ask:
How user-friendly is the tool's interface for both me and my team?
Is the tool easy to set up and implement within the existing workflows?
Does the tool offer intuitive navigation and quick onboarding for new team members?
Are there any training or support resources available to help me get started?
2. Multiple Project Views = "360-Degree Perspective"
Lean towards tools that offer diverse project views. Whether it's Gantt charts, Kanban boards, or calendars, having a 360-degree perspective allows you to grasp project progress comprehensively.
Key questions to ask:
What types of project views does the tool offer (e.g., Gantt charts, Kanban boards, calendars)?
Do these views provide the level of detail and visibility needed for our specific projects?
Can we customize or switch between different project views based on our preferences?
Are the project views accessible and clear enough for all team members to understand?
3. Task Management = "Stay on Top of Tasks"
Staying on top of tasks keeps your projects on track. To gauge a tool's task management capabilities, the tool should allow you to prioritize tasks, set deadlines, and track progress.
Key questions to ask:
How does the tool help you to create and assign tasks to team members?
Can you set priorities, deadlines, and dependencies for tasks within the tool?
Does the tool allow you to track task progress and receive real-time updates?
Are there any task visualization features that will help you identify bottlenecks or overdue tasks?
4. Team Collaboration = "Seamless Teamwork"
Look for tools that facilitate easy communication, file sharing, and real-time updates among team members.
Key questions to ask:
Can team members easily share files and documents within the tool?
Does the tool support real-time chat or messaging for quick discussions?
Are there any notification systems to keep team members informed of updates or changes?
5. Resource Management = "Optimizing Resources"
Ensure the tool has resource management capabilities that can help manage your team's workload efficiently, allocate resources wisely, and avoid bottlenecks.
Key questions to ask:
How does the tool help you to allocate and track resources across different projects?
Can you manage team members' workloads and prevent overloading any individual?
Does the tool provide insights into resource availability and utilization?
Are there any resource planning features to ensure a balanced distribution of tasks?
6. Reporting = "Insights for Decision-Making"
Select tools that offer insightful reports and analytics and can help you make data-driven decisions.
Key questions to ask:
What types of reports and analytics does the tool generate?
Can you customize or export these reports to suit your specific needs?
Are the reports presented in a clear and understandable format?
Does the tool provide insights into project performance, progress, and potential risks?
7. Integration = "Fit into Your Ecosystem"
Consider tools that seamlessly integrate with your existing software and systems to improve workflow and save time.
Key questions to ask:
Which other software or platforms does the tool integrate with?
Can you connect the tool with your existing project management or communication tools?
How seamless is the integration process, and are there any limitations to consider?
Does the integration enhance your workflow or create any compatibility issues?
8. Price = "Balancing Cost and Value"
Finally, evaluate the tool's pricing structure and features against your budget. Balancing cost and value ensures you get the best bang for your buck.
Key questions to ask:
What is the pricing structure of the tool, and what features are included in each plan?
Are there any hidden costs or additional fees you should be aware of?
Does the tool offer a free trial or demo to test its functionality before committing?
Is the cost of the tool justified by the value it brings to your project management needs?
Final Thoughts
In this comprehensive guide, we explored 12 diverse project planning tools, each with its own unique features and functionalities to enhance efficiency throughout the project lifecycle.
Overall, Nifty emerges as the best project planning tool, providing a robust set of features that streamline project management. Hive stands out as an ideal choice for seamless team collaboration, while Monday caters to Google users with its seamless integration. Remember that the best fit for you ultimately depends on your custom requirements.
Whatever your project's scale or complexity, you need to leverage the power of automation to work smarter, achieve better, and enjoy the process of project planning. So, weigh the features, consider your team's needs, and choose the tool that aligns best with your goals. Happy planning!
👉 Take the next step; Try Nifty
FAQs
What are project planning tools?

Project planning tools are software applications that help you organize, track, and manage key aspects of a project, namely, tasks, resources, and deadlines.
Is Jira a project planning software?

Yes, Jira is a project management software that includes project planning and tracking features.
What are the five parts of a project plan?

The five parts of a project plan are:

1. Project Scope: Defines the project's objectives, deliverables, and boundaries. Plus, it clearly outlines what is included and excluded from the project to establish a clear direction.

2. Timeline: A well-structured schedule with milestones and deadlines.

3. Resources: Helps identify and allocate resources, such as assets, budget, and equipment, to ensure successful execution.

4. Risks: Evaluate potential risks that could impact the project's progress and help create contingency plans to mitigate said risks.

5. Communication Strategy: Establish effective communication channels and protocols to keep stakeholders informed about the project's progress, modifications, and outcomes.