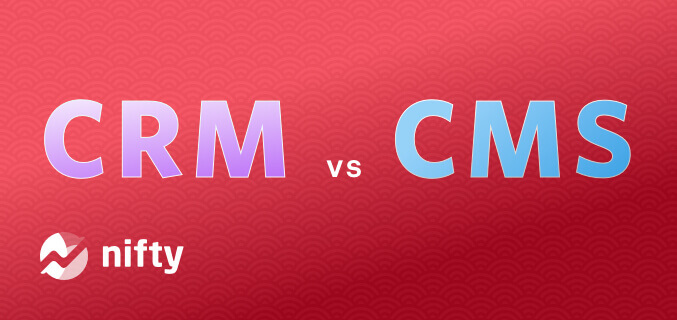 Managers often view CRM and CMS as optional or opposing tools. Granted, both CRM vs CMS tools serve differing purposes; however, using them simultaneously can boost your customer data management efforts through the roof.
In this guide, we will deep-dive into understanding the key differences between CRM vs CMS and learn when you should use which tool. Let's go!
What Is a CRM?
A CRM or Customer Relationship Management software empowers organizations to manage their sales process and customer interactions. With this tool, you can:
Store critical customer data in a centralized database
Track conversations across touchpoints
Drive organized and targeted interactions
Monitor sales processes
Robust CRM platforms come power-packed with various functionalities (read: customer analytics, contact management, sales and marketing automation, to name a few). Commonly used CRM platforms include Nifty, Zoho, Salesforce, HubSpot, and so on.
Are There Different Types of CRM?
Yes. CRM comes in various forms, depending on how you wish to use it. Remember that each type of CRM serves a specific purpose. So, you need to select one that aligns with your own business processes, objectives and operational needs. This means you may even have to integrate multiple CRM types to create a comprehensive customer management strategy.
That said, here are the various types of CRM solutions you can op
That said, here are the various types of CRM you can opt for:
| | | | |
| --- | --- | --- | --- |
| Type of CRM | Purpose | Key Features | Use Cases |
| 1. Operational CRM | Improve daily business operations, including sales, marketing, and service | Sales automation, marketing automation Customer service automation | Streamlining sales processes Managing marketing campaigns Enhancing customer support |
| 2. Analytical CRM | Analyzes customer data for valuable insights and decision-making | Data analytics Data mining Predictive modeling | Identifying customer trends Segmenting customer bases Driving data-driven decisions |
| 3. Collaborative CRM | Promotes collaboration among various business departments | Shared customer information Communication tools Feedback systems | Improving internal communication Ensuring consistent customer interactions Fostering teamwork |
| 4. Strategic CRM | Aligns CRM strategies with overall business goals | Long-term customer relationship building Retention strategies Personalized marketing | Maximizing customer lifetime value Increasing brand loyalty Improving market positioning |
| 5. Campaign Management CRM | Helps plan and execute marketing campaigns effectively | Campaign planning Campaign execution Analysis tools | Launching and tracking marketing initiatives Measuring campaign effectiveness Lead nurturing |
| 6. Sales Force Automation CRM | Optimizes sales processes Improves sales team efficiency | Sales pipeline management Lead tracking Contact management Sales reporting | Managing sales leads Automating repetitive and time-consuming sales tasks |
| 7. Customer Service CRM | Enhances customer support and service | Case management Knowledge base Ticketing system Customer interaction history | Handling customer inquiries Resolving issues Providing prompt and quality customer service |
| 8. Social CRM | Integrating social media data and interactions into CRM | Social media monitoring Engagement, analytics | Tracking brand mentions Engaging with customers on social platforms Analyzing social trends |
Do you know, that Nifty is a hybrid mix of CRM & CMS?
Get Started
Great! But What Are the Benefits of CRM Really?
CRM brings multiple benefits to the table for any project manager:
Streamlined Customer Management: Think of CRM as your go-to contact book, but on steroids. It centralizes all customer info in one place so that you can access and manage it without breaking a sweat. Say goodbye to browsing through spreadsheets or endless email threads to find what you need!
Enhanced Customer Relationships: CRM also helps you treat each customer like a VIP. Remembering their preferences and interactions is as easy as checking your phone's call history. This builds trust and keeps them coming back for more.
Efficient Sales Processes: Imagine automating those repetitive sales tasks like sending follow-up emails or tracking leads. Sounds good, right? A CRM by your side is like a super-efficient virtual assistant that frees up your team's time for more meaningful work and takes over the grunt work by itself.
Improved Marketing Campaigns: Picture this: You send marketing emails, and the system automatically tracks who opens them and what they click on. It's like knowing which parts of your billboard get the most attention. Plus, the tool allows you to fine-tune your strategies for maximum impact.
Data-Driven Decision-Making: CRM is your crystal ball. It crunches numbers and tells you where your business is headed so that you can make informed and ROI-driven decisions and keep your stakeholders happy!
Team Collaboration: With CRM, everyone's on the same page (literally). It's like a shared Google Doc that's amplified with essential customer information.
Enhanced Customer Support: Think of CRM as your customer support superhero. It equips your team with all the customer info they need to solve issues quickly. After all, customers love it when you remember their previous interactions, and a CRM allows you to do just that!
Increased Productivity: Finally, CRM takes care of the boring stuff (read: data entry). The tool can handle all the data-related work so that you can focus on creative problem-solving!
Long story short, a CRM tool allows you to scale and grow as your business expands. This expandable toolbox ensures your customers stay loyal throughout their lifecycle.
So, When Is a CRM Used Then?
You should consider using CRM when you need to:
Keep track of customer information and interactions.
Improve sales processes and lead management.
Personalize marketing campaigns.
Provide better customer support.
Analyze customer data for business insights.
Now, What Is a CMS?
A Content Management System, or CMS as it is commonly known, is a software tool that helps you to create, edit, and manage any kind of digital content under the sun—be it websites, blogs, articles, documents, and more. If you want to simplify the effort-intensive process of creating—and publishing—content, a CMS tool will be your best friend.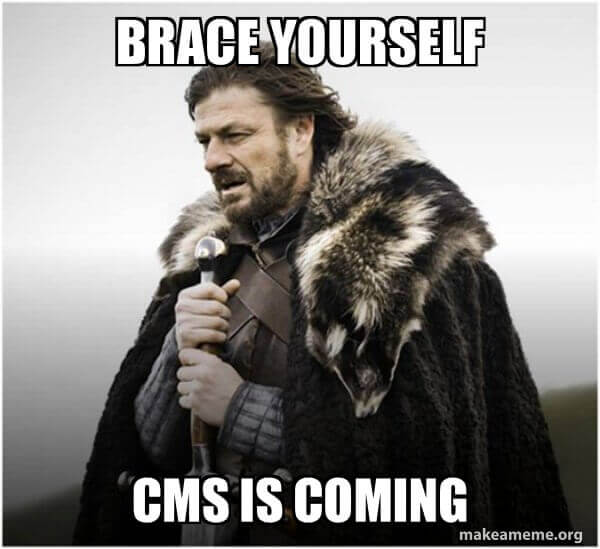 When Should I Use a CMS Tool?
You should consider using a CMS when you need to:
Regularly update and publish content online.
Collaborate with multiple users/contributors.
Manage a website or blog without technical expertise.
Ensure consistent design and structure across your digital content.
Optimize your content for search engines to improve visibility.
How Can a CMS Add Value to Your Projects?
Similar to your CRM, a CMS can offer 360-degree content management benefits such as:
Effortless Content Updates: Imagine having a website that's as easy to edit as a document. With a CMS, this becomes possible as you can make content changes without any technical know-how. It's as simple as updating your social media status!
Time and Cost Savings: Think about how long it would take if you had to hire a web developer each time you wanted to change a picture or update a blog post. With an intuitive and user-friendly CMS, you save both time and money and make changes yourself!
Consistent Branding: A CMS ensures that your website always looks (and feels) the same as you are in control of the data that is being presented to your end-readers.
Collaboration Made Easy: A CMS also allows your team to access and edit content simultaneously. It's similar to working on a Google Doc.
SEO Expertise: CMS platforms often come with built-in SEO tools to help your website climb higher and higher on search engines.
Security and Updates: When it comes to ensuring website security, CMS can provide regular security updates and keep your site safe.
Mobile responsiveness: Most CMS platforms offer mobile-ready themes so that your site looks great on any device.
Plugin Power: In need of extra functionality? Think of CMS plugins as Lego blocks – you can snap on new features without redesigning your entire website.
A CMS is great for all your content management systems requirements. You can back up your data and extract valuable reports on sticky content versus content that's not converting!
We are not a full-fledged CMS, but we have got most of the CMS functions. Know more.
CRM vs CMS: A Tabular Comparison
Let's now compare CRM vs CMS with respect to key features, use cases, capabilities, limitations, and more:
| | | |
| --- | --- | --- |
| Characteristic | CRM (Customer Relationship Management) | CMS (Content Management System) |
| 1. Primary Use | Manages and nurtures customer relationships, sales, and marketing efforts | Helps organize, publish, and manage digital content (read: websites, blogs, and documents) |
| 2. Key Features | Some of the most common features include: Contact management Lead tracking Sales pipeline management Email marketing Customer support Reporting and analytics | Some of the most common features include: Content creation Editing Publishing Version control User roles and permissions SEO optimization |
| 3. How It Handles Data | Stores customer and prospect data, purchase history, communication logs, and preferences | Manages digital content such as text, images, videos, and documents |
| 4. Popular Use Cases | Useful for sales teams, marketing departments, customer support centers, etc., who wish to improve customer interactions and retention | Ideal for web developers, content creators, marketers, bloggers, and organizations that want to enhance the way they produce, publish, and manage content |
| 5. What Kind of Customization Does It Offer? | Highly customizable for specific sales processes, marketing campaigns, and customer service workflows | Offers templates and themes for website design and customization but can be less flexible for non-web content |
| 6. Reporting and Analytics Prowess | Provides data relating to: Sales forecasts Conversion rates Customer behavior insights Performance metrics | Offers content optimization insights into: Web traffic analytics Page views Bounce rates SEO metrics |
| 7. Extent of Integration Capabilities | Integrates with various software tools such as email, marketing automation, and analytics platforms | Can integrate with third-party plugins, extensions, and e-commerce systems for enhanced functionality |
| 8. Limitations Worth Knowing | May lack in-depth content management features and website-building capabilities | It is not designed for extensive customer relationship management, sales tracking, or marketing automation |
| 9. Cost Considerations to Note | Pricing often depends on the number of users, features required, and the complexity of the CRM system | Costs vary based on the CMS platform, hosting, and additional plugins/themes |
| Notable Examples | Nifty, Salesforce, HubSpot, Microsoft Dynamics, Zoho CRM, etc. | Nifty, WordPress, Joomla, Drupal, Wix, Squarespace |
CRM vs CMS: What's Right for You?
If you want to keep your customers happy and loyal to the brand, you need a CRM tool. On the other hand, if you want to improve your content marketing game, you need to leverage a CMS tool.
Now, instead of investing in two separate tools, why not try Nifty—an inherent CRM tool that works skillfully as a CMS as well? Nifty's Docs feature empowers you to bring your notes, specs, copy, spreadsheet, and presentation into your projects:
Nifty's native document tool is a lightweight, collaborative feature that's great for creative copy, blogs, and meeting notes: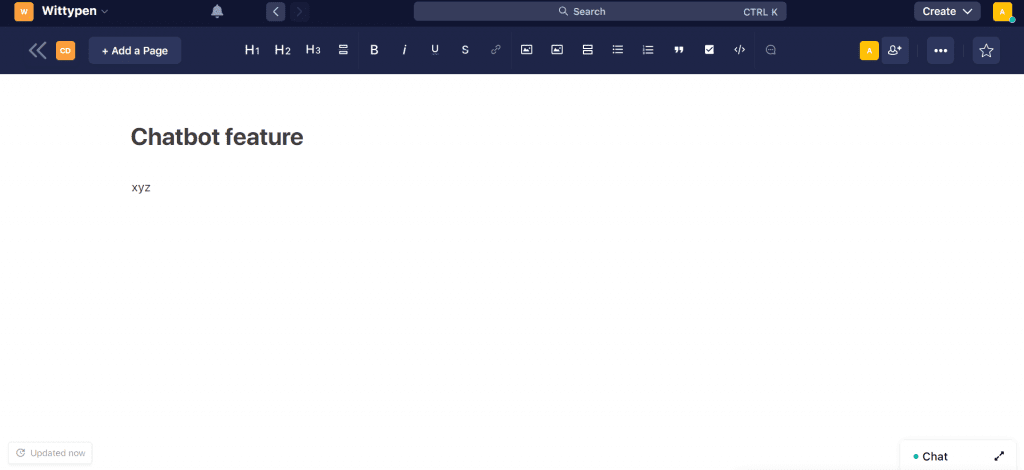 You can also leverage the platform's native integration with Google Docs sheets and presentations: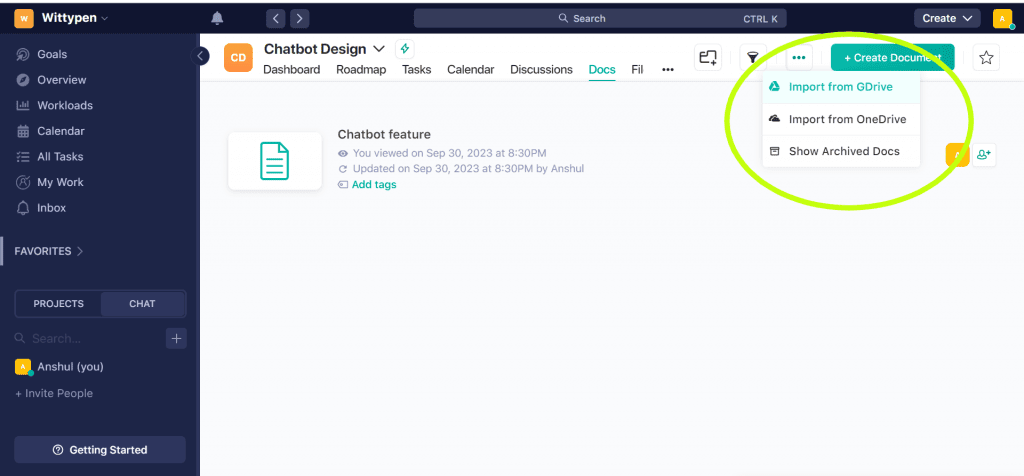 Simply enable the Google Drive and Calendar option to connect your Google account to Nifty: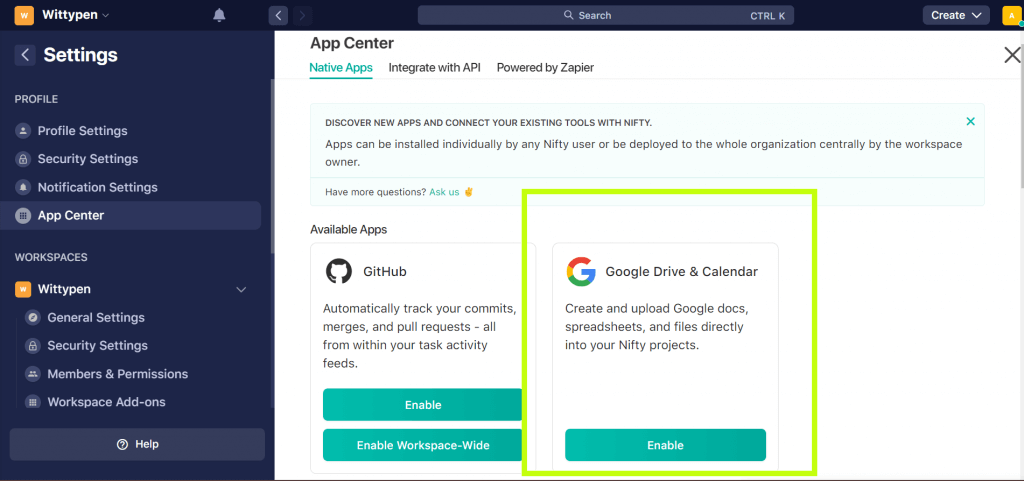 Launching these collaborative Google tools is as easy as clicking one button—with the added convenience of storing them within your Nifty project!
Plus, you can launch any of these documents from the Discussions channel: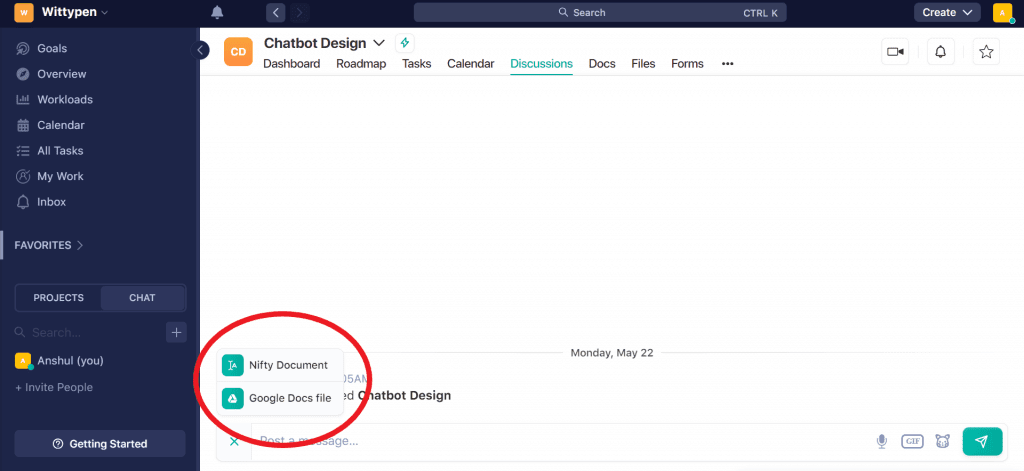 When you launch a document from the discussions channel, everyone in the project will automatically be invited to collaborate on that document.
So, Nifty is a two-in-one CRM and CMS tool that allows you to seamlessly manage customer relationships, marketing teams, and content—without mindless toggling and endless chaos!
FAQs
What is the difference between CMS vs CRM?

Both CMS and CRM tools serve different purposes and end goals. CRM helps you to track your leads as well as customers by documenting and reporting user interactions with your website/app. On the other hand, CMS helps create content and manage your website content itself.
Is CMS part of CRM?

No. A Content Management System is not typically part of a Customer Relationship Management software. While both systems manage data, they serve different purposes. That said, some integrated software solutions like Nifty offer both CRM and CMS functionalities so that you can streamline your customer data and manage your digital assets and content like a pro.
Is Salesforce a CMS or CRM?

Salesforce offers both CRM and CMS features. It started out as a just CRM software company but has evolved to include CMS features as well.
What is the difference between case management and CRM?

Both case management and CRM help manage customer data and interactions. The only difference is that case management is custom-designed to help monitor the progress of a specific/individual case. CRM is broader in scope as it encompasses tracking customer relationships and overall business growth.