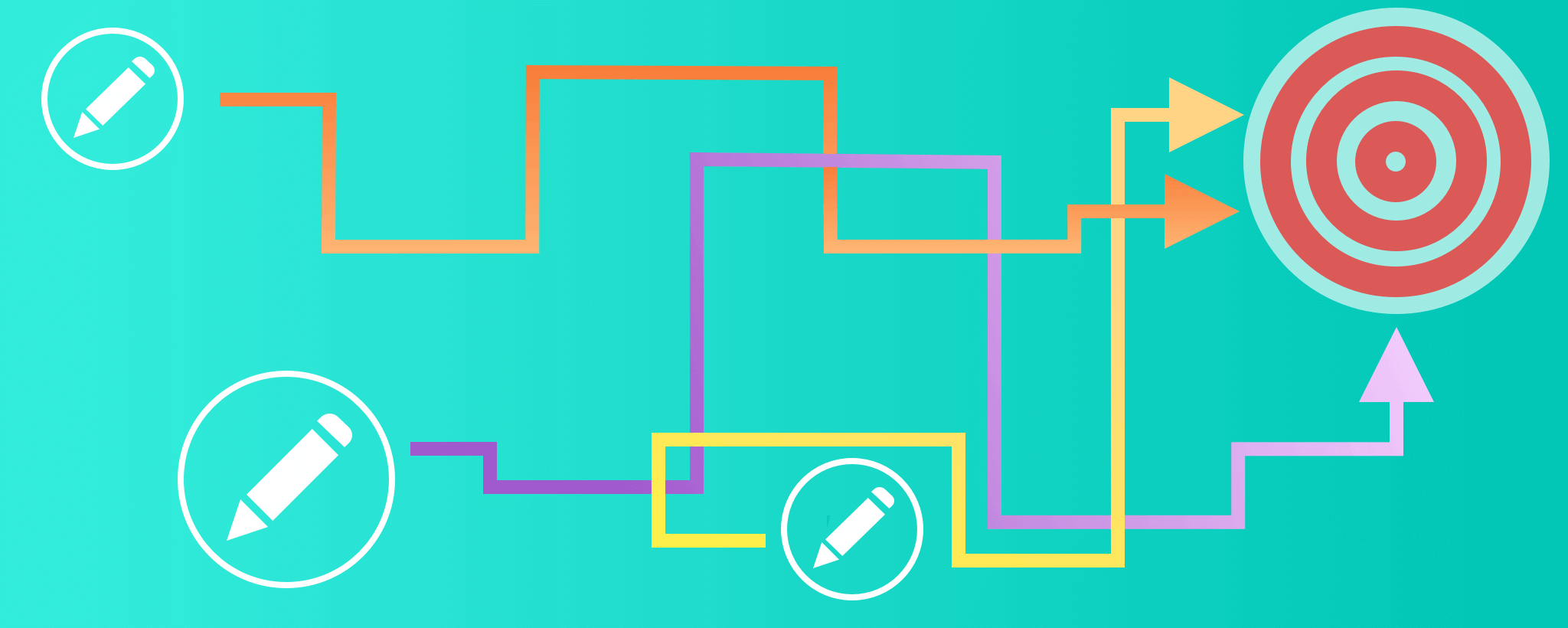 How to Conduct Your SEO Project Management In the Most Effective Way
SEO project management appeared when companies began to look for ways to prioritize efforts, make more efficient use of teams, and realize greater results with fewer resources. Though it has existed for years in tandem with traditional project management, its emergence as its own discipline has occurred only recently.
So many SEO projects fail due to poor project management. From not having the proper tools in place to not having someone who understands SEO and can manage it effectively, it's easy for projects to go south. That's why spending some time and money on project management for SEO is important. That way, you'll have a plan that defines what needs to be done and how those tasks must be completed.
What is SEO project management?
SEO project management is coordinating and managing all tasks and activities to optimize the performance of an organization's online marketing campaign. Project managers are responsible for planning a campaign, assigning teams to specific tasks, and measuring the effectiveness of their work. Through project management, professionals can monitor progress on a whole range of projects at the same time.
Why is Project Management Important for SEO?
SEO project management is the backbone of any campaign; without it, great things cannot happen. A carefully planned and well-executed web marketing campaign can greatly increase your probability of ranking well on search engines and provide you with a much higher ROI.
Furthermore, it helps the entire team to stay directed and focused on the goal and helps the organization to stay on track in the long run through consistent, regular communication and organization. Moreover, it helps keep track of a project's effectiveness by measuring its key metrics.
Who is in charge of SEO task management?
All the best practices and strategies in search engine optimization are worthless if they aren't carried out with consistency and diligence. That's why it is a good idea to hire a professional and creative project manager who can organize your project effectively to help you stay on track.
The person who is in charge of SEO management is the SEO Manager. The manager's responsibilities include SEO planning, delegating tasks, setting objectives and expectations, accountability, tracking KPIs (key performance indicators), as well as monitoring timing/schedule, providing status updates, and reporting issues to the Webmaster.
Benefits of Effective SEO Project Management
Increase visibility/transparency of tasks and progress. Effective project management for SEO leads to more openness and overall visibility of assignments and progress.
Improve communication among your team. To achieve SEO goals effectively, your team members have to work together efficiently and in a structured way. Especially when a project is broken up into several parts, and those sections are given to different people, those individuals must be aware of each other's actions and accomplishments as they work toward a common goal.
Time management. Effective SEO Project Management can save you time and money. Instead of drowning in a chaotic sea of deadlines, missed telephone calls, and false starts, you'll feel more in control of your priorities and projects.
Improve the efficiency of SEO work. SEO project management helps with improving the whole process of your company's SEO work – from developing a strategy to sustaining and growing the company's highest rankings in the search results. It is not only about keeping you in the loop about your SEO projects but also about improving the efficiency of your SEO tasks with as little hassle as possible.
Automate repetitive tasks and workflows. Automating repetitive tasks and workflows ultimately saves you and your team time that can be spent on more important tasks and projects, further boosting productivity. It can significantly reduce the manual tasks and administrative overhead for human resources, accounting, and other non-engineering roles within your company.
Scale your business online. When your SEO campaign is well-managed and well-run, it will definitely show the desired results, reducing the bounce rate and increasing the number of visits to your site. This will result in a considerable expansion of your business on a larger scale.
Getting started with SEO project management
1. Set clear goals
Why is it important to set goals? Because if you have clear goals, it's much easier to achieve them and even surpass them. Moreover, it will help you navigate the project management process and aid you in many areas of your work, such as creating a plan for resource requirements, transparency, and accountability. When defining your goals, consider having a high-level goal, a low-level goal, and one that you can achieve within the next few months. Ensure your SEO project is done in small steps so that you can monitor progress easily.
2. Outline SEO tasks to complete
Before starting any SEO project, you should outline its tasks. If you don't create a list of all the necessary tasks that need to be done, your project may go off track, and you will not achieve the desired results. To get the most out of your time, turn your SEO tasks into a checklist and continually update that checklist as you add more items. This way, staying focused on each task while working on the project will be much easier. It would be beneficial to add the expected monetary costs for each item and the deadlines for all of the project stages.
3. Plan your budget in advance
SEO projects can vary in size and scope, but regardless of the project, it's important to manage your SEO budget and set expectations for your client. A good SEO project manager will always ensure that the money is used properly and effectively following the plan.
Before developing your budget, you should understand how much time the SEO projects take and how much money they cost. Do you have resources, or will you have to subcontract part of the project? The sooner you know, the better. If you are unsure about the duration or cost of a specific project, it is best to plan for it.
4. Allocate your team resources
To get started with SEO project management, you should allocate your team resources wisely. Proper planning will ensure that you have the right amount of staff members with the right skills, and you'll know what services need to be provided. This can reduce your agency's uncertainty and increase client confidence in you. Before assigning a task to each member, ensure that your project manager and other key members are on board. They should be involved in every step of the project.
5. Define workflows
Many SEO coordinators are currently managing their SEO efforts using disparate systems. As a result, critical SEO data, insights, programs, and tasks are spread out over multiple programs and organizations. However, the main goal of SEO Project Management is to make processes coherent across the team and widen the view of the overall process.
For this reason, you need to define your workflows and integrate collaboration tools, such as web-based scheduling tools, spreadsheet applications, etc. You can also benefit from using a shared project site or blog if you work with remote teams.
6. Use tools for SEO project management
SEO projects can be difficult to manage, but SEO tools can help you keep everything organized by integrating your search engine marketing process and workflows in one place, basically managing your whole SEO campaign from the start to the end.
Various SEO solutions are floating around the Internet, and one of them is an all-in-one SEO tool by SE Ranking that allows you to perform different tasks and keep all your websites under one roof. With this software, you can track your keyword rank and do SEO competitive research, conduct an in-depth website audit and monitor your backlinks, or a number of other required options.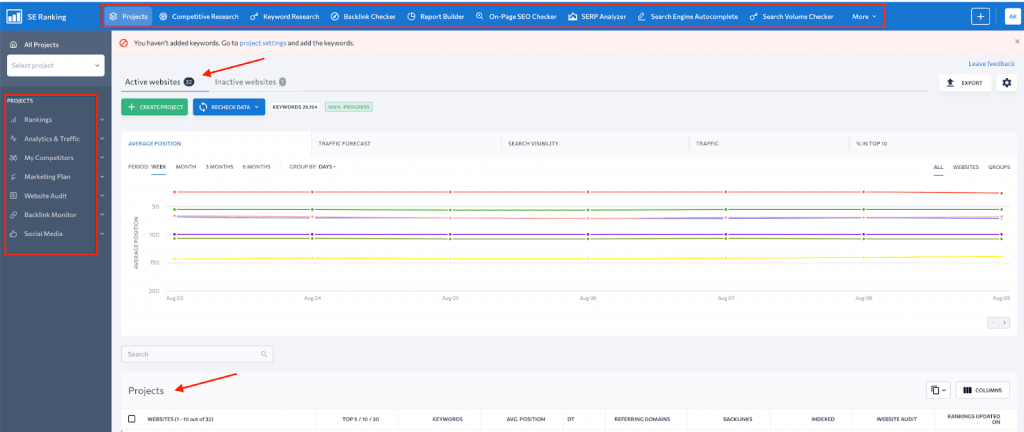 7. Catch up with your team regularly
Marketing management involves monitoring and analyzing the different results of a project. This analysis is carried out by discussing current outcomes with your team and extracting the best possible results to implement further in the marketing strategy. Therefore, marketing management implies standardizing phases in a marketing program, controlling its execution and planning, and ensuring the project stays on schedule.
8. Leverage task automation
The scope of your work may be so vast that you'll never be able to manage it skillfully. You need to automate your tasks, organize them, and track their success and failure in a way that makes sense. However, this does not mean you should hand them over entirely to software – only if you want to lose control quickly.
By automating the entire project using the task management software that is most suitable for your team, you can create better deliverables, stay in line with your client's demands, and avoid several common problems that exist in every project, like not having a clear vision of what needs to be done. For this reason, it's important to use task automation tools such as Asana, Basecamp, Trello, Zapier, and others.
9. Constantly measure SEO performance and results
Suppose you have ever had an SEO project. In that case, you probably know that multiple KPIs should be monitored and followed. Marketing without measuring results is like driving blindfolded. How can you know where you're going if you don't know where you are?
If you want to make sure that you are achieving your goals, like increasing website traffic and ranking higher in various search engines, it is a good idea to monitor different SEO metrics on a regular basis. This will help you determine what actions work and don't and what you can do better.
Tips and tricks for using SEO project management to Manage SEO Tasks Effectively
SEO project management is a method that combines quantitative and qualitative project measures and techniques to get the best performance out of your SEO tasks. Here are some tips for managing SEO tasks more effectively:
Knowledge sharing within the team. Enterprise-wide knowledge sharing is directly related to the health of any organization or business. It normally happens when one team member shares their personal knowledge with another team member to help them improve their skills and performance. To create a well-versed team in SEO, you can contribute to day-to-day knowledge sharing. A training workshop is an effective way to share and encourage knowledge sharing among members of your SEO team.
Know your tactics and resources. One of the essential tips for managing SEO tasks effectively is knowing your tactics and resources, as it's easy to get lost without some road map. Thus, you won't struggle to discover certain details – like what tasks you should be doing, what kind of project management tool you need, or anything else. The right tactics and resources will help you hit your targets. First, choose your tactics and then find alternatives.
Be prepared to change your process. SEO project management will help you with any questions on managing SEO projects successfully. While numerous factors can affect how you handle various SEO tasks, one of the most important tips is to be prepared to change your processes if something goes wrong. Moreover, if you're looking for winning strategies to achieve the best results for your projects, it is recommended to constantly evolve them, which also requires being prepared for alterations.
Be patient. An SEO project is a massive job that may take considerable time to see SEO results. Often, the longer the project goes on, the more you'll wonder if you're doing the right thing. Moreover, this can even cause clients to lose their patience. Remember that SEO is not a short-term strategy; it might take several months or even years to show project results. That is why great patience is always a plus!
6 KPIs to track your SEO performance and deliver better results
Successful SEO campaigns require the right set of Key Performance Indicators (KPIs) to measure and evaluate their performance. By tracking key performance indicators, you can tell if you're moving forward or need to make some changes.
Organic Traffic. Organic traffic is a key performance indicator that shows how many people visit your site without being referred by another site or paid advertisements.
Keyword Ranking. Keyword ranking is an essential performance indicator that helps you understand which keywords drive the most traffic to your website so you can optimize your content around them. By tracking keywords over a period of time, you can discover which keywords to use and when they convert the best.
SERP Visibility. Search Engine Result Page visibility is a KPI that quantifies the visibility of your website on the Google SERPs, telling you how many people saw your website in search results and how they found it there.
The number of pages in Google's index. The number of pages in Google's index is a key performance indicator that shows the number of your website's pages that Google indexed and users can find on the web.
Backlinks. Backlinks are a vital metric for SEO results. They are links pointing back to your website from other relevant websites. They also improve your overall rank.
Conversion Rate. The conversion rate is a widely used KPI that represents the ratio between the total number of visitors who completed a given action on a website and the total number of visitors who visited that website.
Conclusion
In short, SEO project management is an essential element for successful SEO campaigns where multiple team members are involved. SEO project management helps to organize and manage all the tasks involved in running an SEO campaign, as well as keep the project on track, manage resources effectively, and complete the project on time.
The best way to start with SEO project management is by organizing all your SEO tasks, planning your budget, and defining the workflows. This can be followed by measuring SEO performance and catching up with your team to agree on any further changes. Tackling a project without a structured process can overwhelm your team and cause it to lose focus. For this reason, it's good to use tools for SEO product management and have everything in one place, thus making your team more organized and on top of its marketing campaign.