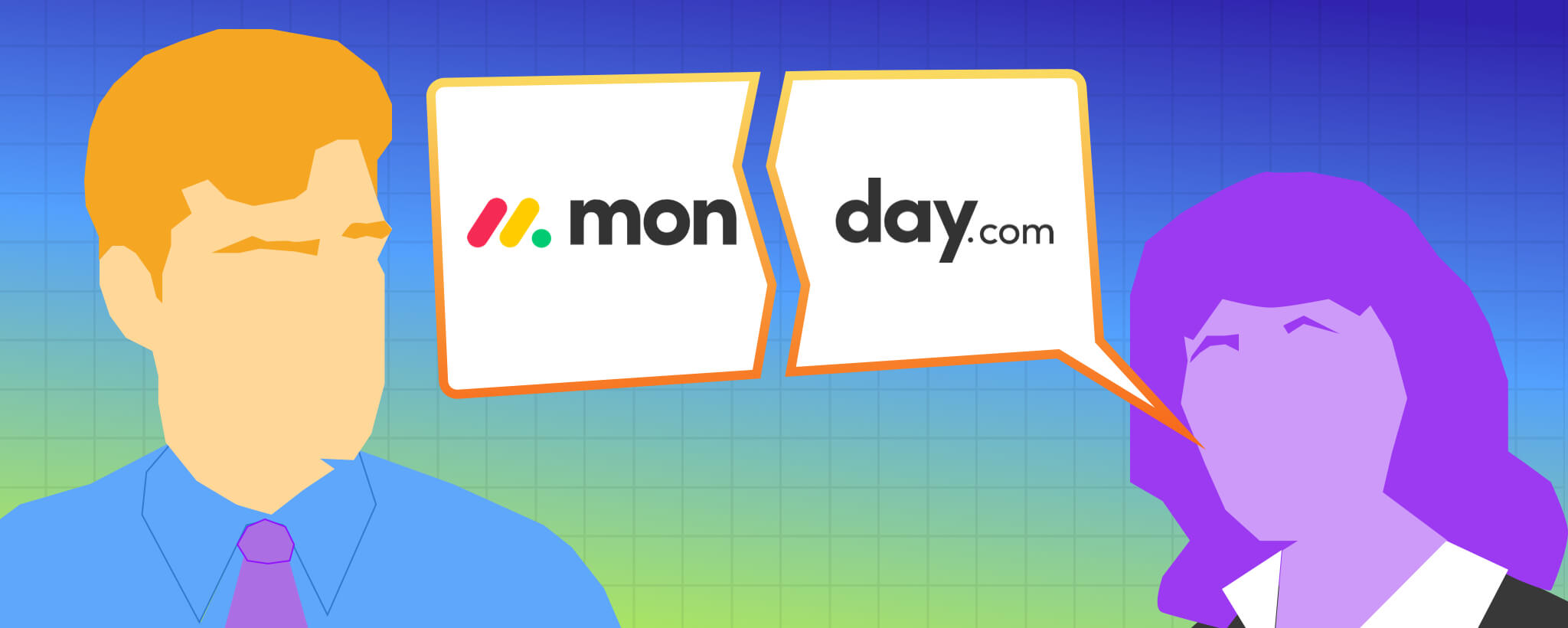 We can all agree that Monday sucks! Nobody likes to be back at work after a restful weekend. But we are here to see why Monday as the project management tool also sucks. The notion of using a workflow management tool for your business is to facilitate your work and not complicate it. So, what's the point in using a tool that you know sucks?
In this post, we will walk you through why Monday sucks and how to make your workdays better using Nifty as your Monday alternative.
Why Monday sucks?
Monday is not the best day of the week. The fact that Monday sucks can be attributed to various reasons. Mostly because there is lots of pending work to do after an eventful weekend. However, Monday is also the name of a project management app that is supposed to help you with automating workflows to not make Monday's better.
Let's talk about the advantages and disadvantages of Monday as the project management tool so that you can make an informed decision on why Monday is not the right tool and how to actually make your workdays better with Nifty.
But first…
Why use a project management tool, at all?
Before talking about Monday, its pros and cons, and why Monday sucks, let's first see why using a project management tool is necessary for your business. Here are some of the benefits of using a project management tool:
Making your workflows more efficient

Prioritizing tasks and projects

Maintaining control over your day & deliverables

Aligning team on goals and objectives

Preventing burnout
Having these advantages in mind, let's go through our review of Monday.
What is Monday?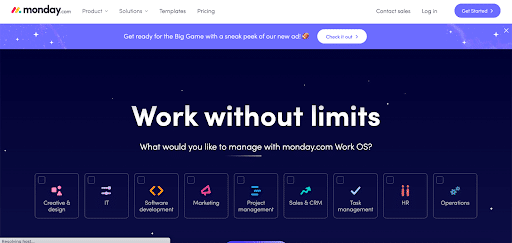 Monday is a Work Operating System (Work OS) that enables teams to manage projects and workflows. It's a basic yet easy-to-use workflow software that aims to help build processes, establish transparency, and eliminate manual work.  
Monday allows teams to create custom applications for any workflow. You can build your applications to match your specific operating needs and maximizing the value of your operational efficiency. 
Who can use Monday?
Monday's project management software may be used by any team in any organization as you can tailor your workflow based on your use cases. It may be used for anything, including general projects and procedures. The platform can also be used to empower cross-department workflows.
Sales and marketing teams can plan events, collect lead information, and work with clients. The media team can create workflows for its campaign management. The software development team can use its scrum board for planning sprints, tracking bugs, and prioritizing backlogs. 
As you see, almost every department in an organization can use a project management tool such as Monday to keep track of the tasks and projects. 
What are the benefits of Monday?
Here are the advantages of Monday as a project management tool:
1. Colorful Visuals
The platform of Monday has been designed to keep all your projects and tasks in one place. You can see the done steps, and the steps that should be taken to complete the project. This is a fantastic approach to get a clear picture of all your projects and ensure that your entire team is on the same page.

Monday is visual. There are many colors to use for each step of the project, graphs, shapes, and other visuals.
How does it compare to Nifty's ease of use? 🤔
Nifty is rated #1 in ease of use by G2. Not only is Nifty colorful and visual but includes interactive roadmaps that are visual and automate your progress reporting so you don't have to manually adjust the status of your tasks. You can set your task journeys and let it automate your workflow. You can even save your projects as template to reuse across initiatives.
2. Boards
The incredible board views allow you to see boards from a variety of angles. The board views feature allows you to see your board's information in a variety of ways. Here is a board view on the Monday platform: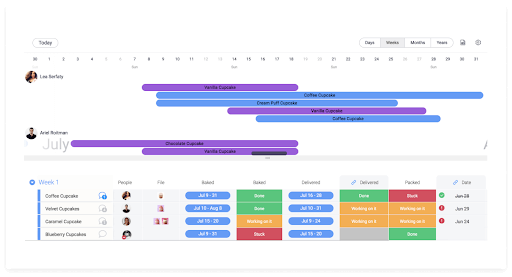 On Monday, each board is home to your tasks (or items) and sub-tasks (or subitems). Boards are generally categorized as Main Boards, Shareable Boards, and Private Boards based on their visibility to users. Each of these categories of boards can be turned into one another depending on your needs. 
Monday also provides several views for your boards, allowing you to tailor them to the specific needs of your team. Here are a few examples of its numerous views:
Files View

Kanban View

Form View

Chart View
In addition, you can add columns to each board for the purpose of more customization. Columns are of various types on Monday:
People Column: The task assignee is shown.
Timeline Column: The task or project timeline is displayed
Status Column: The task state of each task on the board is displayed.
This feature, however, cannot actually be called a feature as any other project management tool have almost the same interface. Nevertheless, the feature is not a reason why Monday sucks. Let's go further with the features and again come at this point in the next few paragraphs. 
How does it compare to Nifty's task management? 🤔
Nifty offers not only flexible task views such as  Board, List, Calendar, and Timline, but Nifty also has a visual work planner. Nifty's swimlane view combines your high level objectives with the tasks required to meet those milestones to help you facilitate your work with great detail. The view is extremely flexible and allows you to iterate and re-arrange work as required.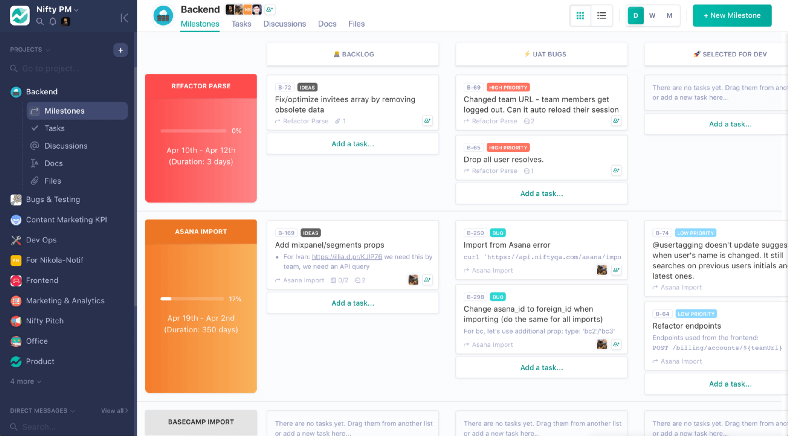 3. Dashboards
Monday uses dashboards to help you with your workflow and keep you informed about what is going on across multiple boards. You can make summaries and reports, and receive a high-level overview of important things.
How does it compare with Nifty's reporting? 🤔
With Nifty, you have 4 levels of workflow reporting so you can get a birds-eye view across all team members, projects, and tasks across your workspace.
Workloads: to view employee task loads, time spent, and completed tasks.
Overview: A cross-project overview to get a visual understanding of all project statuses at a glance.
All Tasks: Every task across every project that you can group by assignees, status, milestone, or custom tags.
My Tasks: Personal space to view your own individual tasks assigned to you to never miss a beat on your work.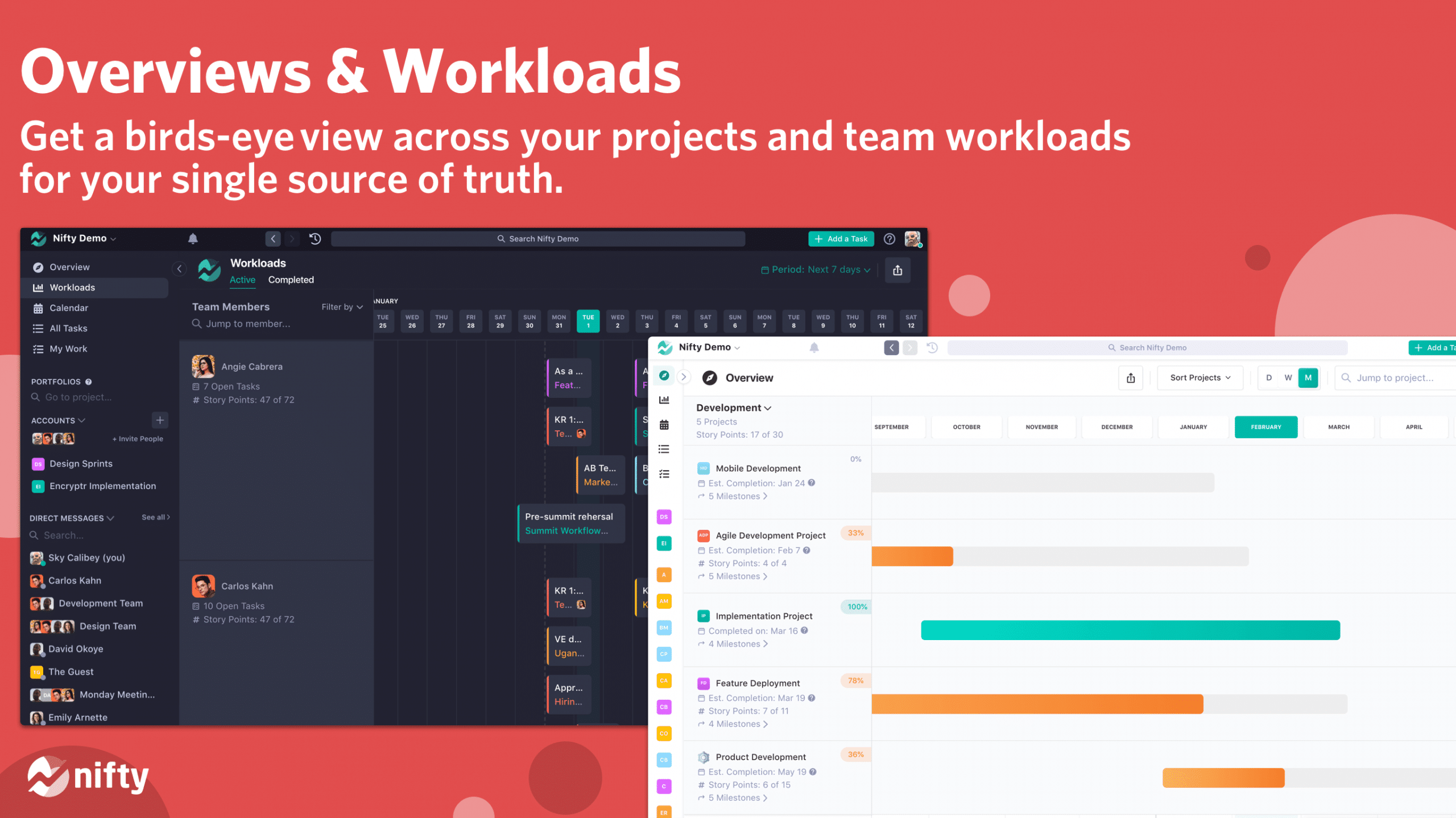 4. Integrations
It might be aggravating to manage your work across multiple platforms. Monday allows you to connect to a variety of external systems via its integration center. ​​It works with numerous third-party tools to optimize data flow and teamwork across your workplace software, much like any other remote work OS. By integrating your platforms, you will be able to integrate data and information within Monday and make data-driven decisions from a single source. Here are some of the third-party software that Monday can integrate with:
Google Drive

Slack

Jira

GitLab
How does it compare to integrations offered by Nifty? 🤔
Nifty offers over 2000 integrations with third party applications but also many native integrations that sit right inside your workspace. This ensures all your work remains in place and you do not need to leave Nifty for anything. Native integrations include:
Custom embed center to add third party apps as additional views to your projects.
Built-in Google docs, sheets, and presentations to automatically create and share docs with your project stakeholders.
One-click Zoom and Webex meetings that can be started from your project discussions and chats so you don't have to manually share links ever again.
5. Automations
Monday allows you to automate numerous operations, such as recurring tasks, and optimize workflows for easy project management. Automation recipes on Monday are made up of triggers and actions: triggers are occurrences, and actions are the instructions for what to do when a trigger occurs. Monday comes with a number of basic automation recipes that you can use to customize your workflow by adjusting the triggers and actions. 
How does it compare against Nifty's workflow builder? 🤔
Nifty automations allow you to integrate and automate your workflows through it's many integrations, but more importantly you can even build your own custom if/then based workflows to let it run all your processes for you. You can even save these automations as templates to reuse them across projects.
6. Built-in Time Tracking
Tracking the time you spend on everyday tasks will help you measure the efficiency of your team. Monday also allows you to add a Time Monitoring column to your board for proper project time tracking. However, this feature is only available in premium plans. The time-tracking feature works by simply clicking the timer in the same row at the beginning of doing any tasks. You can pause it to stop the timer after finishing the task.
How does it compare with Nifty's time tracking? 🤔
Nifty allows you and your team to track time on tasks and roll them up by people, projects, and portfolios. Time tracking is available across mobile, web, and it's Nifty chrome extension so your team can track time on the go as they work. It's a flexible and feature rich solution and even allows for manual time stamps and activity logs along with detailed reporting that can be exported to CSV and PDF. If you want an integration to invoicing and resource management, you can integrate with Nifty's harvest integration.
Why Monday sucks? (limitations of Monday)
So, now we should get back to the point and see why Monday sucks given that it has a lot of features for a project management tool. It may be a good tool to use but before making the decision, you should also know about its cons. 
1. Weak in Tracking Project Goals
Almost everything in Monday is based on many boards, columns, and views, such as the Gantt chart view. It should be mentioned here, too, that while a perfect project management tool should have a Gantt Chart, Monday does not have a dedicated Gantt chart functionality. However, it does provide a Gantt chart view through the Timeline column.
In Monday, managing goals necessitates the creation of a separate board called a Roadmap. You may either create the board from scratch or use a Monday template and edit it with different columns. This is not only time-consuming, but it is also inconvenient because you have no option but to rely on the Chart and Timeline views to follow your project goals.
2. Comments Are Un-assignable
It is not possible to assign comments to a specific team members on Monday or mention team members in a comment. That is an issue especially when the comments go through the cracks during the overload of work. So, you may require something immediately, but your team failed to notice it, incurring project delays that could be simply avoided if there was a mentioning feature or assigning feature. 
3. Activity Logs Are Limited
The Monday task management app has two activity logs (board and item) that may be used to keep track of your team's activities. The item activity log indicates the changes made to a specific item in a board, whereas the board activity log shows the changes made to the entire board. Therefore, you have no access to detailed information about your team's activities on a given day in order to assess their productivity.
Advanced activity filters are also available only in Monday's premium plans.
4. No Idea Boards (and you can't do much without it) 
Monday lacks an idea board. An idea board helps to brainstorm your ideas on a subject with your team members. So, whenever you come up with a cool idea worth writing down, you use this board to share it with your team members. It is especially useful for your marketing team. 
An idea management function in a project management platform is required to capture fast thoughts. Unfortunately, there is no such feature on Monday.
5. Pricing is Unreasonable (Monday is expensive!) 
The last reason why Monday sucks is that the pricing is way too expensive in comparison with the features it offers.
Monday has a free plan, but it only includes basic task management features as we just have seen together. It is true that you can acquire more features with the Basic plan ($10/seat/month), but you won't receive any integration or automation tools which is a huge drawback.
Let's look at Monday's pricing now. Keep in mind that the paid plans start at a minimum of 3 users:
Individual plan: free forever with up to two seats.
The individual plan includes: Unlimited boards, Unlimited docs, 200+ templates, Over 20 column types, Up to 2 team members, iOS and Android apps
Basic plan: from $30/month 
Includes Individual, plus: Unlimited free viewers, Unlimited items, 5 GB file storage, Prioritized customer support, Create a dashboard based on 1 board
Standard plan: from $36/month 
Includes Basic, plus: Timeline & Gantt views, Calendar view, Guest access, Automations (250 actions per month), Integrations (250 actions per month), Create a dashboard that combines up to 5 boards
Pro plan: from $60/month
Includes Standard, plus: Private boards and docs, Chart view, Time tracking, Formula column, Dependency column, Automations (25,000 actions per month), Integrations (25,000 actions per month), Create a dashboard that combines up to 10 boards
Enterprise plan: custom pricing through sales
Includes Pro, plus: Enterprise-scale Automations & Integrations

, Multi-level permissions, Up to 50 boards
What is the best alternative for Monday?
Nifty is a new-wave modern project management solution that is a far more powerful and an easier to implement Monday alternative.Nifty offers a combination of collaboration and workflow automation, which is a miss at Monday. The end result is a motivated team with alignment and buy-in across company initiatives.
Here are some of the top features that make Nifty the ideal Monday alternative:
Collaborative Task Management
Flexible board, list, timeline and calendar views
Built-in automation builder
Enhanced filters to drill down across initiatives
Customizable custom fields to fit any workflows
Interactive Roadmaps
Prioritize and plan initiatives visually
Automated progress reporting based on task completion
Public sharing links for roadmaps
Built-in Docs 
Create beautiful docs, wikis, and SOPs
Add to discussions, tasks, and projects
Share through public-share links
Workflow Automations
Custom if/then workflow builder
One-click Zoom & Webex meetings
Over 2000 integrations
Nifty Pricing:
Keep in mind that pricing of Nifty is not based on seats or users, allowing you to grow all you want without breaking bank.
Free plan: free forever
Includes Unlimited members, 100 MB storage

space

, 2 Projects
Starter plan: $39/month
Includes 10 Members, 100 GB storage

space

, 40 Projects, Unlimited guests & clients
Pro plan: $79/month
Includes 20 Members, 500 GB storage

space

, Unlimited Projects, Unlimited guests & clients
Business plan: $124/month
Includes 50 Members, 1 TB storage space,

Unlimited Projects, Unlimited guests & clients
Unlimited plan: $399/month
Includes Unlimited Members, Unlimited storage space,

Unlimited Projects, Unlimited guests & clients
Final thoughts on why Monday sucks!
We analyzed Monday, the day and the project management tool and we talked about its pros and cons. We came to the conclusion that its cons outweigh its pros which proves why Monday sucks. Taking a look at the features that Nifty provides for your team and considering its fair pricing, you can make a better decision that leaves you better off.