If you use project management tools for running your projects and managing your team, you probably have heard about the Writeboard. Here in this post, we will take a look at Writeboard and see how the workflow landscape has evolved in its best alternative. 
What is Writeboard?
Writeboard used to be an easy-to-use online collaboration solution that would let you connect with your team members. White Board has recently been retired and is taken care of by Basecamp. Those who used to manage their projects with Writeboard are now using Basecamp given that they were satisfied by the services that Writeboard provided their projects with. 
Writeboard was a collaboration solution for any business, regardless of its size, that wanted to connect the team members in multiple locations. And this tool was for anyone who wanted a collaboration tool that prioritizes simplicity and ease of use.
The technique of brainstorming ideas on a whiteboard translated perfectly to Writeboard. It was easy to use and to distribute, and there was almost no learning curve. You couldn't go wrong with Writeboard if you needed to rapidly create a collaborative White Board. Writeboard provided the opportunity for the team members to come up with White Board ideas by brainstorming different thoughts relevant to a subject. 
What is a Project Management Tool?
Individuals and teams can use project or task management tools to better organize and manage their projects. Using a project management tool, it is highly unlikely that you miss a deadline or lose control of managing your on-site or remote team. Moreover, every team member would know about the workflow and would do their best to play their own part to get the tasks done in time.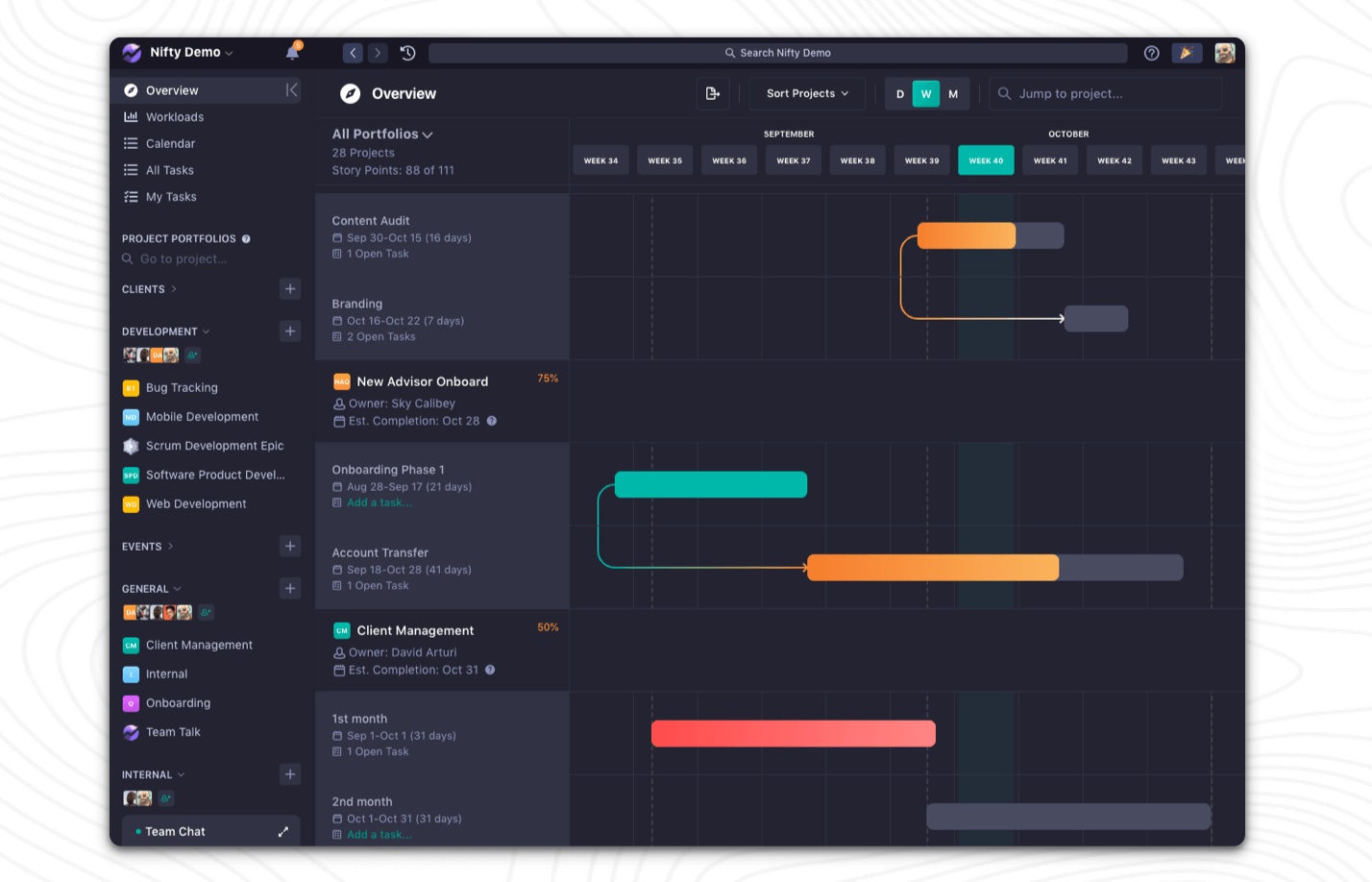 Why Use a Project Management Tool?
When a group of people is all in the same building, it's easy to encourage them to collaborate. But collaboration gets to be a challenge if your teams are located in different buildings or even different geographical locations. 
Here are the benefits of using a project management tool:
Improved planning and scheduling

Better teamwork

Less wasted time on different platforms for the sake of communication

Efficient remote working

Effective task delegation

Easier file access and file sharing

Better integration of new team members

Effective risk control

Budget control

Resource management

Enhanced overall productivity

Improved time tracking

In-time completion of tasks
Given that these advantages are crucial to businesses of any size or kind, using a project management tool can be a game-changer for managers. As the final aim of every business is to get the best result through improved productivity, using a project management tool can help a lot to achieve that goal. 
Nowadays, most businesses are still working remotely due to the outbreak of the Covid-19 pandemic. 88% of remote workers face inconsistent leadership and miscommunications with other team members. So, it is quite difficult for the team members to collaborate and communicate together under such circumstances. On the other hand, the challenges of remote working are also hard for the managers to solve if they keep using the traditional project management methods and strategies. This fact adds up to the importance and necessity of using a project management tool. 
How Did the Writeboard Solve the Problems of Businesses?
Before its deactivation, Writeboard used to tackle the problem of allowing businesses with many locations to interact easily and smoothly. This software used to let a single user establish a whiteboard and then invite other users to join the session.
Though Writeboard does not function any longer, knowing its key features may give a better understanding of how it worked. Here are the key features of Writeboard:
Simple to set up

Subscribe to documents using RSS

Backpack integration

Password-required sessions

Unlimited team member invitations

Free of charge

Sharing text files

Simple text formatting
As you have noticed, the key features of White Board did not seem so appealing. In addition to that, there also used to be some flaws with White Board. The most significant disadvantage of Writeboard was that it was confined to text files. You wouldn't be able to work together on spreadsheets or other Microsoft Office documents. Moreover, you wouldn't find syntax highlighting or other fancy coding tools if you were working on a project with others. 
What Has Replaced the Writeboard Today?
Since Writeboard does not function anymore, Basecamp has replaced Writeboard. Basecamp is a project management tool just like Writeboard. Switching to Basecamp makes teams more productive and organized. They communicate more effectively and hold fewer meetings. They're also significantly more efficient than they were previously.
Basecamp allows team members to divide your work into projects. Every project contains everything relating to the job at hand, including all participants, every debate, every document, file, task, crucial date, and so on. If you are curious about the advantages of basecamp, here are some of them:
Easy to use

Possible to add projects

Built-in communication features

Integrations with add-ons and extensions

Data backup

Customer support

Reasonable pricing
However, when we talk about the advantages, we should also consider talking about disadvantages as well. Though Basecamp has tried to be a sufficient alternative for Writeboard, there are still many disadvantages about it. 
Basecamp Cons
Here are the cons of Basecamp:
1. No Tags/Labels
With dedicated task pages, scheduling features, storage capabilities, etc. Basecamp may help team members become more organized. However, if you wish to prioritize, allocate, or categorize work, you won't be able to add a tag or label to a to-do item. This is true while many task management tools already have this feature. 
2. No Time Tracking
One of the most important features of project management software is the ability to measure time to ensure that the team is on track to complete the project on time. Basecamp, however, does not offer a project time management tool. If you need to keep track of time, you'll need to use it in conjunction with another software. That means Basecamp alone is not enough to meet your project management needs. 
3. No Advanced Features
While Basecamp's tools operate remarkably well for their purpose, they are not enough for a team that needs additional capabilities. Basecamp does not have any analytical tools that can provide useful project data.
4. Limited Customization
If you check Basecamp reviews by the clients, you'll notice that many of them are about the dissatisfaction with customization options. For instance, one of the most common reported issues is about the many notifications they receive in the tool. Although you can turn off notifications if you don't want to be disturbed, people who don't turn them off complain about the messages they receive about any updates on the tool. 
5. Weak Chat Management
Although Basecamp's messaging features are wonderful, keeping track of the chats may sometimes be a mess on Basecamp. Topics and chats in the tool cannot be archived, making it appear cluttered and messy.
What is the Best Alternative for Writeboard?
So, now we know that Writeboard does not work anymore and is out of the market. We also know that it has been replaced by Basecamp. However, as you have just noticed, there are many disadvantages for Basecamp. Accordingly, there should be a third option that compensates for all the loss. But what is the best alternative for White Board and Basecamp?
Nifty is an all-in-one project management solution that includes all of the elements required for a successful business. Nifty features everything you could possibly need for maximum efficiency and productivity, from work management to time tracking to direct and group communication. With this White Board alternative, you'll be able to:
Streamline, centralize, and modernize your process.

Never again will you be late for a project, task, or meeting.

Google Docs, Zoom, and other applications are all integrated within the software.

When Zoom meetings start, they will appear straight in the Nifty software.

On a project level, Nifty provides a robust set of standard capabilities that may be scaled back as needed by teams. Timeline and task management, as well as talks, documents, and files, are all included.

A built-in team chat enables one-on-one or group discussions, combining communication and action into a unified experience.

Without having to visit each of the projects directly, Nifty provides scalable capabilities to manage all project timelines and tasks.

Nifty allows you to set

milestones

for your project so that you may complete it more quickly and on time.

Automated processes allow you to customize your projects.

You may use free color schemes to bring beauty and clarity to your work.

Third-party software such as Hubspot, Salesforce, and others can be integrated.

The amazing thing about Nifty is that you can quickly and easily move your projects, team, tasks, and files from Asana, Basecamp, ClickUp, JIRA, Trello, Wrike, etc. to it. With Nifty, your team can pick up right where they left off without losing any tasks or projects.

You can simply keep track of the time you spend on each work because you may set due dates for them.

You can simply keep track of the time you spend on each work thanks to the due date setting feature.

You can add Excel sheets to the projects.

You don't need to use your other messaging platform to connect with your team members because the software has a private messaging capability.

You can send emoticons together with text using the messaging tool.

You can quickly locate each task using the task ID.

Nifty features a feature that ensures you that it was created to save you time: as you wait for the page to reload, you will be shown a motivating quote from a renowned person. Even though reloading takes less than 2 seconds, you can read the quote and be inspired every time you visit Nifty.
This program is a must-have, and it's simple to use, so your team won't waste time learning it. The Starter plan starts at $39/month for a team of 0–10 members, the Pro Plan starts at $79/month for 0–20 users, and the Business tier starts at $124/month for teams up to 50 users with unlimited projects, 1TB of storage, and premium features. The Enterprise Plan starts at $399/month with unlimited users, unlimited projects, 2TB of storage, and premium features. The good news is that there is also a generous FREE plan as well.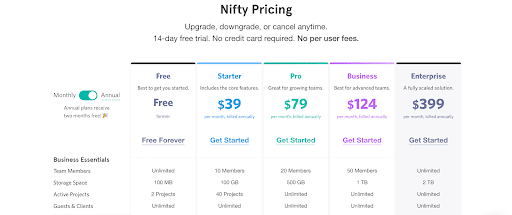 So, as you can see, Nifty seems to be the best alternative for Writeboard. It is more than a place where you come up with White Board ideas by brainstorming. Not only can you communicate and collaborate with your team members, but you can also keep the project going by checking the performance visually. 
Final Thoughts and Where to Move on from Whiteboard
Writeboard is no longer available today and its users may find it difficult to find a proper alternative for it. Since technologies get old or out-of-service for many reasons, there are always stronger and more adaptable technologies to replace them for the better. Writeboard is now replaced by Basecamp but Basecamp itself does not satisfy its users either. As a result, the best alternative for Writeboard is Nifty. 
In this article, we talked comprehensively about the features and pricing of Nifty. Taking a look at the differences and privileges would definitely make it easy for you to make a decision. Wish you the best of luck!