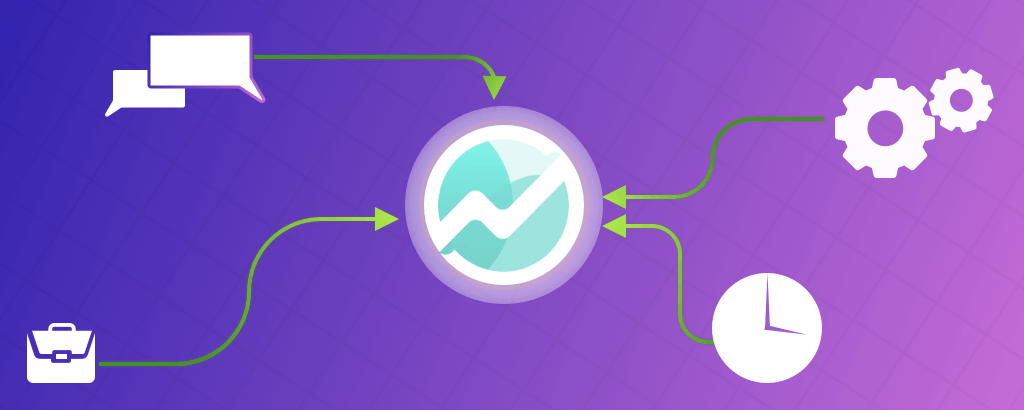 Manager tools are essential to leading a team and ensuring success for everyone you are responsible for on the team. Having the correct manager tools and software will help you do a better job and lead to a better company overall. 
Being a manager is challenging as there are always unforeseen issues you may need help managing. Furthermore, the wide range of tasks and collaborative processes makes this a demanding and strenuous job.
In this article, we'll cover the best management tools for managers and how to use them to get your team members to work together.
What is smart working?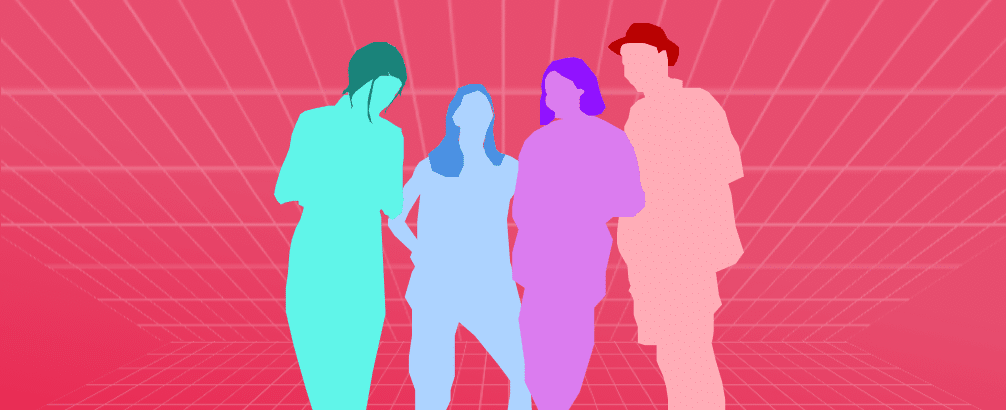 ​​When managing several projects, teams, tasks, and clients, you must ensure that things don't go wrong and that everything goes according to plan.
In other words, you are responsible for meeting the deadlines in time to satisfy your clients. To do this, you need to gain a lot of experience and know your team members well.
And as we are lucky enough to live in the era of technology, we should use the best of what we can.
Smart working is defined as a model of work that incorporates new technologies and the development of existing technologies to improve job performance and happiness.
For example, instead of manually sourcing individual emails from your existing network on LinkedIn — use the technology of a LinkedIn email finder and find dozens of them in a matter of minutes.
Smart working is different from co-working when self-employed people share a workspace. Smart working allows you to get many things done in a much shorter time. In other words, it increases productivity and efficiency. 
Hence, modern management is more efficient than traditional management. Let's make a comparison between these two.
Traditional vs Modern Management Models and Manager Tools
Here is a comparison between traditional and modern management:
Stability: 

Traditional companies are more stable in business operations and advancement, whereas modern organizations are more dynamic, with different business strategies that necessitate multiple processes to deal with rapid change.

Flexibility:

 In a traditional organization, the strategy is predetermined, and management is rigid. While modern organizations must constantly enhance their workflows and update their competitive advantages, personnel must promote skills and knowledge to keep up with market changes.

Teamwork:

 Traditional business flow is vertical, which emphasizes individual responsibility and obedience to one's superior, whereas modern business is horizontal, which emphasizes teamwork, collaboration, and brainstorming. 

Management Policy: 

Traditional 

company management practices

 are conservative, with traditional norms and regulations, a static workflow model, and a conventional business strategy and personnel management system. On the other hand, modern management models would make changes such as rescheduling, flexible entity management, and dynamic company strategy.
The 16 Best Manager Tools
If you are reading this article, you are either a modern manager or a traditional manager who has recently decided to shift to modern management. Here, we are going to list down the best management tools that a manager would need so that they can manage everything that goes on in the company.
1. Nifty – The Ideal Manager Tool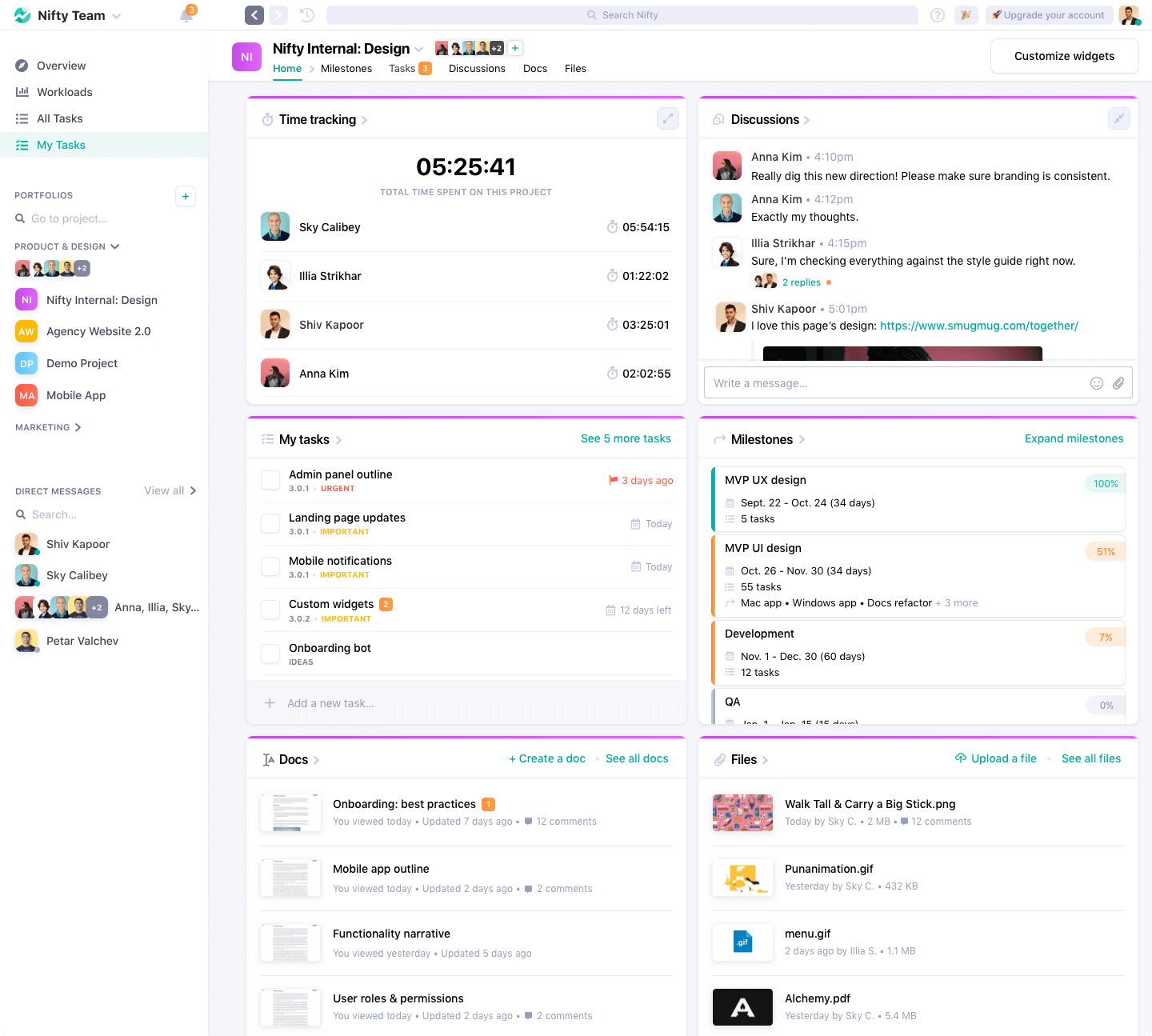 Nifty is an all-in-one task management tool for managers and team members with a lot of powerful features that can facilitate team management for you to an unbelievably large extent. It combines all of the necessary elements for successfully planning, collaborating, organizing, and delivering projects. It also allows managers to manage multiple projects and teams at the same time.
Nifty is adaptable enough to manage a wide range of jobs for a variety of projects. As a manager, you'll appreciate how useful this software is for organizing tasks and allocating them to team members. It provides a safe and convenient location for all of your work-related chores. You also receive a clear picture of all the tasks in a project so you know what's done and what has to be done.
You can check all of your projects and teamwork visually on the platform. Its user-friendly layout makes onboarding a breeze, and you'll be familiar with its features in no time. One of the best things about Nifty is that it can be used by teams of any size, sector, or department. Nifty is a complete project management software that brings you and your team together in one location to stay on top of project progress.
Key Features
Managers' primary responsibility is task management. Creating and assigning assignments to team members is a breeze using Nifty. Create tasks with deadlines, break them down into smaller subtasks, add comments, attach files, and track progress for each task using the software. You can also construct custom workflows and streamline your task management efforts.
Pricing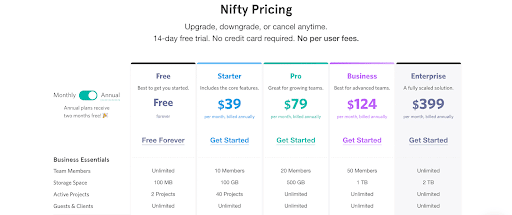 Free forever: for unlimited users available
Starter: $39 per month for a team of 0–10 members
Pro: $79 per month for 0–20 users
Business: $124 per month for teams of up to 50 users
Unlimited: $399/month for unlimited users, projects, and storage
👉 Ready to try Nifty for free? Get started today!
2. Time Doctor – Time Tracking App Manager Tools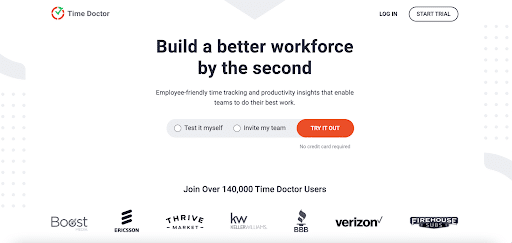 Time management is a remarkable issue for any manager. The task of managing large or remote teams is made easier with Time Doctor. It's one of the greatest apps for keeping track of individual team members' activities. You'll always know how your team spends their work time, regardless of where they are or how many people they are.
Time Doctor helps you to keep track of both productive and unproductive time spent on assignments by team members. You can take screenshots of employees' monitors at regular intervals with Time Doctor to observe what they are doing during work hours.
Key Features
The GPS allows you to know about the location of your employees. You can track the attendance of the employees as well as receive display pop-up alerts when they are not working or visiting irrelevant websites. Time Doctor can also track breaks and the wasted time. Furthermore, you can create thorough time reports to identify areas where productivity is lacking.
Pricing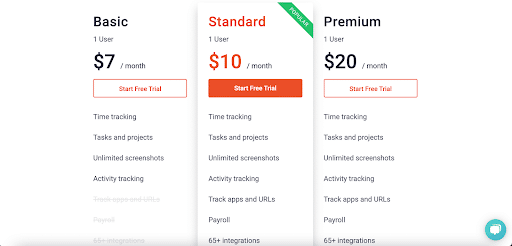 There are three plans on Time Doctor; a Basic plan at $7/month, a Standard plan at $10/month, and a Premium plan at $20/month. There is a 14 -day free trial for each plan, so you can see which one suits your business best. 
3. EmailAnalytics – Email tracking tools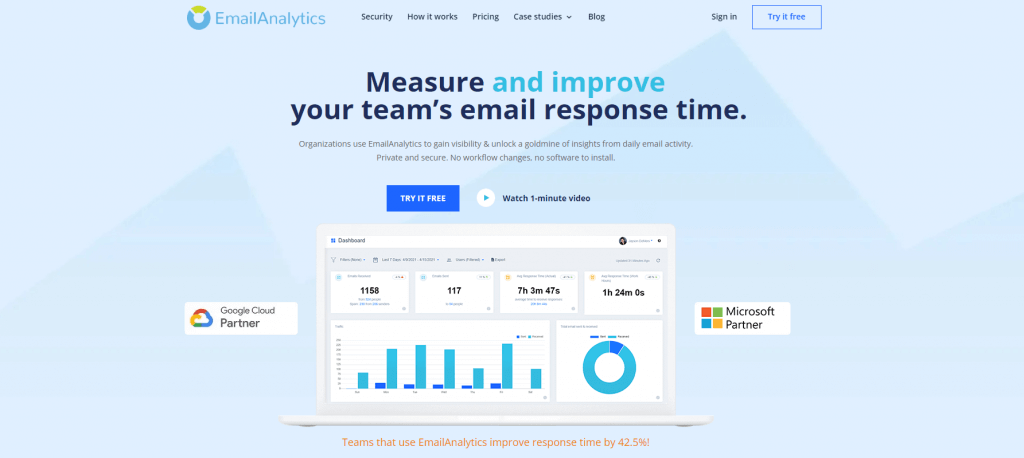 The average professional spends 50% of their workday sending and receiving emails. But for most managers, that time spent is shrouded in mystery. EmailAnalytics removes the blindfold, helping managers visualize the email activity of their agents and reps.
Designed for sales and customer service teams, EmailAnalytics enables you to measure and improve email response time, which is one of the most important KPIs for professionals that use email to communicate with customers, vendors, leads, and other stakeholders.
Key Features
Email reports enable managers to not only receive daily/weekly reports delivered to their inbox covering the activity of each of their reps but also automatically send reports to their reps. This makes it simple to benefit from the visibility EmailAnalytics provides without having to log in to another daily dashboard.
Teams that use EmailAnalytics improve their response times by 42.5% on average, giving them a significant competitive advantage over teams that don't measure and improve their response times.
Pricing
Pricing is simply $15/mo per tracked inbox. Bulk discounts are available, too. There is a 14-day fully featured free trial.
4. ZoomShift — Employee Work Scheduling App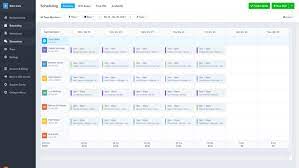 ZoomShift is a work scheduling app that allows employees to take more initiative in their scheduling hours, thus improving staff accountability. It considers employee work availability, overtime, time-off requests, and shift swaps when creating real-time schedules.
When you incorporate ZoomShift into your workflow, you can track employee schedules and reduce avoidable internal conflicts caused by human error. You can also export employee schedules and attendance data to your payroll software, saving you time and effort.
Overall, this employee work scheduling app does more than just allow your employees to view and create schedules – it ensures healthy team communication and a better employee-work experience.
Because it's a cloud storage service, you can access files you've uploaded from anywhere, on any device. Upload photographs, documents, movies, audio files, PDFs, and other things to Google Drive and view them there.
Key Features
The ZoomShift app digitizes work schedules across platforms — desktop and mobile. As a scheduling app, you get to oversee real-time work schedules and manage timesheets. Your employees can also log in and out of their shifts with the mobile app.
Automate schedules using ZoomShift to slash time off admin work and invest more time into your business. You can customize these schedules using different templates for different rotations, like morning shifts, afternoon shifts, and night shifts.
You can also automate less common scenarios such as covering shifts for employees on sick or maternity leave. It's also possible to save these templates and have it run for a whole month.
Pricing
ZoomShift has three pricing plans — Starter, Premium, and Enterprise. You can try any for free for 14 days without having to add your credit card details.
These plans are billed either monthly or annually depending on your preference. The monthly and annual Starter plans go for $2.50 and $2/month respectively and the Premium at $5 and $4/month respectively. The Enterprise pricing plan is billed per active team member/month, making it suitable for large companies or franchises.
5. Brosix – effective collaboration for you and your team.
Brosix is a powerful and easy-to-use instant messaging platform aimed at boosting team collaboration and streamlining communication. You are allowed to create closed, private, and secure IM networks which help to optimize your work processes. Brosix provides users with secured instant messages that can be shared, stored, and easily retrieved. It is an excellent manager tool for enterprises looking to increase team productivity by leveraging the diverse functional features
Key Features
The Brosix instant messaging app provides real-time collaboration features that allow users to communicate over a secured network. You can count on strong encryption to all file transfers and send unlimited size files to anyone on your network. For quick and efficient collaboration with your team, the app allows you to share your screen with other users, take a screenshot of your work, use whiteboard for better visualization of your ideas, co-browse, keep track of multiple conversations in a single window or send encrypted messages to offline contacts.
Pricing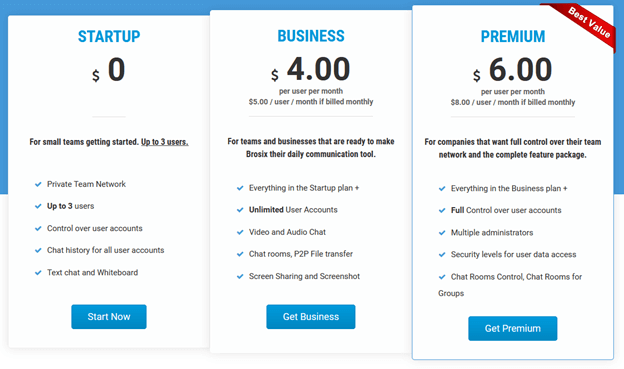 In addition to the Free plan, there is also a Business plan at the cost of $4 per user/month and Premium plan at the cost of $6 per user/month.
6.ProofHub
ProofHub is designed for teams to do great things together. A powerful tool that helps teams in planning, managing and delivering their projects on time. It is a project management tool for you and your team to manage projects, tasks and conversations under one roof.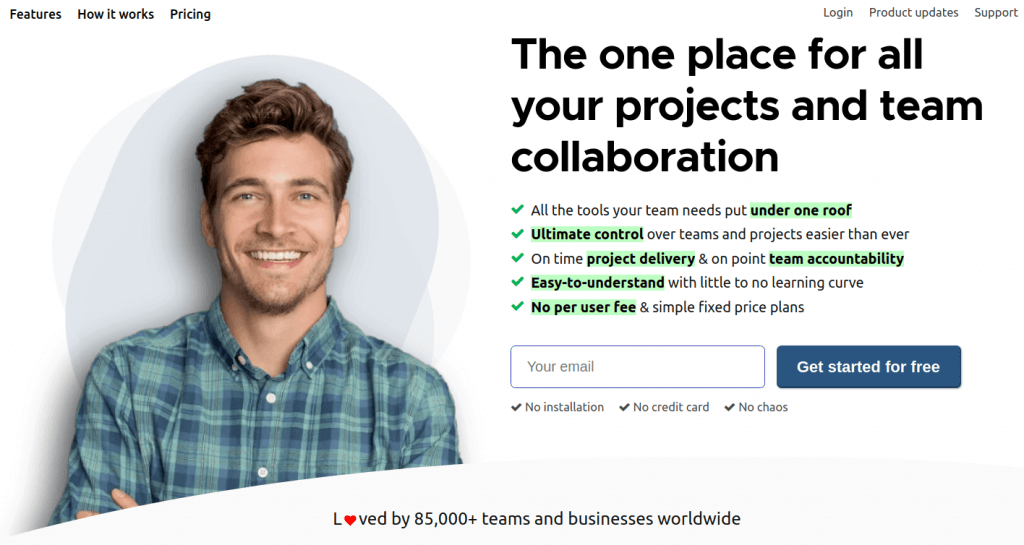 With ProofHub, you can share files directly with your team members in a secure fashion. It ensures that everyone involved in the project is on the same page and moving in the desired direction. 
ProofHub's project planning tool lets you plan, organize and schedule all your projects. It gives a birds-eye view of what's happening in the organization by offering Gantt charts, Kanban views, calendar, and more. 
ProofHub centralizes communication with team members and clients through discussions, chats, and comments. ProofHub is also widely used as a personal project management tool.
With over 85000+ customers and millions of users worldwide, ProofHub is the ultimate solution for organizations looking for a more efficient way to deliver their projects on time. 
Key Features
Being an all-in-one collaborative platform, ProofHub has vital features such as Shared files, assign tasks to one or more people (and get reminders!), see who is doing what with Gantt charts, Flexible user roles with various access control options, Comments and discussions directly related to each task
It also offers a centralized hub for your team files and documents so that everyone has access to the latest version on-the-go from any location – giving them ample space in the cloud to organize the way they want. 
Pricing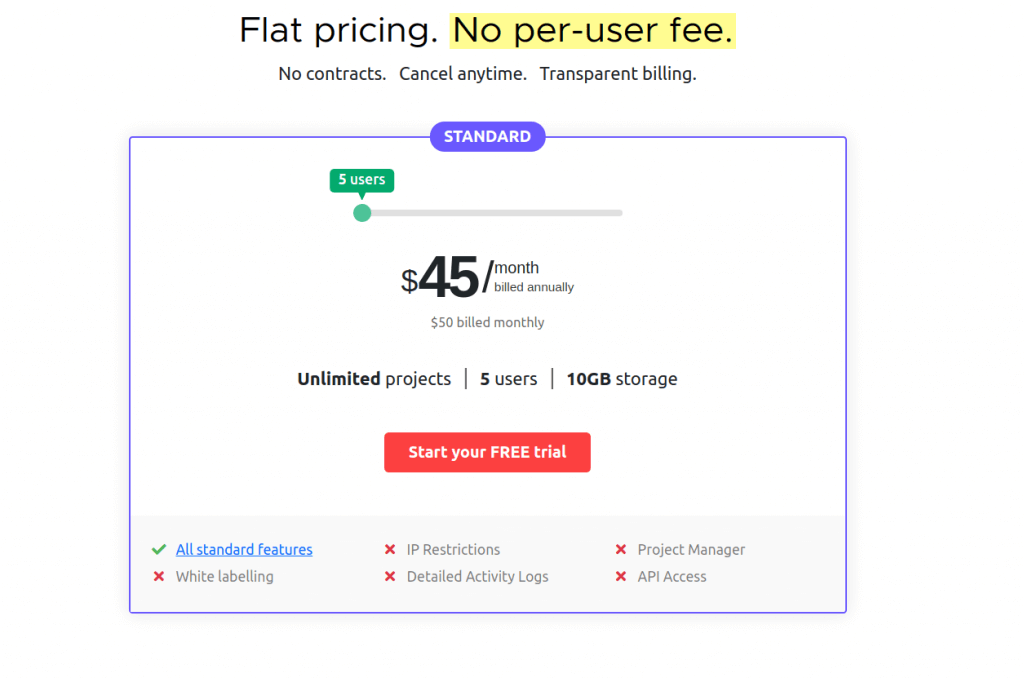 ProofHub offers a flat rate pricing making it an ideal solution for teams of sizes. The standard plan starts at $45 per month, when billed annually.
7. Boomerang – Email Management App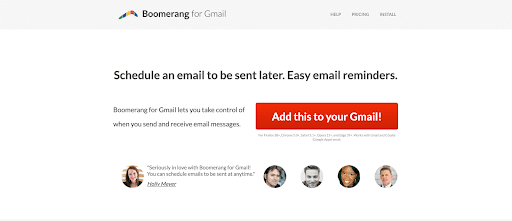 The Boomerang for Gmail app makes managing all of your emails on Gmail simple and effective. Team members and managers may receive a lot of emails per day and it can make them feel frustrated sometimes. To have better control over sending and receiving emails, you can use Boomerang for Gmail.
Boomerang for Gmail helps you clear your inbox by archiving all of the email messages you don't need right now. With a single click, you may restore the same email messages to your Gmail inbox anytime you need them.
Key Features
Using Boomerang for Gmail, you can set up reminders for emails that haven't received a response within a certain amount of time. With the help of an AI-powered assistant, you can write excellent emails. You can also communicate with individuals in different time zones with ease.
Pricing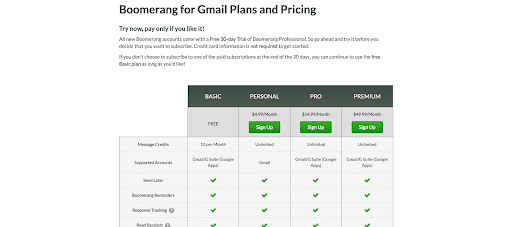 There are four plans for Boomerang for Gmail. The Basic plan is free, the Personal plan is available at $4.99/month, the Pro plan at $14.99/month, and the Premium plan at $49.99/month. 
8. Salesmate – Sales CRM Software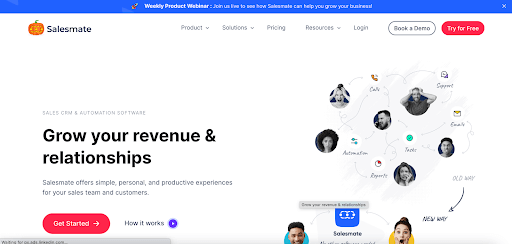 Salesmate is a sophisticated CRM tool for managers and sales staff that can assist you in streamlining your sales process. It uses cutting-edge sales strategies to help your company attract more customers, close more deals, and improve customer satisfaction.
The sales funnel view in this CRM software is easy and insightful. All of your deals may be readily tracked, filtered, and viewed. The drag-and-drop interface makes moving deals from one step to the next a breeze.
Key Features
As a management tool for managers, Salesmate allows you to use a sales activity tracker to keep track of your team's actions. When a prospect opens your email, you'll get a notification on the software. You can also call and send text messages to contacts using the integrated virtual phone system.
Pricing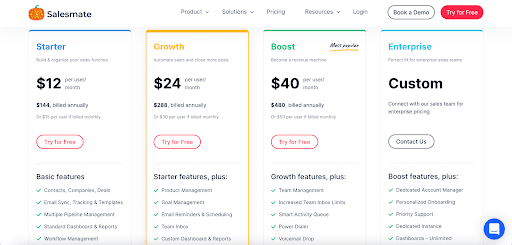 The starter plan costs $12/month, the Growth plan $24/month, the Boost plan $40/month, and the Enterprise plan which does not have a fixed cost and can vary from business to business.
9. V2 Cloud
V2 Cloud is a DaaS provider that allows you to easily deploy cloud-based Windows desktops in a few minutes. It's crucial to have the right infrastructure when working with a hybrid policy to assure better collaboration and productivity. Have a seamless and secure work environment either from home or at the office. With cloud desktop, you can access all your business data and apps from any device, from anywhere.
Key Features
As a Daas provider V2 Cloud provides a number of 3rd party integrations, daily data backups, malware protection services and is available on web, desktop, iOS and android.
Pricing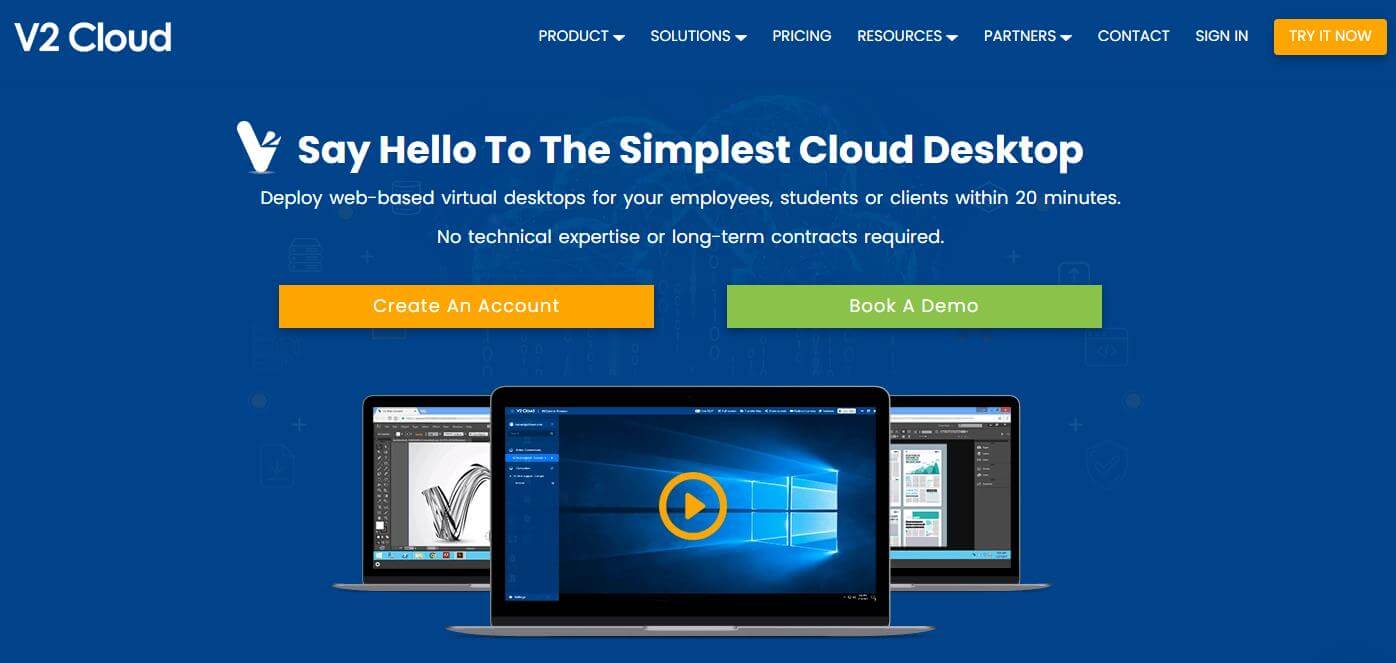 A risk-free trial is available . The basic plan starts at $40/month. Contract-free, with no hidden fees.
10. Fyle
Fyle is an AI-powered expense management software for businesses. It sits inside apps like Slack, G-Suite, and Office 365 so employees can track and report expenses from wherever the receipts are, with just a click.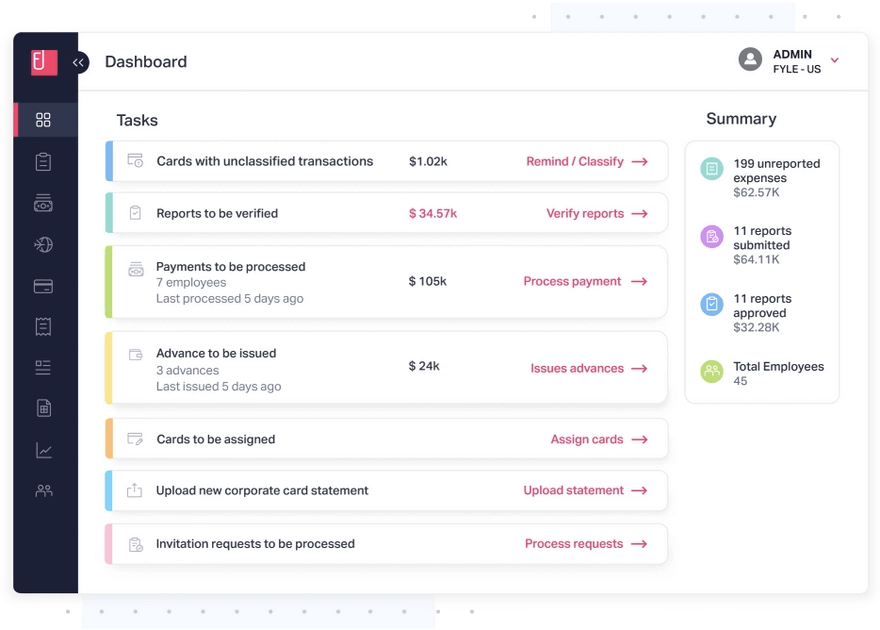 Key Features
It checks every expense tracked and helps employees fix any violations before the report is even submitted. Further, it brings spend data from across the organization, including credit card spend, to a unified spend management dashboard. With real-time analytics on the financial health of the organization, Finance teams make data-backed decisions to drive greater financial productivity. 
Pricing
Their pricing starts from $4.99 for their standard plan, and there's a custom price for enterprise/big teams.

11. Onlinenotepad – An online note-taking tool

Online Notepad is a browser-based writing space that can be used to quickly note taking and structure detailed documents. A downloadable application is also available. With the availability of all sorts of formatting options, Online Notepad is a proficient alternative to paid writing tools.
Managers can utilize this tool to craft writings such as official announcements, employee contracts, warning letters, and much more. Because of the tool's extreme ease of usability, the managers can understand it's working quite quickly as well. Moreover, this tool can be integrated into employees' systems so that everyone can perform written tasks easily.
Key Features
This tool offers cloud storage where you can save your work and store important office documents. It has a multitude of uploading and downloading options. You can even upload documents that already exist and edit them on this tool. Other than that, this tool offers tons of elements to add to your writing, such as headings and subheadings, bullet points, images, etc. These elements make the managerial documents look more professional.
Pricing
All the features of this tool are available totally for free.
12. Flipsnack
Flipsnack is an online flipbook maker and a great tool for internal document creation and management. It allows you to present information to your team through flipbooks and make it engaging and easy to understand.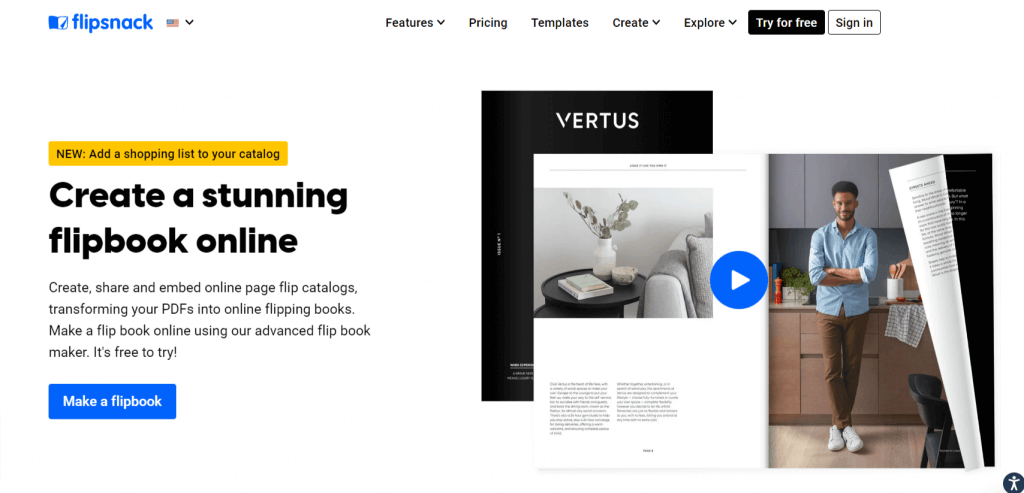 You can make plans and tasks more clear and not lose details while explaining something. Furthermore, you can add buttons, videos, and links to other useful resources. This interactive experience offers your team members the opportunity to check in detail the pages they are interested in, see videos from the pages, and use buttons and links for more interactivity.
Key Features
With flipbooks, you can communicate inside your organization in a more interactive way. Also, you can get insights about people that read the materials you have sent. You can see how much time they spent on them.
Flipsnack can also be used as a newsletter tool. You have many newsletter templates offered by this software that helps you create them faster.
As a manager, you can also create surveys on the flipbook pages to ask your team for feedback. In this way, you make sure that they read the information you sent, pay attention and also participate in updating it and making it more useful for the team. They can also share feedback regarding your business objectives and the products or services that you are selling.
Pricing
There are many different plans that you can choose from. The Starter plan that anyone can use is $14 per month. The Professional plan is $35 per month and allows you to create documents with 200 pages. The Business plan, at $79 per month, allows you to add 500 pages per document. The more advanced plans (for Enterprise) start at $149 and allow you to add branding, manage teams and workspaces, and allow custom integrations and automation.
There is also a 14-day free trial that you can try before choosing a plan to decide what works best for you.
13.TeleCRM: Simplify Your Sales Management
TeleCRM is a comprehensive CRM with dialer that can streamline your sales management process. With TeleCRM, you can manage your sales process end-to-end, track leads, automate tasks, and generate insightful reports.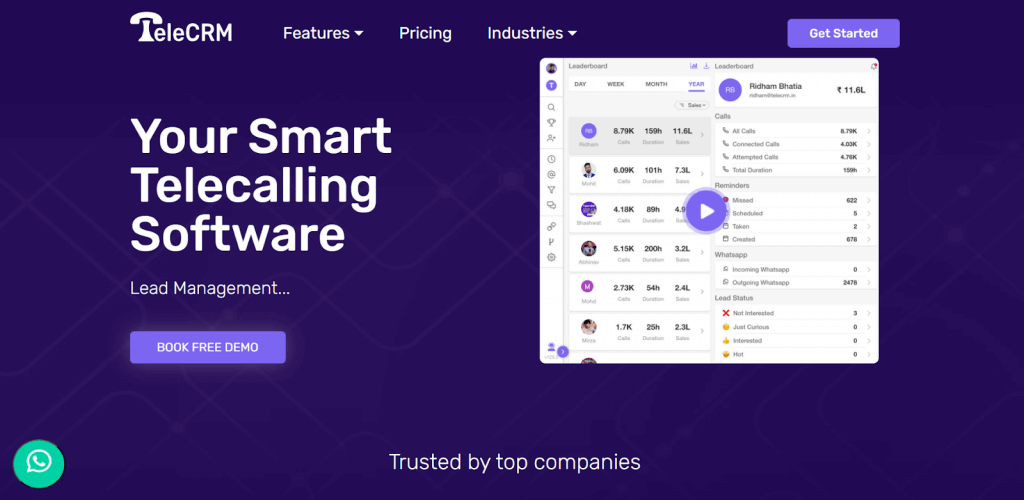 TeleCRM's user-friendly interface makes it easy to navigate and customize to meet your specific needs. Whether you're a small business owner or a large telecalling team manager, TeleCRM can help you streamline your sales operations and improve your team's productivity.
Key features
With TeleCRM you can auto-capture leads, auto-engage the leads as soon as they are captured, automatically distribute them with your team member, track the lead status, have automated followup reminders, and much more.
As a manager, you can see real-time reports on how your sales team is doing.
Pricing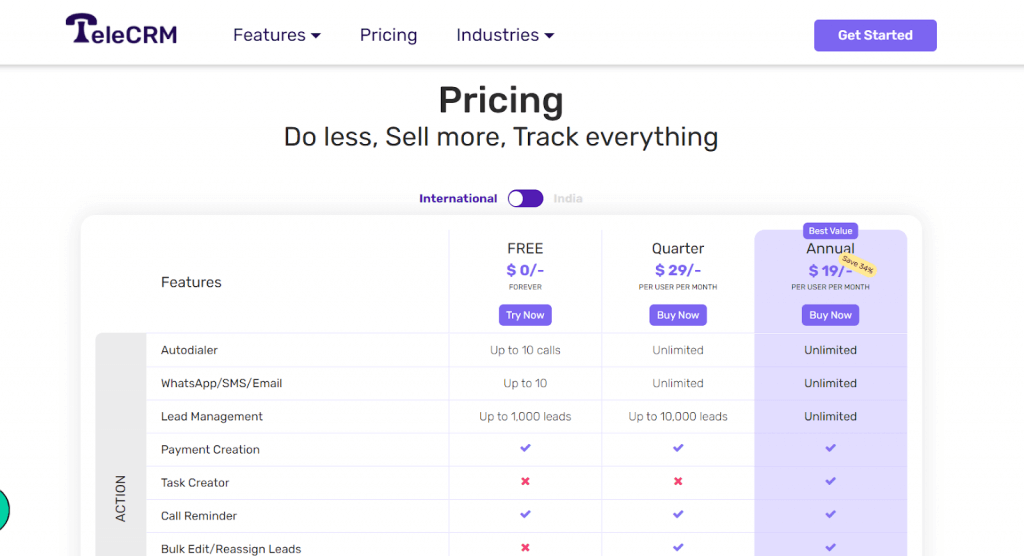 TeleCRM offers a free trial and has three pricing plans: Free, Quarter, and Annual. 
The Quarter plan costs $29 per user per month. The Annual plan costs $19 per user per month
14. Chanty – Team Communications App Manager Tools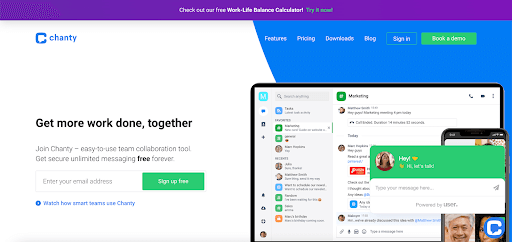 Chanty is a user-friendly AI-powered team chat tool that will keep your team in touch. It's an excellent tool for managers and any team to cooperate and communicate effectively. This app's UI is simple and easy to use, making team onboarding a breeze.
Chanty is available to assist you in effectively communicating with your teams via text, voice calls, or video conversations. You may also share files and links with people in your team using the chat app.
Key Features
Pin your messages to access them quickly in the moment of need. You can send voice messages in addition to texts. You may share lines of code thanks to the developer-friendly layout. The Teambook helps you keep track of conversations, pinned messages, and shared files. In addition, you can set up roles to control who can post and see what other people are saying in a conversation.
Pricing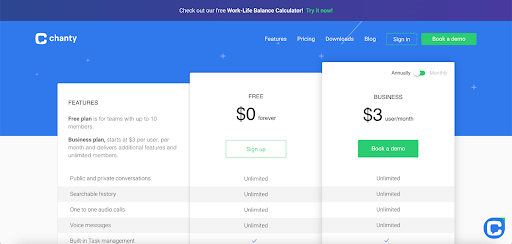 In addition to the free plan, there is also a Business plan at the cost of $3 per user/month. 
15. Zoom – Video Conferencing Platform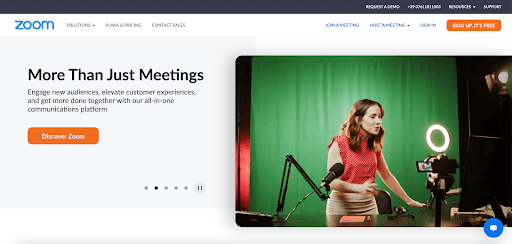 Zoom is currently the most widely used video conferencing platform especially after the outbreak of the Covid-19 pandemic when all businesses and universities went/have gone online. Simply switch to Zoom, as one of the most essential management tools for managers, when you want to communicate with your team across audio and video conference calls in a seamless manner. 
Zoom has a chat interface that allows you to communicate messages and even share files with your team members or partners in addition to video conferencing. You also don't need to be a tech whiz to use this program to start video meetings with your coworkers because it's quite user-friendly.
Key Features
Zoom allows your team to deliver presentations by supporting screen sharing. You can make high-definition voice and video calls. In addition, important information, such as live in-meeting statistics, is available on the admin dashboard.
Pricing
In addition to the Free plan, three other plans are also available. The Pro plan costs $14.99/month, the Business plan $19.99/month, and the Enterprise plan $19.99/month. 
16.
HubSpot CRM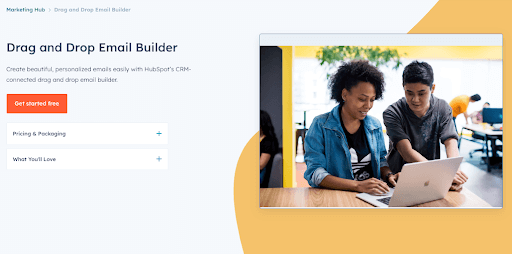 HubSpot's CRM and email builder is an exceptional tool for managers looking to streamline their operations and enhance productivity. HubSpot is designed to provide a centralized database that enables managers to efficiently organize and track customer interactions. With the CRM, managers can easily keep track of sales activities, customer communication, and deal progress.
Additionally, the email builder makes it effortless for managers to create visually appealing and personalized emails. Moreover, the email builder integrates seamlessly with the CRM, allowing managers to effortlessly send targeted emails to specific segments of their customer base. With HubSpot's CRM and email builder, managers can optimize their workflow, enhance customer relationships, and ultimately drive business growth.
Key Features
This tool offers a wide range of customizable templates and drag-and-drop functionalities, making it easy to create professional emails without any coding knowledge. There are shared inboxes, website and forms integration, and more within HubSpot's all-in-one platform.
Pricing

HubSpot offers an entirely free plan with access to its CRM and core features. For small and growing businesses, they have affordable plans starting at $18, which includes all of their Hubs. For enterprise and big companies, they have more capabilities and controls.
17. Scribe – AI-Powered Process Guides for Managers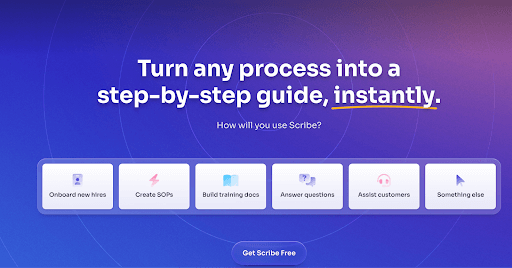 Save yourself and your team 20+ hours a month with Scribe, an AI-powered manager's secret that documents your processes for you. 
As a manager, you're your team's go-to person for processes and tools. That usually means you spend more of your time answering questions and building training materials than doing the work that matters. Scribe auto-generates step-by-step guides, complete with text and annotated screenshots. Turn even the most complicated process into an easy-to-follow procedure that you can capture, edit and share in seconds. 
Capture your processes, combine them, and then let AI do the rest! Scribe uses Chat-GPT to let you turn your workflows into manuals that show you not just how to do the work but why. Empower your team to get their work done without missing out on yours. 
Key Features
Turn on the Scribe extension or desktop app and let it follow along as you work. Scribe will create a visual, annotated guide that your team can access and use exactly when they need it. Recommended Scribes are available directly in the browser, and feedback functionality makes sure you're always using best practices. Scribe offers smart and auto-redaction for sensitive information and includes enterprise-grade security and controls. 
Pricing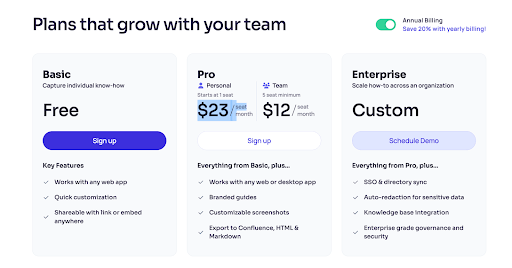 Scribe has a free Basic Plan, $12/user/month Pro Teams Plan, $23/user/month Pro Plan, and custom Enterprise packages
Final Thoughts on the Best Manager Tools
The above-mentioned best management tools for managers can facilitate your job as a manager significantly. Decide which ones you need and start using them for better management. Wish you the best of luck!
If you choose to use Nifty for your project management and task management, you are just a sign-up away.