Time is our most precious asset in work and life. According to productivity expert Oliver Burkeman, life is time management. 
The dictionary defines "time management" as "the analysis of how working hours are spent and the prioritization of tasks to maximize personal efficiency in the workplace." As Burkeman suggests, though, effective (or ineffective) time management will spill into other areas of our lives, giving us more or less time for activities outside of work.
Small Businesses Do More with Less
For small business owners and leaders, time management is a matter of maximizing productivity with finite resources. You do not have the budgets and technology that enterprises need to hire teams and buy specialized software for every business function.
You are always trying to do more with less.
Fortunately, there are great tools available to help you manage your time and stay focused on what matters most. Just like in GMB, you can schedule google my business posts in advance so that you can save time & work on other tasks. There are multiple flavors of time management software and different approaches that each category addresses. Time management software categories include:
All-in-one platforms bundle project management, task management, time tracking, progress tracking, and communication.

Project management software.

Time tracking software.

Time tracking for invoicing.

Communication tools.

Calendar tools.

Time management system tools.

Focus apps.

Time management rehab apps.

Password managers.
In this post, we will look at some of the most popular and effective time management software platforms for each category.
Best All-in-One Time Management Software for Small Business: Nifty
Nifty brings the richest feature set to the time management software world. The platform includes project management, time tracking, progress tracking, communication, and file management tools. And it also brings powerful reporting features to the table.
For small businesses, this Swiss Army knife approach means you only need to invest in (and learn and maintain) one platform for your time management needs. Specifically, you do not need to buy a separate time tracker, chat app, video meeting tool, or file manager.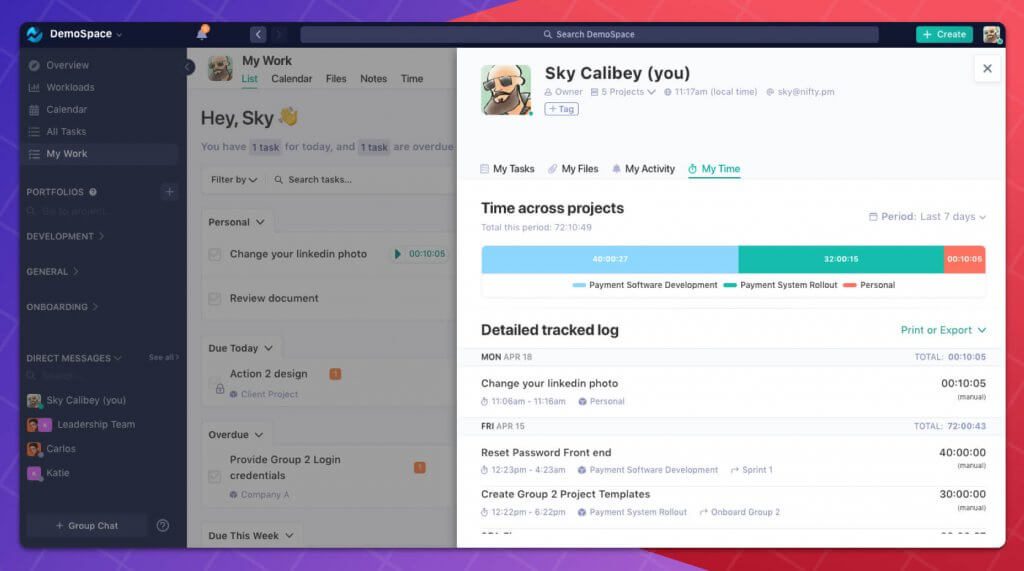 Another important feature for small businesses is budget tracking—where you can visualize your project status and budget status together to see if you are on or off track. When resources are tight, this feature is super valuable. 
Best of all for small businesses with tight budgets, you can get started for free and add paid features as you see the ROI.
Best Project Management Software for Small Business: Trello
Trello combines two benefits that small businesses need—simplicity and affordability. It is among the easiest project management platforms to learn and use, and a free version allows you to get started without an upfront investment. 
The Trello project management system uses a drag-and-drop dashboard that is a lot like a Kanban board. Projects are configured as cards in columns that represent the status. For example, you can have a "draft" column for a project, and when the draft is complete move it to a "review" column and assign the project to a reviewer. 
Each project card clearly displays the most essential project information, you can add notes for team members. You can upload files and send messages by tagging users. The downside is a limited feature set that might constrain you in the future.
Best Time Management Software for Small Business: Clockify
We all know you cannot manage what you do not measure. Time management software with build in tracking system measures how you and your employees spend their time so you can better manage it. 
Clockify sits at the top of many time-tracking software review sites for good reason. First, you can track how time is spent by an unlimited number of users from mobile and desktop devices for free. You can track time for projects and tasks and use GPS to view user locations. Clockify also has a screenshot feature that captures users screens every five minutes to automate time tracking. 
A paid version allows you to generate invoices and measure labor costs against project budgets based on time tracked. Some trackers offer these features for free. But the automated time tracking with screenshots (as opposed to manual logs) makes up for that. 
Best Time Tracker for Invoicing for Small Business
Harvest is a free time tracking app that makes it easy to bill clients, track labor costs, and submit expenses. The app also integrates with online payment platforms like Stripe and Paypal so you can process payments from the same dashboard. 
Like many of the tools listed here, Harvest scores points for small business owners for its simple interface and its ease of use. The app works on all devices and is one of the only time trackers that offer expense reporting. Harvest is purpose-built for what it does best and offers integrations with project management, accounting, and communication platforms to expand capabilities. 
With the free version, you are limited to two users, and some criticize the lack of GPS tracking and note that it is missing an integration with payroll software.
Best Task Management for Small Business: Todoist
The to-do list is the workhorse of task management. We all use to-do lists for everything from grocery shopping to task management. Of the many digital to-do lists available, Todoist is the leader. Todoist wins for small businesses because it is easy to use and free. You can create tasks and subtasks, enter deadlines, and send alerts and reminders. It works on all devices where other apps are mobile-only and supports individuals and teams.
Todoist makes it easy to plan tasks and assign owners, share files, and discuss the details with integrated messaging, and track the progress of tasks. 
One knock on Todoist is that its core unit (or task) is called a "project." This can be confusing because most people define a project as something with multiple tasks involved. Todoist is designed more for individual tasks, so the nomenclature does not make sense. 
Best Communication Tool for Small Business: Slack
Slack (part of Salesforce) is the gorilla in the online communication space, used by global enterprises for instant chat, video calls, and more. The good news for small businesses is that Slack offers a free version for unlimited users and getting started is easy. 
The free version of Slack is great for businesses where employees are collocated. If you have remote employees and want to enable voice and video calls and screen sharing, you will have to upgrade to a paid version. The free version allows you to create chat channels around specific topics, create groups for team communication, share and store files, and more. And Slack's mobile app is second to none. 
Another reason Slack is great for small businesses is that it supports the most integrations with other applications. Integrating communications with other time management platforms centralizes your productivity tools. However, a knock on the platform is that you must invest in the paid version to use integrations with project and time management software.
Best Calendar Tool for Small Business: Calendar
Calendly changed the world of time management by enabling you to allow contacts to self-schedule meetings based on your preferred days and times. It takes 26-30 minutes to schedule a business meeting, Doodle found. Who needs that?
But Calendar takes self-scheduling a few steps further by enabling calendar sharing so that groups can self-schedule based on everyone's availability. Calendar also allows you to assign tasks, set alerts, and it will even give you directions to your next meeting—for free.
Another powerful Calendar feature is that it supports multiple types of calendars. Not only can you allow people to schedule meetings with you based on your availability preferences, but you can also share Outlook, iCal, and Google Calendars from anyone inside or outside your organization.
The main criticism of Calendar is that it is not Gmail or Outlook, and using it adds another solution to your already-crowded digital toolbox. You and your team will have to learn a new system and most people resist change. It also gets low marks for integrations, while Gmail and Outlook integrate with everything (except each other).
Best Time Management System Software for Small Business: Pomodor
Time management systems like Get Things Done and Autofocus spell out methodologies for organizing your work. The Pomodoro Technique is one of the most popular time management systems in the world. You break your work into 25-minute increments. Using a timer, you work for 25 minutes, and take a five-minute break. After four 25-minute work sessions and five-minute breaks, you take a 15-30-minute break.
Fun fact: Pomodoro is the Italian word for tomato. The inventor of the technique, Francesco Cirillo developed it when he was in college in Italy and struggling to study. He used a tomato timer to mark the time, hence the name.
The Pomodor app digitizes the tomato timer and more. It is a sleek, minimalistic interface that suits its purpose of streamlining your time management. You can set the timer for work sessions and breaks to any period, save time blocks for diverse types of work, automate sessions, and track your performance with statistics.
A downside to Pomodor is that there is no mobile version. At first, that might seem like a deal-breaker, but when you really need to focus on work, it rarely takes place on the phone. Pomodor is free, and the developer appreciates donations.
Best Focus App for Small Business: Forest
The purpose of focus apps like Forest is to get you to ignore all the distractions to pull you away from concentrating on the task at hand. That can be a tall order.
There is no getting around the truth that one of our greatest time management challenges in a world of perpetual interruption is focusing on a task for a sustained amount of time. Email, social media and chat notifications chirp at us and impromptu video or phone calls arrive, and we are like dogs that see a squirrel. We chase them.
The Forest app lets you turn focus into a game-like experience, with some green benefits thrown in. When you start a task, you enter the time you plan to work on it, and the app plants a virtual seed in a forest. You start the timer, and your seed grows based on the amount of time you remain on task. 
Here is the catch. If you leave the app to, for example, open a text or email, the tree dies, and you start over. Who wants to kill a tree? 
If you remain on the app the entire specified time, your tree is complete, and your forest grows. You can also earn points that you can use to plant a real tree through Forest partners. Forest is great for small businesses because it is super easy to use, and it is free. Is it possible to cheat? Sure. You could set the timer for two hours and grow a tree while you take a nap, for example. But your forest would be a lie!
Forest is a mobile-only app, but browser extensions are available for the desktop world and forest extension don't give you ad pop-ups so you don't need adblocker to stop them. It would be better if the app turned off your alerts while the timer is running to make distractions less tempting. That feature may be added in the future. 
Best Time Rehab App for Small Business: RescueTime
RescueTime is the equivalent of the "Red Cross" of time management apps. The app is a time tracker that includes a diagnosis process for productivity blockers and a guide to how to better manage your time. You enter all the tasks you do at work into the app and rank them based on the value they bring to your work. RescueTime tracks all your activity and then gives you a report on your productivity based on the tasks that you did. 
As you use the app, RescueTime starts to give you advice. The app shows you how much time you spend on tasks that, by your own admission, are not productive and suggest you change your habits. Based on how and when you are most productive, it will recommend times of day and time periods when you can best concentrate on productive tasks. 
Another neat feature is RescueTime's integration with Slack. RescueTime can log what you are doing as a Slack status, so your teammates are aware of what you are working on. One of the downsides of distributed work is that no one knows what each other is doing—you can control what tasks are shared.
Unlike Forest, with RescueTime you can create Focus Sessions and the app will turn off your communication notifications.
Best Password Manager for Small Business: LastPass
Why is a password manager included in an article about time management software? One study found that employees spend 30 percent of their time resetting passwords. Another found that on average people are locked out of 10 accounts per month.
So, yes, password management is time management. It is also a security best practice for your business. When you install LastPass, it prompts you to accept a super-strong password and then stores it for you. It automatically enters that password every time you open the application. The passwords are encrypted so no one can steal them. You can also create your own passwords. 
The free version of LastPass allows you to safely share passwords but only lets you use the app on one device. The next level of the app, for three dollars per month, lets you use all your devices and gives you access to priority support.
Best File Management Software for Small Business: Microsoft OneDrive and Google Drive
Like password management, file management might not seem like a time management solution. But like password management, people spend hours looking for documents—50 percent more time than they spend working, according to a Wakefield Research and Elastic survey.
This one is a tie because offices typically standardize on Microsoft or Google business tool suites. Both OneDrive and Google Drive are built-in to their respective suites and offer most of the features that standalone content management platforms like Dropbox and Box offer. 
An additional time-saving advantage of OneDrive and Google Drive is that you can open and edit documents from the management system instead of downloading a document, editing it, and uploading it. This feature helps a great deal with version control because everyone can work on the same version of a document. Version control is another major time sink.
The advantages of Box and Dropbox are that they offer more integration with other productivity platforms—including synchronization and native editing in Word and Google Docs. But why use a different platform when you do not need it? 
Standalone file management solutions also have higher levels of security and with fine-grained access control to files and folders. And for larger businesses that use both Google and Microsoft tools, Dropbox and Box enable you to use both. 
Multiple Tools in the Small Business Time Management Toolbox
As you can see, there are many approaches to time management for small businesses. Each of the solutions listed here has many competitors. The sheer number of solutions shows us that time management is a major challenge for small businesses—and all businesses. That challenge recalls Parkinson's law, which states that work expands to fill the time we give it. Each of these software platforms aims to help you give just the right amount of time to each task. 
You could make the case that managing all these time management tools takes more time than it is worth, especially when you consider "switching time." Switching time is the amount of time it takes to shift from one task (and software platform) to another. Researchers have pegged the number at about 25 minutes7. Switching time is not just the time it takes to open and close apps but includes the time to refocus when you switch out of one platform and back to the first one. 
This explains the appeal of a solution like Nifty for small businesses. Staying on one platform for project management, time tracking, communication, and file management minimizes the need to juggle multiple applications and the associated switching time. You can also migrate data from other project management platforms to Nifty in a matter of minutes. That is why Nifty is consistently at the top of project management reviews on sites like G2.