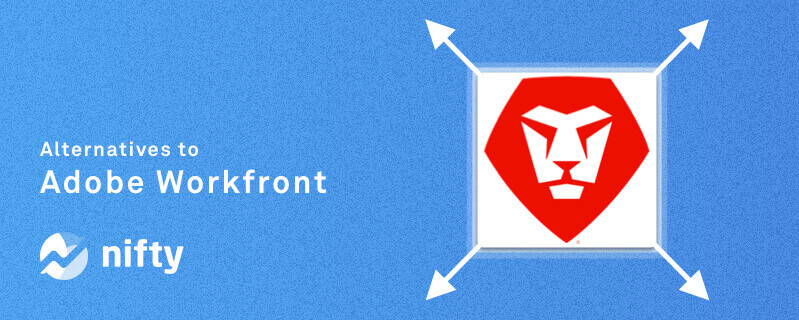 Not happy with the performance of Adobe Workfront? You are not alone. A lot of project managers are looking for better Adobe Workfront Alternatives to meet their demands.
In fact, according to a study, over 50% of marketers reported dissatisfaction with Adobe Workfront. As a marketer, you need software that can keep up with your fast-paced work environment and help you stay on top of your tasks.
In this article, we'll introduce you to 8 Adobe Workfront alternatives that can help you take your project management to the next level. Whether you're looking for more advanced features, better collaboration tools, or just a more user-friendly interface, we've got you covered.
Say goodbye to frustration and hello to efficient project management in 2023 with these top alternatives.
Why Are People Looking for Workfront Alternatives?
Despite being a popular project management software, Adobe Workfront may not be the perfect fit for everyone. There are several reasons why people are looking for Adobe Workfront alternatives, including:
Complexity: The interface and workflows of Adobe Workfront can be complicated and challenging to use effectively. It has a steep learning curve and can require multiple sessions to understand each of the tools in depth.
Lack of intuitive design: The platform is not very intuitive and can be clunky in terms of navigation. For example, documents in sub-tasks may not roll up to the main task's document section.
Bugs and reliability: Users have experienced a lot of bugs and instances where proofs fail in Adobe Workfront, which can impact the reliability of the software.
Limited customization and administrative changes: The configuration of projects in Adobe Workfront can be complex and difficult, with limited customization options. Moreover, making administrative changes to the program can be challenging due to its size and flexibility.
Integration complexity: Integrating Adobe Workfront with third-party tools can be complicated and not user-friendly, according to some reviews.
High cost: The cost of Adobe Workfront is considered high by some users, especially if it is only being used for project management.
8 Workfront Alternatives to Explore in 2023
1. Nifty
Nifty, a powerful cloud-based project management software designed to streamline communication and improve productivity across teams and projects, is one of the top Adobe Workfront alternatives available in the market. It provides a centralized workspace where people can collaborate, align their efforts, and stay focused on their work.
By eliminating the need for juggling multiple tools, Nifty simplifies workflows and allows users to concentrate on the task at hand. It offers a seamless solution for keeping everyone on the same page and ensuring that organizational goals are met efficiently.
Top Features
Discussions: It streamlines communication, improves team productivity, and keeps everyone in the loop by providing a space for team members to collaborate, make decisions, and attach files to specific discussion threads.
Tasks: It helps teams organize and manage projects by creating, assigning, and tracking the progress of tasks, deadlines, sub-tasks, comments, and files.
It streamlines task management, enhances collaboration, and ensures timely project completion within budget. Users can view tasks in various ways and use different task views like Kanban, List, and Calendar.
Docs and Files: This feature provides a centralized location for teams to store and share project-related files with version control, commenting, and tagging functionality. It simplifies file management, improves collaboration, and ensures access to the latest documents for all team members.
Reporting: It generates customizable reports at project, team, or individual levels to provide insights into project progress, team productivity, and performance monitoring.
These reports help identify areas for improvement, track progress, and make informed decisions for project success. This feature is particularly beneficial, given that 54% of companies lack access to real-time project KPIs.
Project Portfolios: This feature provides a high-level view of all projects with status, timelines, and budgets, allowing users to manage multiple projects simultaneously.
It also includes customizable views and filters for detailed information and easy resource allocation. This feature helps teams make informed decisions and ensure project success by providing a comprehensive view of all projects.
Roadmaps (Gantt Charts): This feature visualizes project timelines and dependencies, allowing users to plan tasks, allocate resources, and identify bottlenecks.
It includes drag-and-drop functionality and customization options for easy changes and viewing. This feature helps teams stay on track and ensure project success by providing a visual representation of project timelines.
Forms: This feature enables teams to create custom forms for data and feedback collection with various field types. It includes notifications and workflows to ensure timely data collection and action.
It simplifies data collection, improves collaboration, and ensures access to information for informed decision-making.
Time Tracking: It enables users to track time accurately using timers and manual time entry. It also includes reporting and analytics to identify areas of improvement and prioritize tasks.
This feature helps ensure projects are completed on time and within budget by providing insights into how time is being spent, allowing teams to make informed decisions.
Project Home: This is a centralized dashboard displaying key project information, customizable to fit teams' needs. It includes notifications and workflows for timely task completion and provides a quick overview of project health.
This feature helps teams stay on track and ensure project success.
Pricing
Free: Best for getting started, unlimited members, forever
Starter: Includes all core features, $39/month 
Pro: Ideal for growing teams, $79/month 
Business: Perfect for advanced teams, $124/month 
Unlimited: Fully scaled solution, $399/month
Take the next step. Sign up for Nifty.
What's Missing?
Nifty offers numerous features and customization options, but this abundance can overwhelm users looking for a simpler project management tool.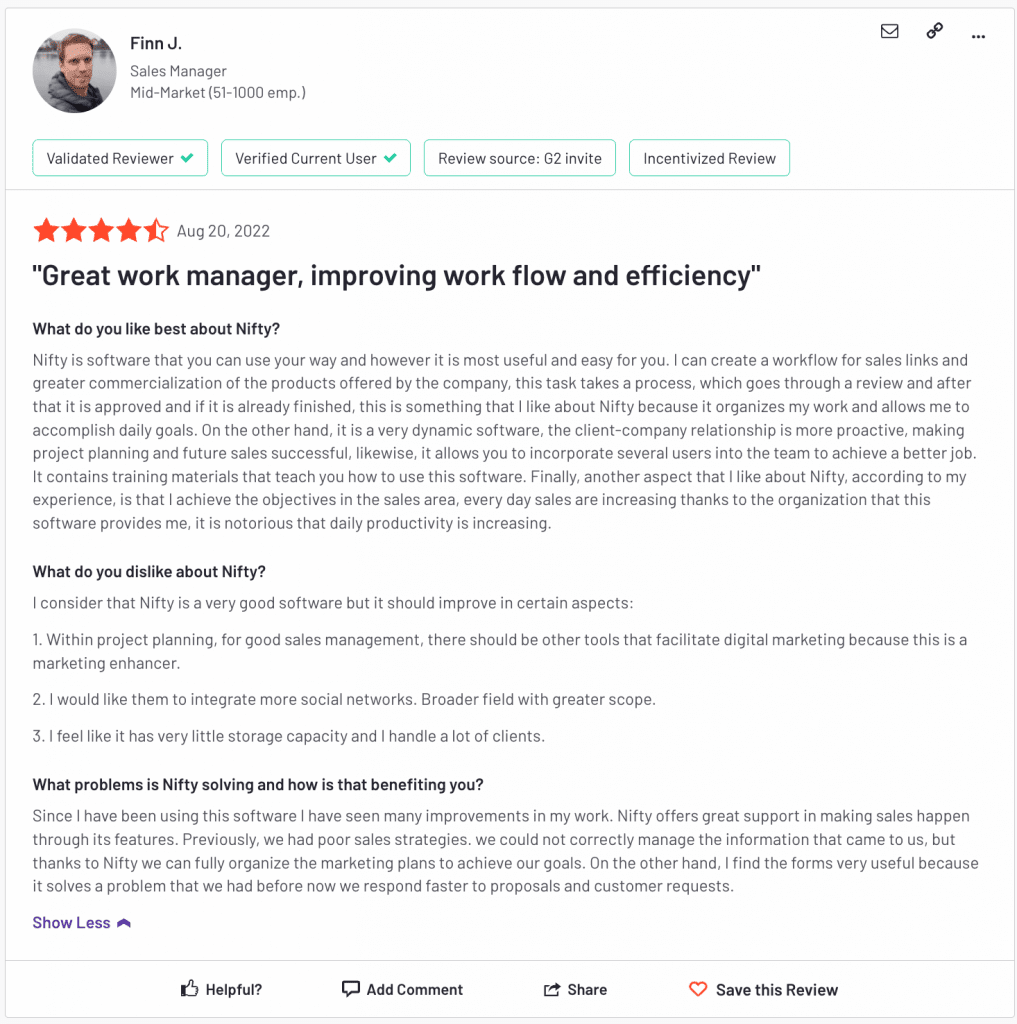 G2 Score: 4.7 out of 5 stars
Should I go for it?
Nifty offers a rich selection of features and integrations to enhance team collaboration and streamline project management. With its extensive range of tools for task management, team communication, file sharing, reporting, and more, Nifty provides a powerful platform for optimizing productivity.
While the abundance of options may present a learning curve for new users, those seeking a flexible and customizable solution will find great value in Nifty's comprehensive capabilities. By leveraging its diverse features, teams can effectively organize projects, improve communication, and drive project success. Sign up for free, and try it yourself!
2. Smartsheets
Smartsheet is a cloud-based project management tool that provides a comprehensive set of features for managing tasks, projects, and workflows. It is a popular choice among teams looking for a flexible and collaborative platform that can help them work together effectively. 
Top Features
Project Management: Smartsheet has project management tools like task lists, Gantt charts, and calendars to help plan, track, and manage projects.
Collaboration: It provides real-time collaboration features that allow team members to work together on projects, share feedback, and comment on tasks.
Workflow Automation: It enables automated workflows with pre-built templates or customized ones, ensuring consistency and saving time.
Reporting and Analytics: Smartsheet provides advanced reporting and analytics tools like charts, graphs, and dashboards, which aid in making data-driven decisions.
Pricing
Free: $0
Pro: $7/user per month
Business: $25/user per month
Enterprise: Contact the team
What's missing?
Smartsheet has limitations in terms of resource management, customization options, integration ecosystem, and advanced planning features. It lacks robust resource allocation and tracking capabilities, offers limited advanced customization options for custom fields, formulas, and workflows, has a less extensive integration ecosystem compared to other platforms, and may not have advanced planning features like critical path analysis and dependency management.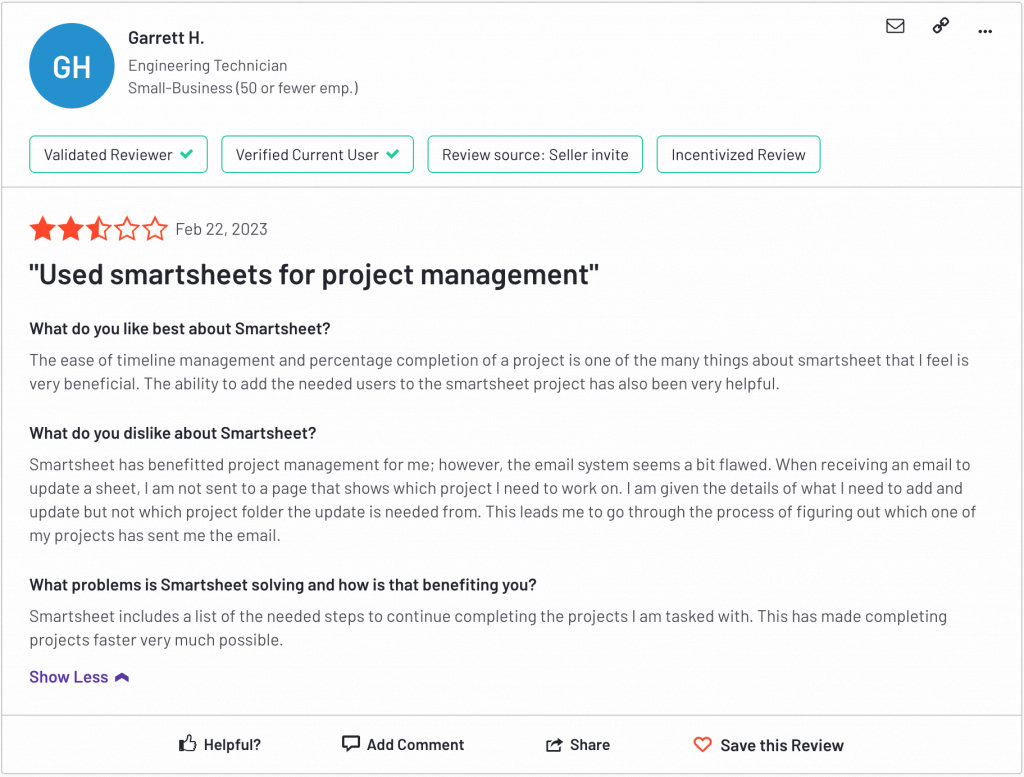 G2 Score: 4.4 out of 5 stars
Should I go for it?
Smartsheet is a good choice for teams looking for a simple and user-friendly project management tool with collaboration and workflow automation features. However, organizations with more complex project management needs may find that Smartsheet's limited resource management and customization options, as well as its limited integration options, make it less suitable for their requirements.
3. JIRA
Jira is a popular project management tool developed by Atlassian. It is commonly used by software development teams but can also be used for managing other types of projects.
Top Features
Boards: a flexible and customizable way to visualize and organize your tasks and issues.
Roadmaps: This feature provides teams with a high-level view of their project, including timelines, milestones, and dependencies, to help them plan and track their work effectively.
Reports: This feature provides users with a range of visual and data-driven reports to help them analyze and communicate their team's performance and progress.
Automation: It enables users to automate repetitive tasks and streamline their workflows by creating custom rules that trigger actions based on specific conditions or events.
Pricing
Free: $0
Standard: $7.75/user per month
Premium: $15.25/user per month
Enterprise: Contact the team
What's missing?
Jira can present challenges in terms of complexity, learning curve, cost, customization, scalability, integration options, user interface, and support. These limitations can impact resource management, customization flexibility, integration capabilities, and advanced planning features.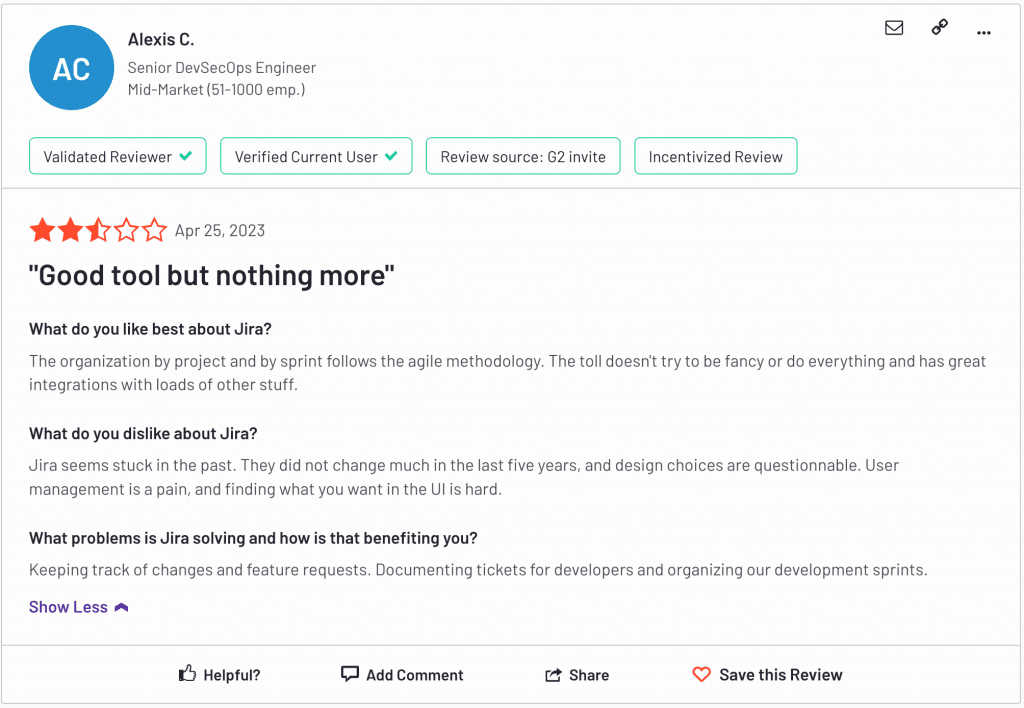 G2 Score: 4.3 out of 5 stars
Should I go for it?
While Jira is a powerful and customizable project management tool, it may not be the best fit for all teams or projects. The complexity and learning curve associated with Jira, along with its cost, customization restrictions, and integration options, can pose challenges for users.
Try Nifty We are sure,
your developers would love it!
Additionally, scalability, user interface, and support may not meet the specific needs of every organization.
4. ClickUp
ClickUp is a project management tool that helps teams collaborate and manage projects efficiently. It aims to streamline workflows, reduce project complexity, and increase productivity.
Top Features
Task Management: It provides an intuitive task system for creating, assigning, prioritizing, and managing tasks with due dates, reminders, and attachments.
Customization: You can customize workflows, statuses, and fields to enhance productivity and efficiency in your workspace.
Collaboration: It allows team members to collaborate on projects, assign tasks to each other, and share files and comments with each other.
Pricing
Free: $0
Standard: $7.75/user per month
Premium: $15.25/user per month
Enterprise: Contact the team
What's missing?
ClickUp has several drawbacks that deter users. The abundance of bugs and slow loading speeds undermine productivity and cause frustration.
Additionally, users have reported that the platform suffers from disappearing documents and tasks due to ongoing issues. Its occasional sluggish performance disrupts team workflows, while the simplistic reports fail to offer advanced analytics or detailed insights.
Furthermore, ClickUp's relatively high cost is coupled with inadequate customer support. Even premium subscribers may lack access to live support, and bug fixes can take an extended time to resolve. Customer support often proves unhelpful when confronted with problems outside of their predefined solutions.
Moreover, ClickUp falls short in delivering impactful new features, leaving users longing for improvements to existing functionality and greater benefits for enterprise-level customers.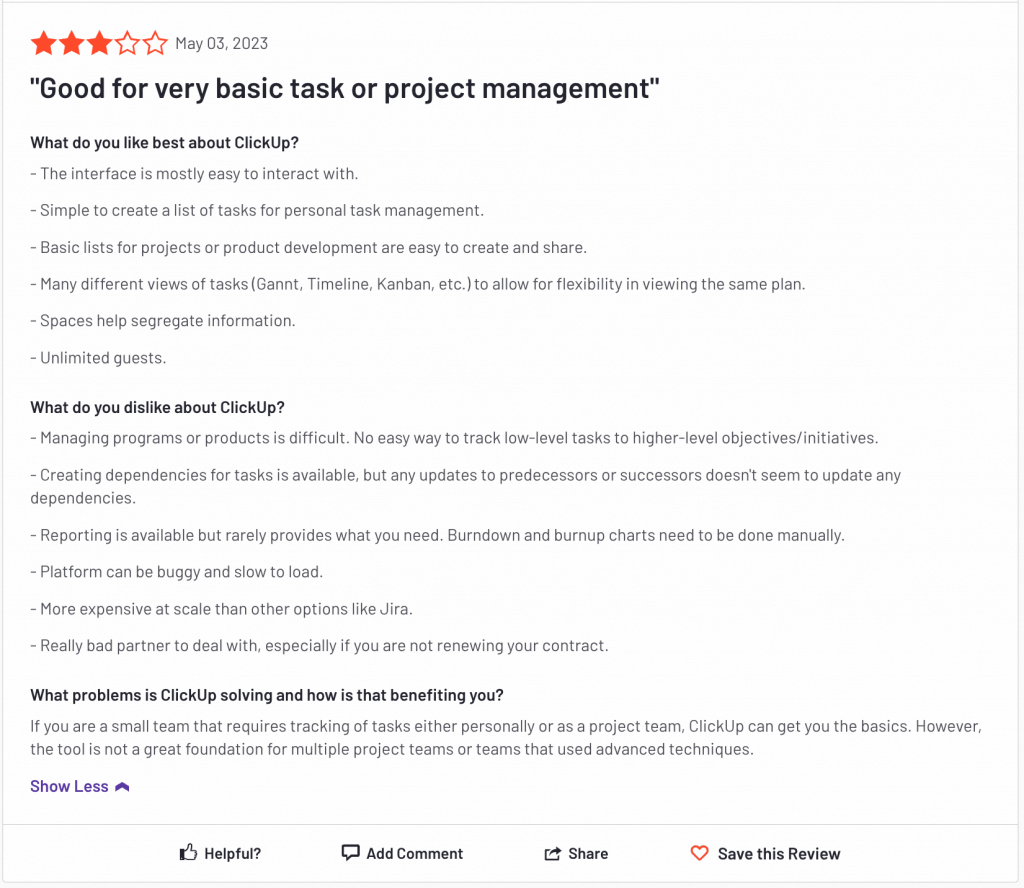 G2 Score: 4.7 out of 5 stars
Should I go for it?
While ClickUp is an agile project management tool with many benefits, it does have some significant limitations that may make it a less-than-ideal choice for some teams. It has been reported to have persistent technical issues, including bugs, slow loading speeds, and documents or tasks disappearing.
Additionally, the relatively high cost and inadequate customer support further raise concerns about the overall value and reliability of ClickUp. Consider these limitations and explore alternative project management tools that can offer a more stable and comprehensive solution to meet your team's needs before you make a decision.
5. Monday.com
Monday.com is a cloud-based project management platform that enables teams to plan, track, and collaborate on projects in real time. It offers a visual and intuitive interface that makes project management easy and efficient.
Top Features
Customizable Dashboards: It allows users to create customized dashboards that provide an overview of their projects and tasks.
File Sharing: Monday.com enables teams to share files and collaborate on documents within the platform.
Reporting: The platform offers a range of reporting tools that enable teams to track their progress and identify areas for improvement.
Pricing
Free: $0
Basic: $8/user per month
Standard: $10/user per month
Premium: $16/user per month
Enterprise: Contact the team
What's missing?
Users of Monday.com have expressed dissatisfaction with the software's limited export options, particularly regarding Gantt charts, which lack an overview option despite years of requests on the Monday.com forum.
The software's annual price increases of up to 40%, coupled with its lack of features and automation options, further contribute to user frustration. Additionally, managing users and members is complicated, with terminologies like seats, guests, and viewers causing confusion.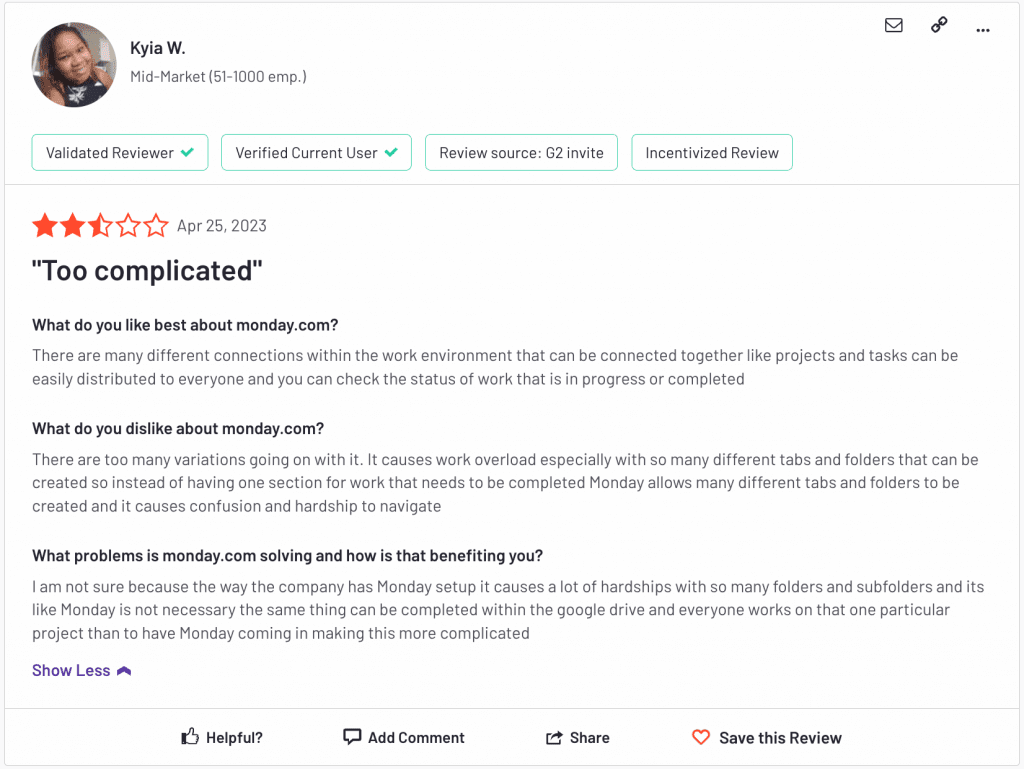 G2 Score: 4.7 out of 5 stars
Should I go for it?
Monday.com offers an intuitive interface, customizable dashboards, and useful collaboration features. However, it falls short in several areas, such as limited export options, difficulty in handling holidays and non-working days, and constraints on cross-board task linking.
Additionally, users have expressed frustration with price increases, setup difficulties, confusing user management methods, and a perceived lack of depth in technical functionalities.
Therefore, you should carefully evaluate your specific needs and priorities to determine if Monday.com aligns with your requirements and if its benefits outweigh its limitations.
6. Zoho Projects
Zoho Projects is a cloud-based project management tool that helps teams plan, track, and collaborate on projects. It offers features such as time tracking, budget management, issue tracking, and Gantt charts, all within an easy-to-use interface. 
Top Features
Customizable: It allows users to create and customize dashboards and reports, providing a clear overview of project status and progress.
Time Tracking: With its built-in time tracking and invoicing features, Zoho Projects makes it easy to track project time and expenses and bill clients for completed work.
Gantt Charts: Users can create Gantt charts in Zoho Projects to visualize project timelines and dependencies, making it easy to plan and adjust project schedules.
Pricing
Free: $0
Standard: $4-5/user per month (estimated)
Premium: $8-9/user per month (estimated)
What's missing?
Zoho Projects offers limited integration options and a basic mobile app compared to the desktop version. Additionally, there is a need for improvement in company configuration, team allotment, and task management. The user interface can be laggy, with overlapping dialogs and a cluttered layout, which affects the overall user experience.
Exporting projects to Excel and the lack of built-in templates also pose challenges. Finally, it's important to note that the software requires a large bandwidth and stable internet connection for optimal performance.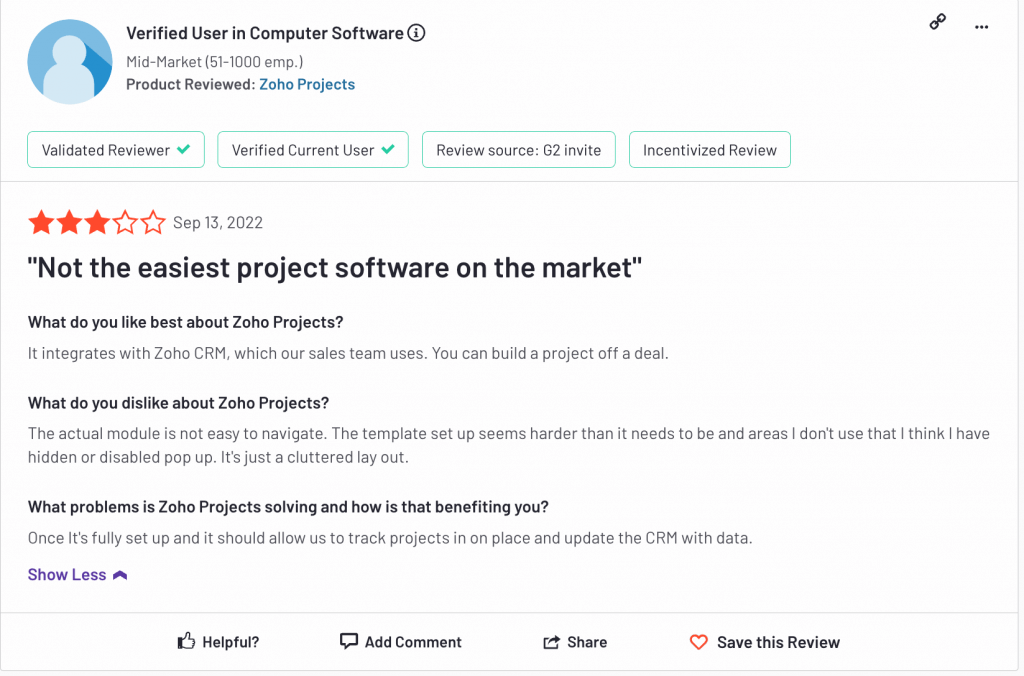 G2 Score: 4.4 out of 5 stars
Should I go for it?
While Zoho Projects is a great project management tool for small to medium-sized teams, it may not be the best choice for large enterprises or teams that require advanced features and automation options, especially considering its limited integration options, a basic mobile app, and a potentially laggy user interface.
7. Wrike
Wrike is a cloud-based project management software that offers users tools for managing projects, tasks, and collaboration with team members. It provides a range of features designed to help businesses streamline their operations and increase productivity.
Top Features
Customizable: Wrike allows users to create custom dashboards and workflows that match the specific needs of their team. This feature ensures that everyone is on the same page and that tasks are being completed efficiently.
Gantt charts: Wrike's Gantt charts provide a visual representation of project timelines, allowing users to plan and track progress with ease.
Collaboration: Wrike's collaboration features make it easy for team members to share files, comment on tasks, and communicate in real time.
Pricing
Free: $0
Team: $9.80/user per month
Business: $24.80/user per month
Enterprise: Contact the team
What's missing?
Wrike suffers from a range of cons that impact the user experience and effectiveness of project management. Users find the interface and user experience to be clunky and frustrating, with difficulties in navigating the system and using features like blueprint templates and dashboards.
Task dependency visibility is lacking, leading to confusion and wasted time as employees unknowingly start working on tasks that are not ready.
The platform's performance can be slow and navigation cumbersome, adding further frustration for users. Integration options with other platforms are limited, and the Gannt chart lacks helpful information based on activities.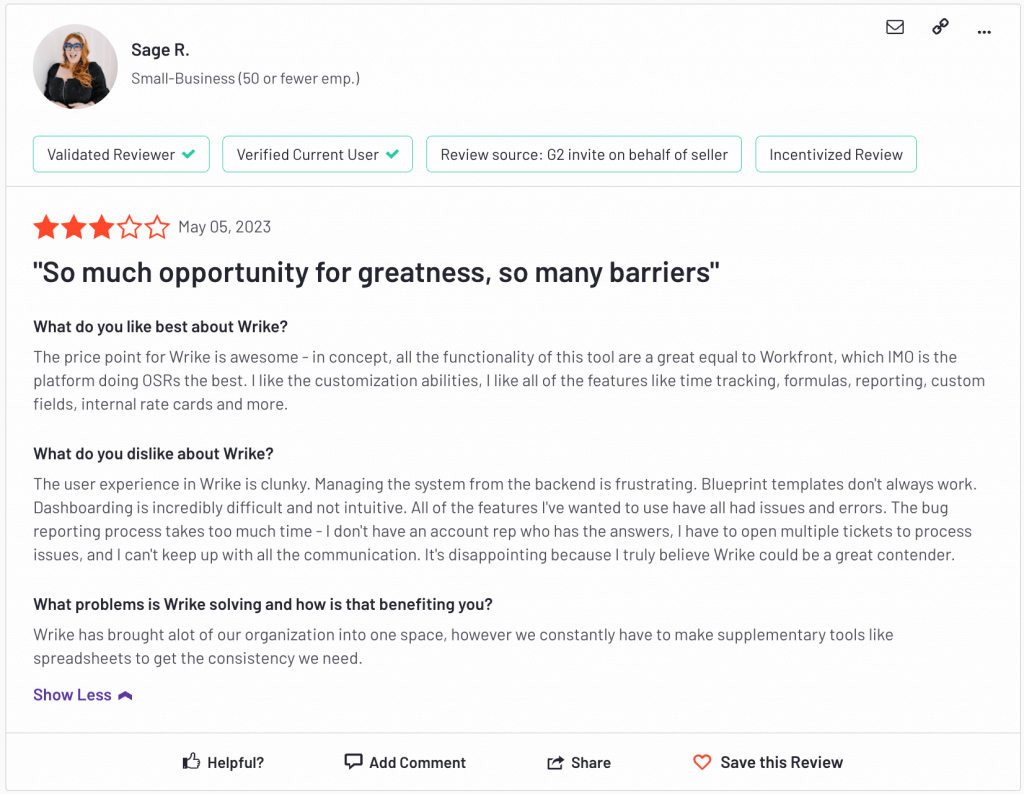 G2 Score: 4.2 out of 5 stars
Should I go for it?
While Wrike offers a variety of useful features for project management, it may not be the right choice for everyone. Issues related to user experience, task dependency visibility, learning curve, interface design, email preferences, information retrieval, ticket management, performance speed, integration capabilities, and Gannt chart functionality are factors to consider before committing to this tool.
8. Freshbooks
Freshbooks is primarily an invoicing and accounting software, but it also includes basic project management features to help freelancers and small businesses manage their projects. 
Top Features
Time Tracking: Users can track the time spent on each task and bill clients accordingly.
Project Dashboard: Users can view all their projects in one place and monitor their progress.
Expense Tracking: Users can track project expenses and add them to invoices.
Pricing
Lite: $8.50/user per month
Plus: $15/user per month
Premium: $27.50/user per month
What's missing?
Users have expressed several concerns with Freshbooks for project management. One major issue is the poor customer support, with unresponsiveness to emails and lengthy response times, leaving questions unanswered for weeks.
Try Nifty. You will love it.
Unexpected fee increases have frustrated long-term customers, with fees doubling in one year and facing an additional 25% increase in the following year, without any upgraded features or services. 
Furthermore, the transition to the new Freshbooks version has been criticized for its less efficient user interface, limited scalability for invoice management, and the requirement to sever relationships with existing payment processors.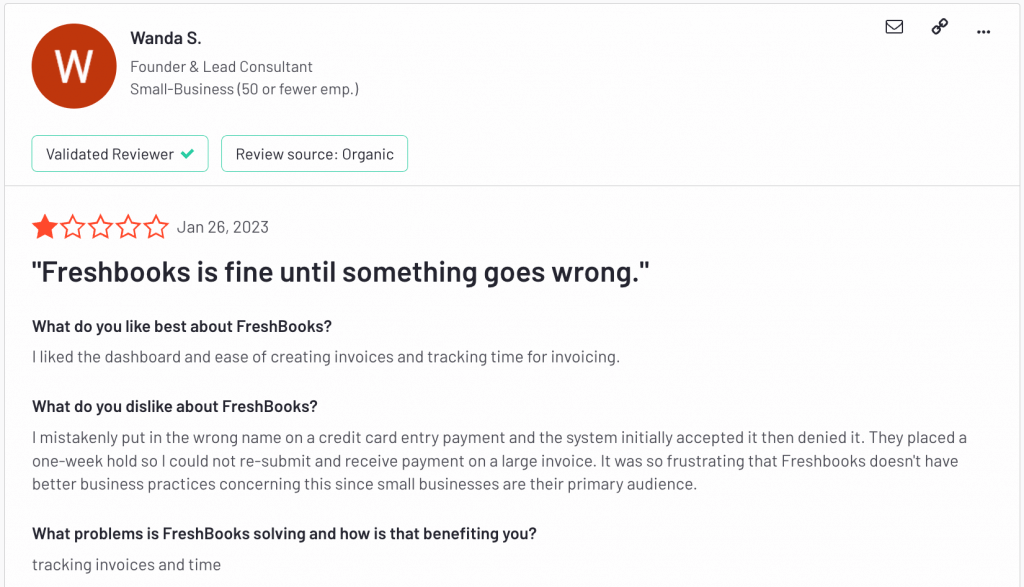 G2 Score: 4.4 out of 5 stars
Should I go for it?
Freshbooks offers a range of useful features for invoicing and accounting, with basic project management capabilities. However, it falls short in certain areas that have been a source of frustration for users.
The lack of responsive customer support, unexpected fee increases, and difficulties in transitioning to the new version has raised concerns among customers.
These issues, along with a less efficient user interface and limitations in scalability, have made Freshbooks a less appealing option for some freelancers and small businesses. Despite its strengths, these drawbacks should be taken into consideration when evaluating Freshbooks as a project management solution.
Take the Next Step: Pick Your Perfect Adobe Workfront Alternative
When it comes to project management, finding the right tools and technologies is essential for success in today's rapidly evolving business landscape.
As discussed, Adobe Workfront has long been a popular choice, but considering its limitations and the rising demand for more flexible and feature-rich alternatives, exploring other options is crucial.
The reviewed Adobe Workfront alternatives provide robust solutions that empower teams, enhance collaboration, and streamline project workflows.
With 32% of executive leaders recognizing the importance of investing in the right technologies for future success, it is evident that embracing these alternatives can significantly contribute to achieving organizational goals and staying ahead in the competitive market.
By choosing the right project management software, you can unlock greater efficiency and productivity and ultimately drive your path toward success.
Already decided to use Nifty? Sign up here!