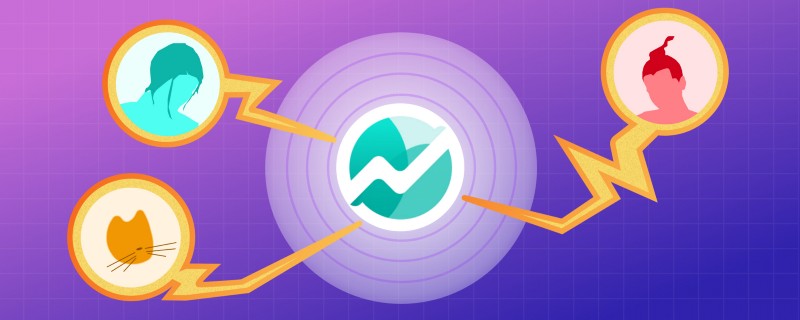 Are you looking for a task management software tool for your business?
You've come to the right place!
In this blog article, we'll go over the 12 best task management software for small businesses and start-ups. 
So let's dive in!
But first, let's discuss why your team would need a task management tool in the first place!
What's a Task Management Tool?
A task management tool allows you to identify, plan, monitor, visualize, and analyze the workflow for your team.
This means everything from addressing the project requirements, delegating tasks, tracking time, and setting up deadlines.
Why Do You Need A Task Management Software?
Task prioritization and team collaboration are one of the key benefits of a task management tool. 
Let's say you're working on an important deadline one day.
And your persistent colleagues keep assigning you more and more (unimportant) tasks. 
Trying to complete all of your tasks in a limited time will just drive you crazy… eventually leading to burnout.  
Not prioritizing your tasks leads to poor management, missed deadlines, and wasted time. 
Effective team collaboration
They bridge the communication gap between team members that are working on different tasks. 
It also makes delegation of tasks so much easier! Your manager can simply track the workload by looking at who's working on what. Assign the task, track progress, and know when the task is done. Saving so much of meeting time!
So, if you've just started your own business, a visual task management tool is the perfect solution for you!
Now let's discuss the 12 best task management software for your small business!
Task Management Tools
1. Nifty (The Ideal Task Management Software for Any Team)
Nifty is an amazing cloud-based task management OS for teams that want to create the tools they need to manage their sales process and create marketing campaigns to suit their needs.
Key features include: 
Assign, track and manage tasks

Automates processes with a high level of personalization. Choose whatever color scheme you want.

Seamlessly Integrates with other tools such as Hubspot, Salesforce, etc.

Track time spent on projects and tasks

Map and Calendar View

Easy to export and import data to share with clients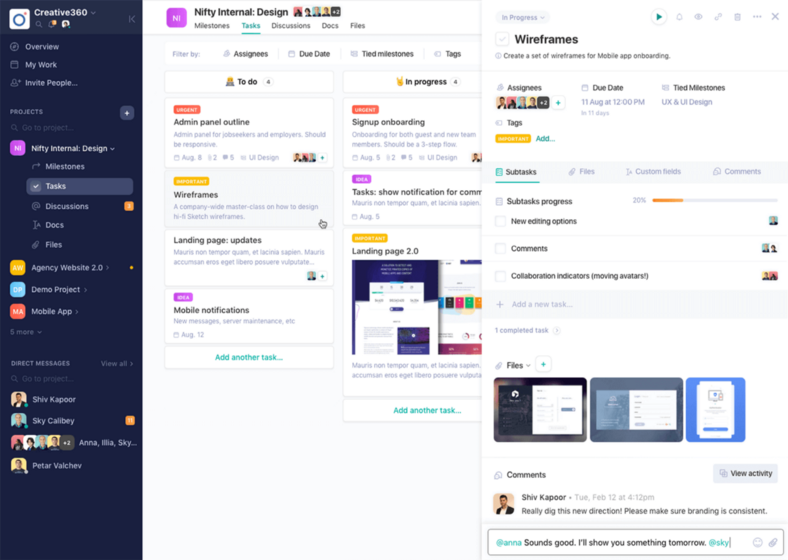 Pricing:
Nifty has a very generous Free tier that includes access for unlimited team members and guests, the Starter plan begins at $39/month for a team of 0–10 users, the Pro Plan begins at $79/month for 0-20 users and the Business tier is $124/month for teams up to 50 users with unlimited projects, 1TB of storage and premium features.
Weekdone is a top of the line, intuitive task management and weekly planning software, loved by both managers and employees. Engage, plan, and work toward achieving goals with your team!
Key features include: 
Goal tracking on company and team levels with percent-complete, colorful progress bars.

Track team

Plans, Progress, and Problems

with transparency 

Link tasks to Goals and Objectives – increasing accountability and productivity 

Timely updates and open cross-team communication with the Newsfeed feature

Weekly reviews and 1:1 scheduling

Pulse surveys with custom templates for regular weekly feedback

Mentions, tags, and "likes" promote Conversation, Recognition, and Feedback!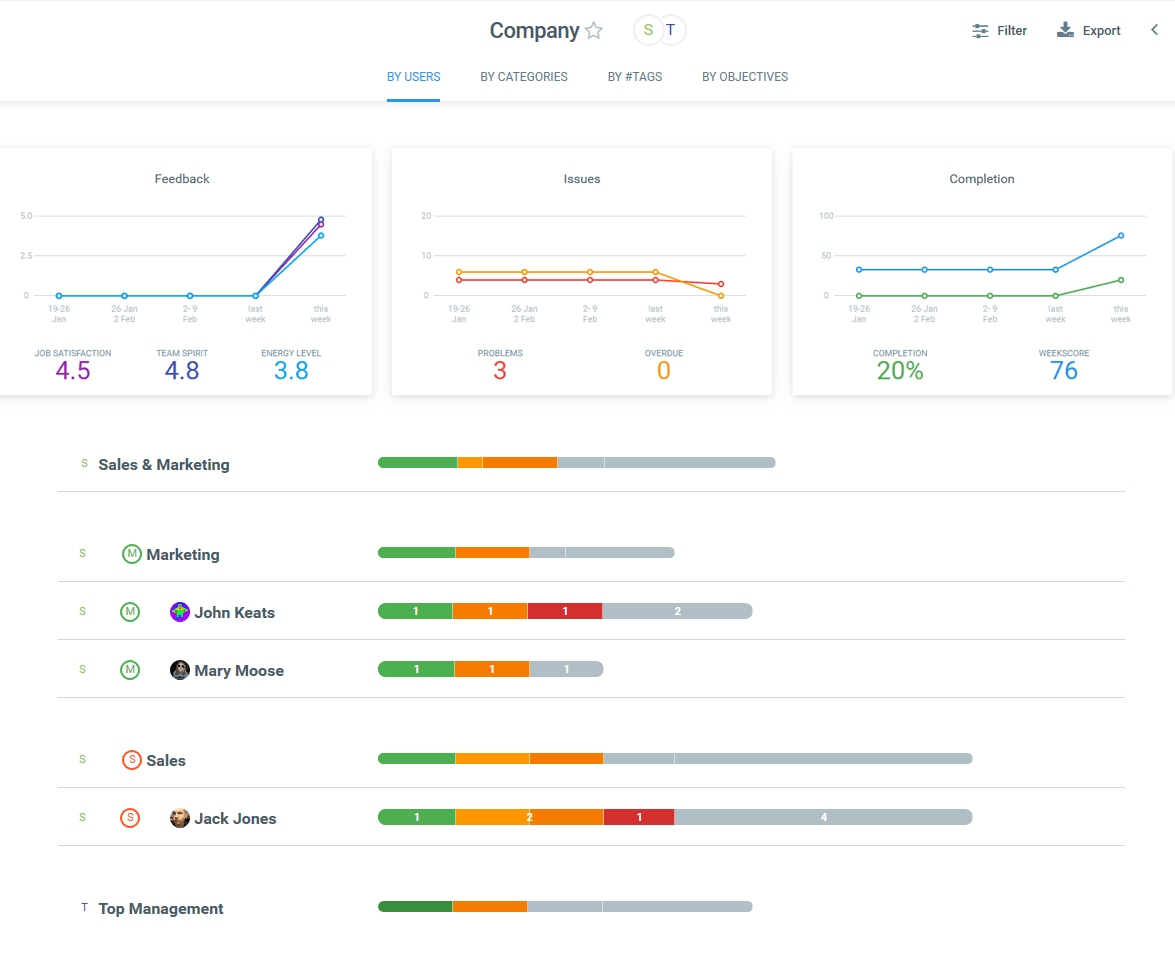 Pricing:
Free for teams of 3 or less. $99/month for larger teams with unlimited users – all features included (with a free 2-week trial)
3. ClickUp 
ClickUp is a beautiful, high-rated productivity platform that's designed to help you manage your tasks better. 
Features:
Set up recurring tasks and 52 customizable features for projects

Board, Box, List, Calendar, Table, Timeline views

Assign comments

Control the activities of roles

Set up targets and goals for team members to work towards

Manage everything from one dashboard.

1000+ integrations with Slack, Gmail, Zoom, Outlook, Google Drive, etc.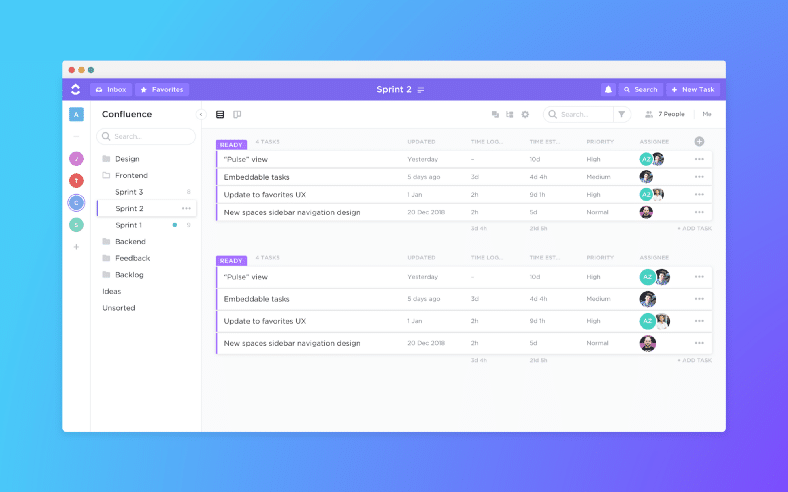 Pricing:
Free to $5/user/month.
4. Trello (A Very Basic Task Management Software)
Reach new productivity heights with Trello, the ultimate productivity and task management platform based on a customizable Kanban interface.
Features:
Add tasks with due dates and comments 

Task activities with alerts and notifications

Organization of lists with priority and due dates

Upload images & files with tasks

Customization options for the dashboard

Integration with several third-party apps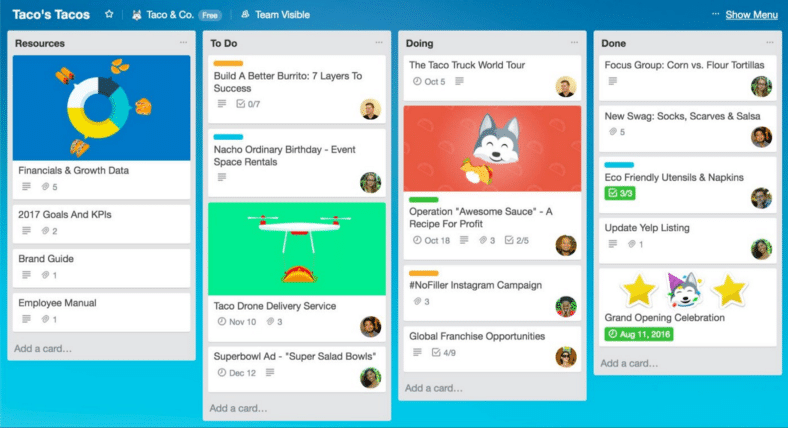 Price:
Free to $10/user per month
Infinity is an incredibly flexible task management software best-suited for start-ups and small businesses. This tool makes it a breeze to juggle various projects simultaneously (all along with a bunch of tasks and subtasks), lets you organize them any way you want and track their completion, and helps your teams collaborate more efficiently. Oh, and it has some darn good visual appeal on top of it all! 
Features
Create, organize, manage, and assign task in a few clicks,

Create custom task statuses, set priorities, and even color-code each label to make your workspace even more inspiring,

Track the time each of your team members spent on tasks,

Easily spot bottlenecks and act on them quickly to re-establish a smooth workflow,

Get instantly notified every time when there's an update on tasks,

Seamlessly integrate it with over 3,000 apps via Zapier.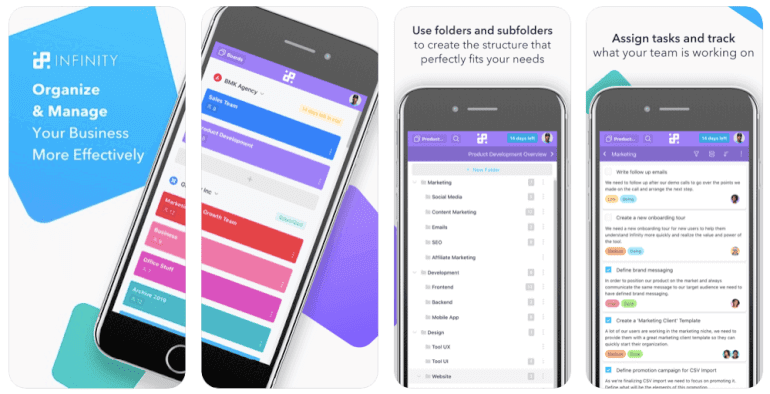 Pricing:
Infinity offers lifetime deals starting at $149. Pay once and use all of the amazing Infinity features forever, plus – get access to all of the upcoming releases at no additional cost.
6. Teamwork
Collaborate seamlessly with an easy-to-use task management platform designed for smarter workflows. Manage complicated projects with ease!
Features:
Manage and optimize your team's resources.

Customizable templates to scale high-performance processes.

Visualize project tasks and automate your workflow with Kanban boards.

Get better insights with an in-built time tracker.

Collaborative experience with clients; comprehensive user permissions

Integrations with MS Teams, Hubspot, Slack, Xero, Dropbox, and SoftSync for Jira.
Pricing:
Free version available. Pro plan at $10/month per user.
ProProfs is an all-in-one task management software for small businesses that lets you create, assign, and prioritize tasks in just a few clicks. Also, you can visualize and monitor the entire project workflow right from the tool's intuitive dashboard.
Features:
Create custom project workflows

Track time spent on each task and subtask

Access multiple project views such as Gantt charts and Kanban boards

Generate insightful reports for strategic decision making

Share files with stakeholders and team members seamlessly

Get real-time alerts and notifications

Track tasks on the go from a centralized dashboard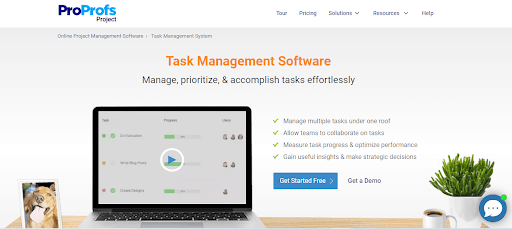 Price:
The tool offers an Essentials plan and a Premium plan priced at $2/user/month and $4/user/month, respectively. Also, a 15 day free trial version is available
8. Wrike (A Enterprise Task Management Software)
With Wrike, you can quickly share files, tasks, and reports with your team. It has visual proofing and automated approval tools to help you speed up the feedback process.
Features:
Interactive Gantt Charts to visualize progress. (Drag and drop interface!)

Kanban boards to plan tasks by the due dates.

Beautiful templates to speed up projects

Custom-request forms.

Built-in time tracking 

Integrations with 400+ applications e.g. Asana, Dropbox, Facebook, G Suite, Mailchimp, etc.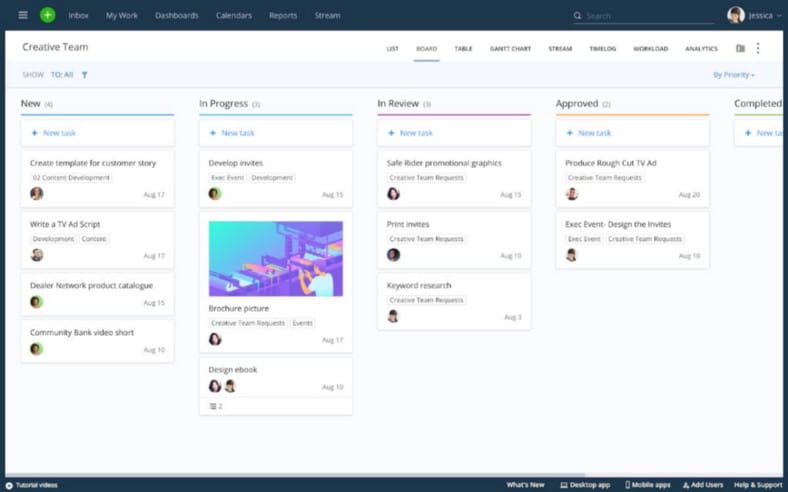 Pricing:
Free to $9.80/user per month
9. ProofHub
With ProofHub, all of the tools and task management that your team requires are conveniently located in one location. It's now easier than ever to have complete control over your teams and projects.
Teams can ensure on-time project completion and clear team accountability.
Features:
Empower teams to visualize their workflow and progress with Kanban boards

Visualize your project timeline with Gantt Charts

View your data in Table View to keep note of what's important 

Stay control of who gets to see what

Customize workflow to meet team needs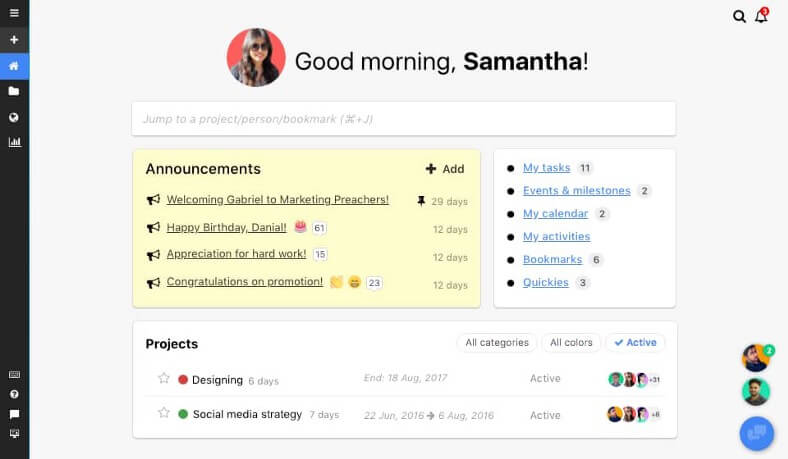 Pricing:
From $45 per month.
10. Hitask 
Hitask is a task management platform that takes the guesswork out of project management by leaving you in charge. 
It enables you and your project team to create new projects quickly and easily.
While it has no Gantt chart or Kanban board, you can assign share tasks to your team members. It also lets you collaborate on a centralized file library and calendar by synchronizing everything across all devices!
Features:
Organize your projects, events, and tasks

Analyze all of your team's events in one centralized calendar.

Track the time spent on projects

Progress reporting

Color tagging to categorize tasks

Apps for the iPhone, iPad, and Android devices

Support for Spanish, French, Portuguese, Russian, Chinese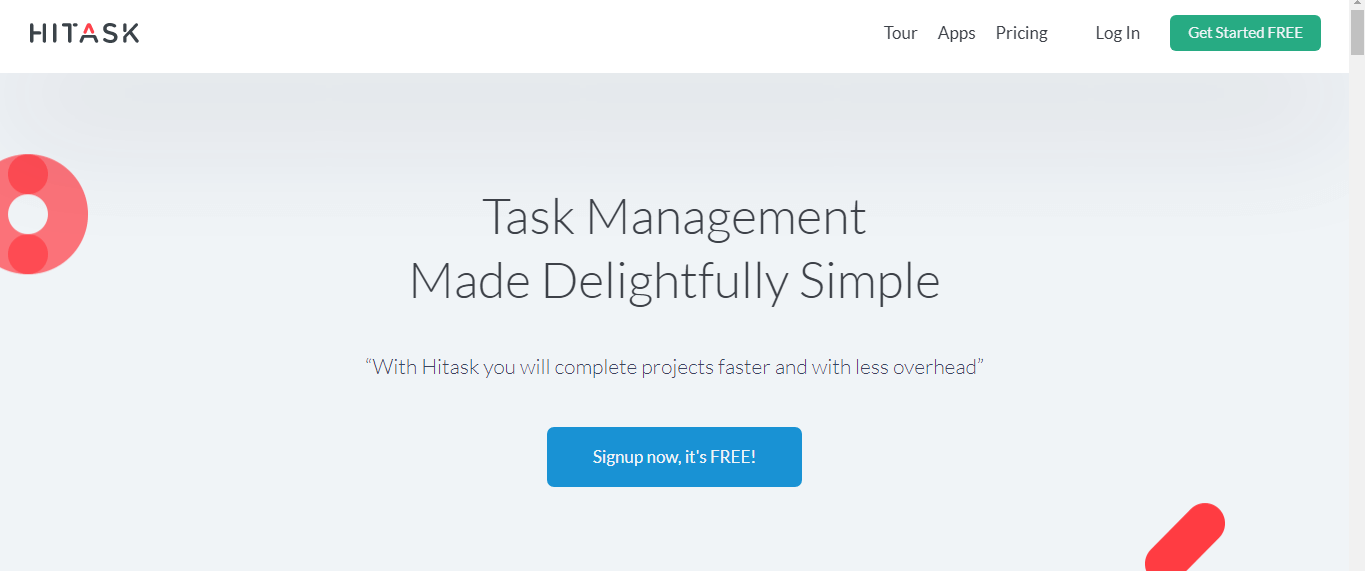 Pricing:
Free to $5/user per month
11. Notion
Maintain a unified project roadmap to keep everyone on the same page. Get chores off your mind and into a database that works for your team.
Features:
Make a weekly checklist for yourself and take notes.

Create a task board using a drag-and-drop editor.

Like an unlimited knowledge base, nest pages inside each other.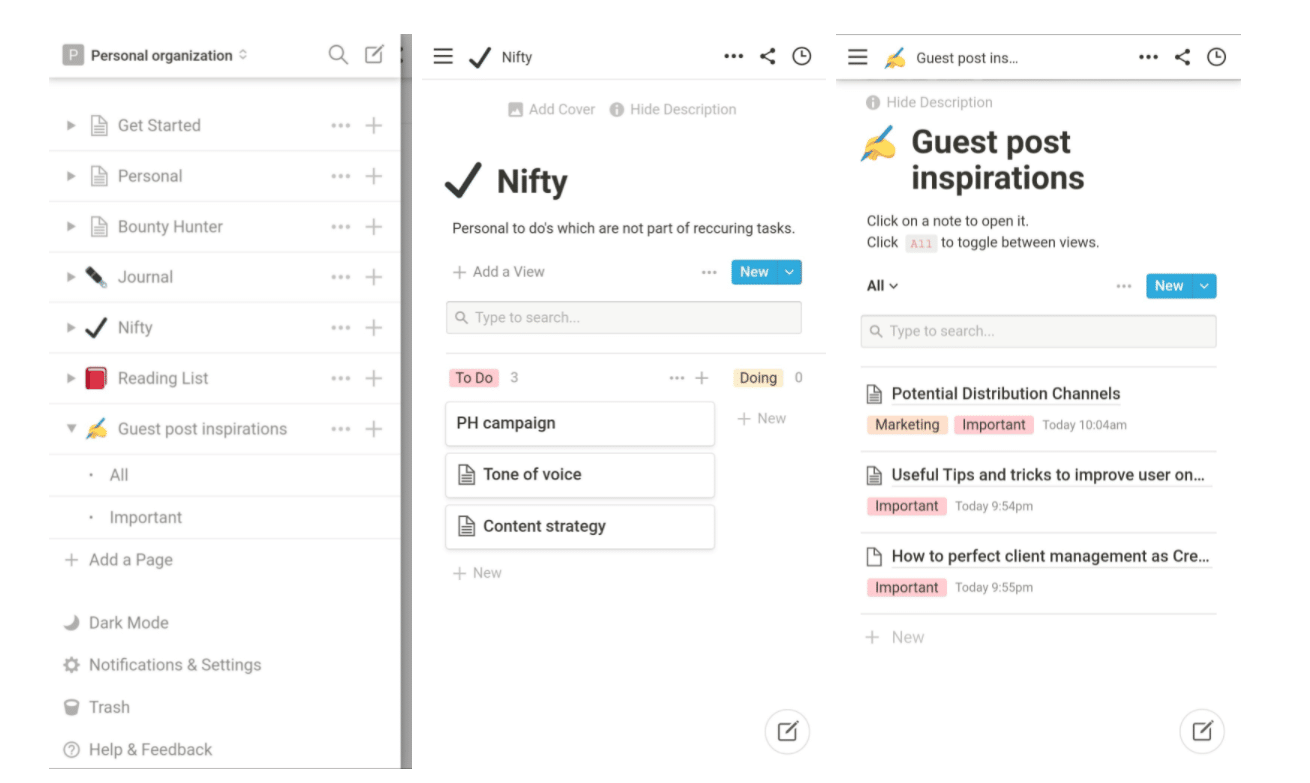 Pricing: 
Free to $8 per month.
12. Scoro
Scoro is a comprehensive end-to-end solution for teams to streamline their progress in one centralized platform. No more shuffling between the tools! Keep track of your tasks, projects, and time holistically with collaborative software.
Features:
Real-time KPI Dashboard and Gantt chart to track progress

Eliminate time-consuming repetition with project templates

Get a full breakdown of all scheduled and completed events

Shared schedules, timesheets, and a built-in time tracker

Detailed project reporting 

Integrated with 100+ tools like Dropbox, Xero, QuickBooks Online, Zapier, MailChimp, etc.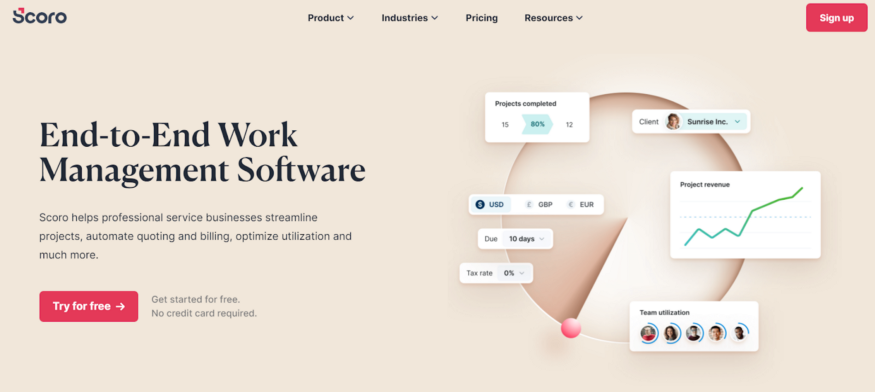 Pricing:
From $26 per month for 5 users.
Summary of Task Management Software Listicle
With the rapidly changing business needs, small businesses need to keep track of their workflows with a task management software tool. Spend time to analyze your business requirements, and evaluate these platforms accordingly!
We hope that with this list, you'll be able to get a quick overview of the most popular tools in the industry. So, which task management software platform will you choose?