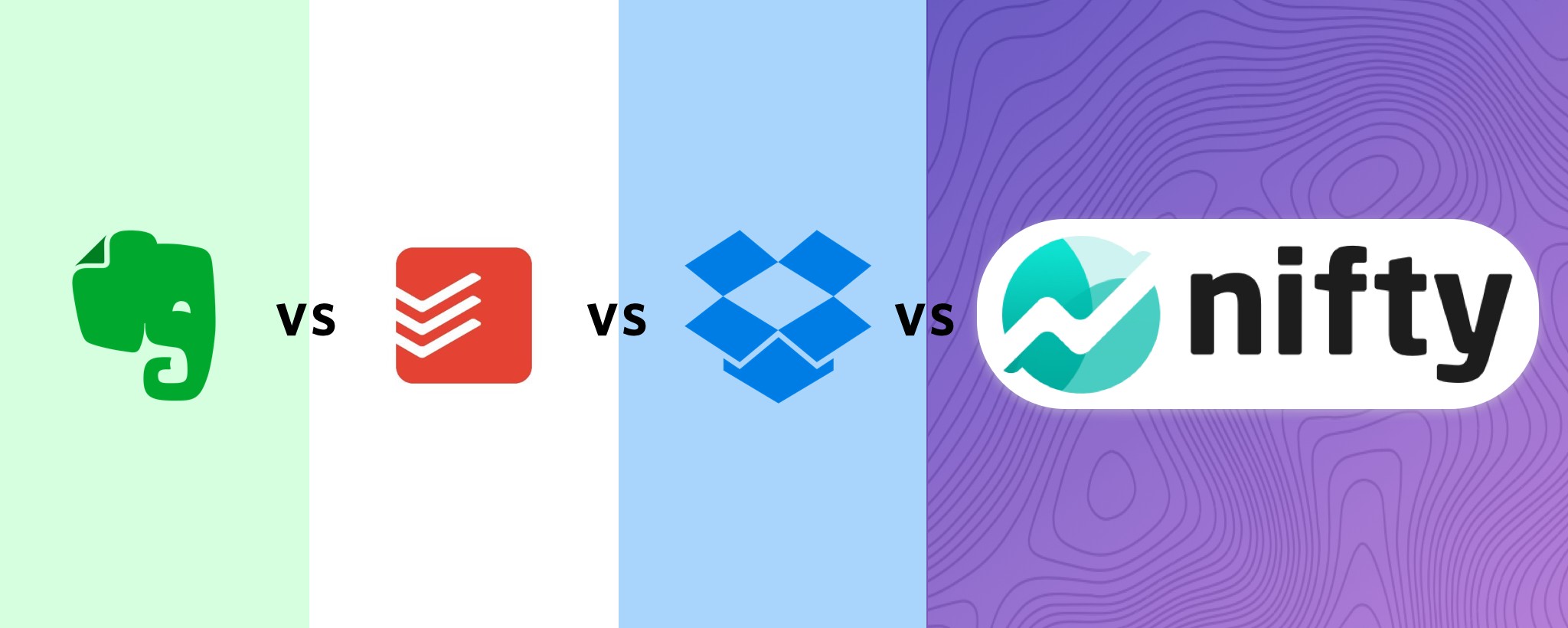 In the search for the best Evernote alternatives for your digital workspace, it can be daunting and time consuming to try out all that are currently available on the market. Some are better known than others such as Google Drive or Dropbox. Mainly due to the brand name, these applications rose quickly in popularity. As other applications rush to fill the gaps left by these multi-billion dollar corporations, it's our duty as the consumers to determine the best one for our online work.
Evernote and its alternatives has risen in popularity since its release in 2008. Evernote does just what the name says and is primarily for note taking. Other popular applications on the market are Slack and Trello. Slack functions more so as a communication based application which can be good for collaboration between team members. Trello is more task based and allows for easy setting of deadlines and moving of tasks between lists to track how far along projects are.
Each of these applications are unique to the other as they each focus on a different aspect of project management. When deciding on the right application for your workplace, sometimes you have to make sacrifices for extra features. Sometimes these applications have to be used in conjunction with one another to fully accomplish the work your team needs to get done.
Evernote is comparable to several other applications on the market. Opening Evernote, you are brought immediately to your notes and notebook. These can be shared with other users to make collaboration easier. Photos, tweets, and audio clips can even be added to notes.
There is also a chat option to quickly reach team members. Evernote differs from other project management applications as it focuses primarily on notes and project collaboration. The problem with this is that many people prefer to keep their projects in an easily accessible location, like Google Drive, that allows you cloud access no matter where you are. Since Google Drive is free and so widely used, Evernote has some difficult competition. In the rest of this article, read how Evernote measures up to Google Drive, Todoist, and Dropbox.
Evernote vs. Google Drive
Google Drive is the primary project collaboration site used by many. It is free, simple to use, and saves documents into the cloud, making it easy to access projects even when switching between different computers. It includes Google Docs, Google Sheets, Google Slides and even allows storage of other files. Collaboration is easy as you can make files accessible to others via email sharing. Many people have Gmail accounts already made for the purpose of Google Drive and all of its features, which makes it all the easier for granting access on documents to other Gmail accounts. Google Drive has project creation and collaboration covered. It's too familiar and convenient for many to make the switch to Evernote's collaboration application.
Evernote is also cloud based, so files can be accessed anywhere. Using Evernote requires users to go out of their way to learn a new project collaboration software that will require their peers to also use the application to access documents. In terms of ease, Evernote is just a bit too much more for users to depend on it for project creation. Though it does have notes and a chat feature, Google Drive offers too many features to measure up to and in terms of pricing, Google Drive is much less expensive. Google even has its own notes taking application called Google Keep that is not integrated into the Drive experience. You can sign up for a free Evernote account that comes with some restrictions like a 60MB per-month bandwidth and 25MB note size caps. Google Drive, on the other hand, you get 15GB for free, making it among the best free cloud storage offers.
Evernote vs. Todoist
Evernote functions primarily for project collaboration and creation. As far as project management, Evernote may not be the best option. Project management applications are highly important for any functional virtual workspace. These applications help manage tasks, mark higher priorities and view graphics that help visualize project timelines. Todoist exists as one of the current project management applications on the market and is task based rather than collaboration oriented. Todoist is great for tracking projects and managing your workload. It serves well in combination with another collaboration focused application that allows for communication between users. It even is integrated with Google Calendar to stay up to date all on upcoming projects.
Compared to Evernote, the applications have two completely different focuses. Evernote is focused on projects and collaboration between users while Todoist is meant strictly for tracking projects and workload. Evernote could be used to list tasks but not in the same organizational way that Todoist can do. Though both applications have useful tools, neither can stand alone as a primary project management application for all tasks, files, and projects. If used together, the applications may have what it takes to manage most needs, but using multiple platforms can make it difficult to keep up with different notifications. Todoist can be used for free and allows for up to 80 projects or can be $3 a month for up to 300 projects.
Evernote vs. Dropbox
Dropbox serves as a cloud based application to keep all documents in one place. As far as project collaboration goes, it's easy to access Google Drive and other file types from within Dropbox. Easily give access to other users to edit or view projects you are working on. Users can also leave comments directly in a folder or file to share input. Dropbox has integration with Google Drive that makes it much easier to access files across the platforms. Alternatively, Evernote does not have integration between the platforms, causing users to have to switch between applications if they hope to collaborate.
Though Dropbox allows for plenty of file storage and easy sharing to other users, it is lacking in terms of project management or creation. Applications need more than just note taking or file sharing to be beneficial to a digital workspace. If one hopes to track tasks, they would have to use an application like Todoist in conjunction. Overall, neither applications can fully bridge the gaps in project management to be solely depended on. Dropbox free allows for 2 GB of storage or a paid plan at $9.99 per month can give you 2 TB.
Why Nifty is Best alternative to Evernote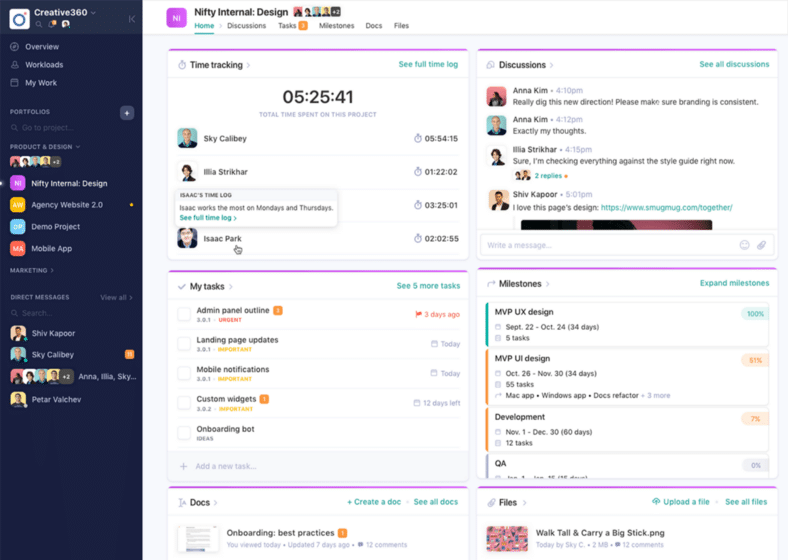 Evernote may be functional for note taking and sharing projects directly within the application, but it's evident that it doesn't offer all the necessities of total project management. Compared to Google Drive, Evernote pales in comparison. Google Drive is the primary and sometimes the only project creation application used by workspaces. It's easy, everyone knows how to use it and sharing projects with others is seamless. Using Evernote just as a space for notes may be its best use. When comparing Evernote to Todoist, they are completely different collaboration applications. Todoist is focused on tasks and prioritizing deadlines. Using Todoist would require another application for collaboration. Evernote, on the other hand, is focused specifically on notes and doesn't track deadlines for users. Dropbox serves as a great location for files and comments, but doesn't allow for collaboration the same way other services do. It also does not track tasks so it would have to be used in combination with another application.
It seems there is always a compromise on the tools available in these collaboration applications. Unlike the other applications, Nifty seems to be a one-stop for all things project management and collaboration. Not only does it have a chat feature for collaboration, it also manages tasks and highlights deadline priorities. You can easily leave comments on tasks to collaborate with team members. Beyond that, it features seamless integration of Google Drive and Zoom applications. This means files can be accessed and shared directly within the application and Zoom calls can be started or joined without leaving Nifty. For notetaking, use your chat or built in Docs tool for later when you need to brainstorm.
Nifty fills the gaps left behind by other project management applications and makes it possible to keep everything actually in one place. When selecting what works best for your digital workspace, consider whether you would rather have one app that does it all or multiple apps to juggle multiple projects and tasks.