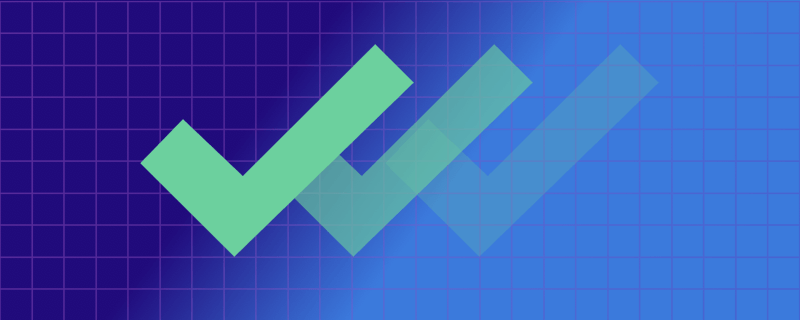 Whether you're a project manager leading a team or a freelancer working with a few clients, you will likely have tons of daily tasks, and keeping track of them is not easy, especially without using any daily checklist apps. 
That's why the daily checklist apps exist. They help you keep up with your professional responsibilities. 
Powerful tools with many useful adds-on, these digital to-do list apps are super effective in time management.
Moreover, most apps have additional features, such as reminders and notifications, that can help you stop procrastination, effectively boosting your motivation and productivity.
In this article, we'll cover the best daily checklist apps you can use individually or with a team, as well as answer questions about what a daily checklist is and how to choose the one that fits all your needs. 
What is a daily checklist?
Although daily checklist apps were invented not long ago, the idea behind them is as old as the hills. They are meant to create task lists and help you not fall behind schedule. 
However, they are not made equal. Some are basic and only allow you to create checklists and remove steps as you keep completing daily tasks.
While others provide you with a wealth of tools, making them suitable for managing the entire team's workflow and integrating with various task management programs. 
Regardless, the benefits of daily checklist apps far outweigh an average paper calendar.
Here's just a short list of advantages that these apps offer:
Break down tasks for a day with actionable tips;

Outline a work plan;

Help stay organized;

Improve productivity;

Give a sense of accomplishment;

Increase the level of motivation;

Allow you to hit targets effectively.
Now, let's check out the best daily checklist apps to consider.
8 Daily checklist apps to get things done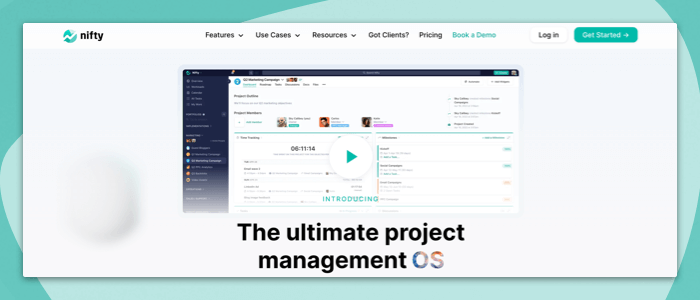 Starting off in this list of to-do apps is Nifty, an all-in-one management solution with an impressive number of tools that will be useful for small and large teams.
Despite being packed with features, the interface of Nifty is clear and easy to navigate, which is another benefit of the app.
Moreover, with Nifty, you can choose how to visualize the data and manage tasks, thanks to its support of Timeline, List, Calendar, and Kanban views.
As mentioned, Nifty is an all-in-one platform, so its collaboration features are quite impressive, too.
Designed to make communication between departments easy, it allows teams to discuss tasks in the project's thread, create notes, docs, & SOPs and much more.
And thanks to a built-in calendar, it can be seamlessly integrated with Microsoft Outlook and Google for file sharing and instant notifications.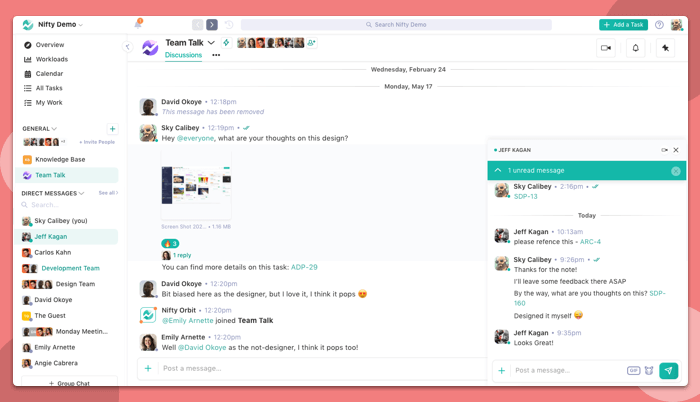 Highlights:
Access to the platform from mobile devices;

Gantt Charts and clear timeline views;

Support for Waterfall and Agile Methodology;

Ability to break down projects with multiple variables;

Email integration;

Budget management tools with an option to link expenses to departments;

Timesheet tracking and task management tools.
Price: Free version | Premium starts from just $5 per user per month.
Available for: Android, iOS, and Web.
Our verdict
Nifty is arguably the best project management app out there. Packed to the rafters with convenient features, it's all you need to keep your workflow smooth and organized. 
✨ Sign up to try Nifty for free.
2. ClickUp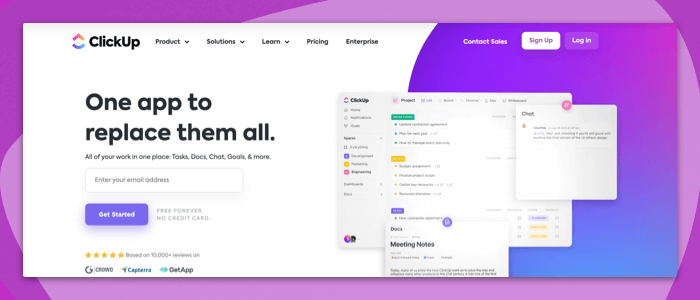 The benefits of ClickUp are numerous. Above all, its strength is that it's a cloud-based management tool, meaning project managers and team members can access and share tasks in real-time. 
Another standout of ClickUp as a to do list app is that it's highly customizable. Thanks to this, it can be adapted to the needs and workflows of teams of all types and sizes. Plus, it's packed with an impressive number of advanced yet easy-to-use features, making it an excellent solution for non-tech-savvy users and IT specialists.   
More on the features, with ClickUp, you get a complete set of tools for project management and professional service automation services. From planning and tracking your daily tasks to visualizing progress in Gantt Charts to setting schedules and creating timelines, you get all that and then some. 
On top of that, the to do list app offers timesheet tracking and project reporting options. This gives you work transparency, as you can get an idea of how long each task takes and set realistic goals. For example, the average hourly rate for a software developer is $30-$50, so it's critical to assess the real-time spent by specialists on the project to calculate its cost correctly. 
What's also handy is that all work requests can be made directly from email, thanks to the email integration feature. 
Highlights:
Cloud-based solution;

Data visualization in Gantt charts;

Mobile compatibility;

Email integration;

Project and financial reporting;

A vast range of time management and tracking tools. 
Downsides:
No support of Gantt charts in Android;

Some find the app interface needs to be more user-friendly.
Price: Free | Premium starts from $5 per month
Available for: Android, iOS, and Web.
Our verdict
Overall, ClickUp is a solid all-in-one PM solution with tons of amazing features. The daily checklist tool is highly customizable, it supports Agile and Waterfall Methodology and can come in handy for small businesses needing practical reporting tools. 
3. Todoist

Another popular checklist app that both entrepreneurs and regular users widely use is Todoist. Easy to use and big on features, it offers everything you need to create and manage tasks and can motivate you and your team to achieve more goals as you complete your daily tasks. 
One of the best features of Todoist is its user-friendly, Kanban-style interface. In fact, it looks similar to Gmail, so even complete newbies who have yet to have much experience using task management tools before will have no difficulty getting the knack for it. 
Color-code labeling is another strong point of the app. Using labels and colors, you can separate professional tasks from family-related chores and focus on those that require the most attention. Todoist has one of the best notification systems that take over most of Google Task and Google Calendar functionality. 
Highlights:
Easy-to-use Kanban-style interface;

Reliable alert and notification system;

A variety of customizable templates;

Activity tracking and time management tools;

Reporting and sharing features;

Synchronization across all devices and platforms, real-time and offline.

Gantt or timeline view. 
Check out: Leading Todoist alternatives
Downsides:
No time tracking;

Reminders and user roles are only available in paid plans;

Doesn't have analytics tools.
Price: Free | Premium starts from $4
Available for: Android, iOS, Windows, Web
Our verdict
To sum up, Todoist is so popular for a good reason. It's a great application with all the necessary tools to keep track of various personal daily commitments and support time management for small teams. The only shortcoming is that it doesn't have analytics tools, but if you only have a small project to manage, it'll certainly fit the job. 
4. Toggl Plan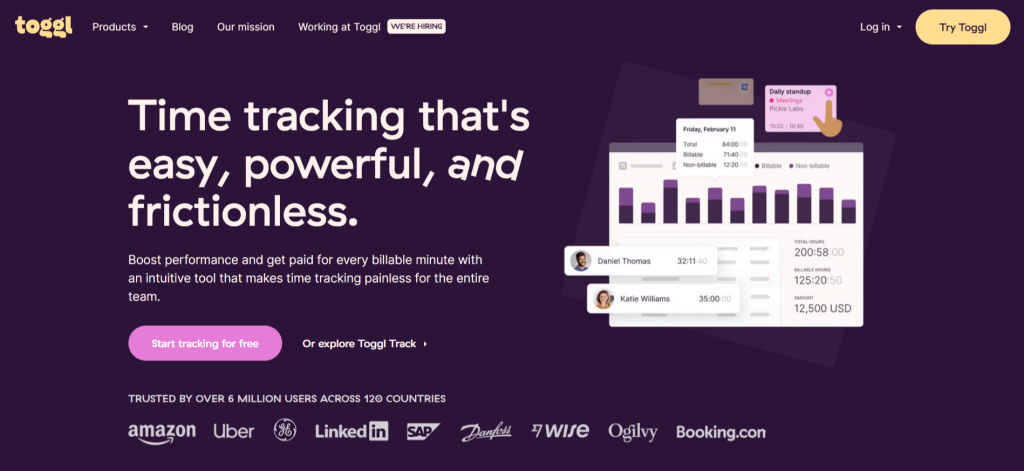 The strength of the Toggl Plan app lies in its simplicity. It's an ultra-simple, easy-to-use and of the best daily checklist app with a clear timeline view and Kanban-style board. At the same time, its simplicity doesn't get in the way of its functionality, ensuring seamless integration with various projects. 
Toggl Plan isn't an enterprise project management software (at least it's not marketed so). What it is – is a time-tracking tool tailored for collaboration. Here users can write down tasks they're planning to work on, receive assignments from other users, update their progress on their tasks, and collaborate with people outside the team by sharing real-time timeline views.   
Since it's a tracking tool, it can also be used to record the time you or your team spend working on the tasks, which can help PMs organize the workflow more efficiently.
When it comes to integrations, Toggl Plan doesn't offer as many as some other apps, but most important are provided, including the ability to use Toggl Track, Google Calendar, and integrate with Asana, Trello, Jira, and the like. As long as you don't need billing, invoice, or other specific business tools, it will fit you just right.  
Highlights:
Clear timeline and board views;

Time tracking tool;

An intuitive drag-and-drop interface;

Works with a variety of apps.  
Downsides:
No free trial;

Not available for Android and iOS versions;

No task dependencies.
Price: Free | Premium starts from $8
Available for: Web
Our verdict
Toggl Plan is a light version of task management software that doesn't have task dependencies but offers great tracking tools, making it an ideal to do list app suited for small teams who know each other and don't have tons of pending tasks. 
5.
Any.do
Next on the list is Any.do. It is a simple to do list app with extensive daily checklist app features that can fit the needs of both small and mid-sized businesses. The beauty of this app, without a doubt, is its interface.
Using drag and drop, you can create, change, and reassign tasks within just a few clicks. And when you need to delete an item, all you have to do is give your phone a shake – a cool feature unique to the Any.do app.    
Highlights:
Synchronization across all devices, be it your laptop, iPad, desktop, or phone;

A range of customized themes to match different project needs;

Unlimited use of daily planner;

Seamless integration with Google Calendar, Outlook, and iCloud calendar;

Reminders about tasks and missed calls.
Downsides:
Weak customer support service;

The advanced features might take some time to learn.
Price: Free | Premium starts from $2.99 
Available for: Android, iOS, Web
Our verdict
Anyone needing an effective and easy-to-use daily checklist app that can sync across platforms and match different project needs will find Any.do to be the right choice.  
6. Trello: Best online checklist apps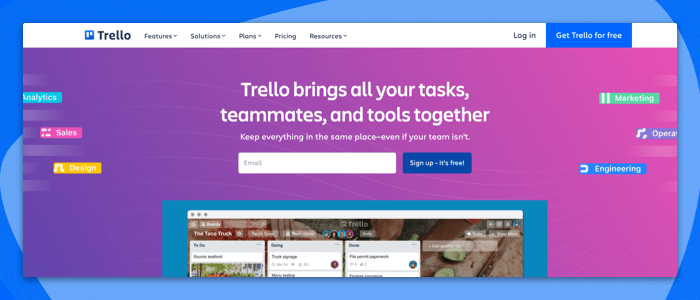 Trello has many advantages, making it a popular task management tool among both PM managers and regular users. 
One of the most remarkable ones is that it creates tasks in the form of a card that presents all details about the project, including information about assigned members, due dates, comments, and so on. Thanks to this, it's enough to take a quick look at it to see who's doing what and at what stage the task is.
Another one is its notification system. With Trello, there's no risk of missing any important changes in the status of a task as it sends both email and push notifications. Moreover, it supports real-time updates, which means notifications are instantly sent to all assigned team members once the change has been made, ensuring no one ever falls behind. 
Highlights:
Responsive web design;

Kanban framework;

Real-time email and push notifications.
Downsides:
Many task management tools are available only through add-ons;

Not suitable for multiple projects.
Price: Free | Premium starts from $5 per month
Available for: Android, iOS, and Web
Our verdict
Trello is a great lightweight to do list app that can benefit both small business owners and entrepreneurs. It's not quite as feature-rich as Nifty or ClickUp, but it's more than suitable for most simple projects. 
7. Memorigi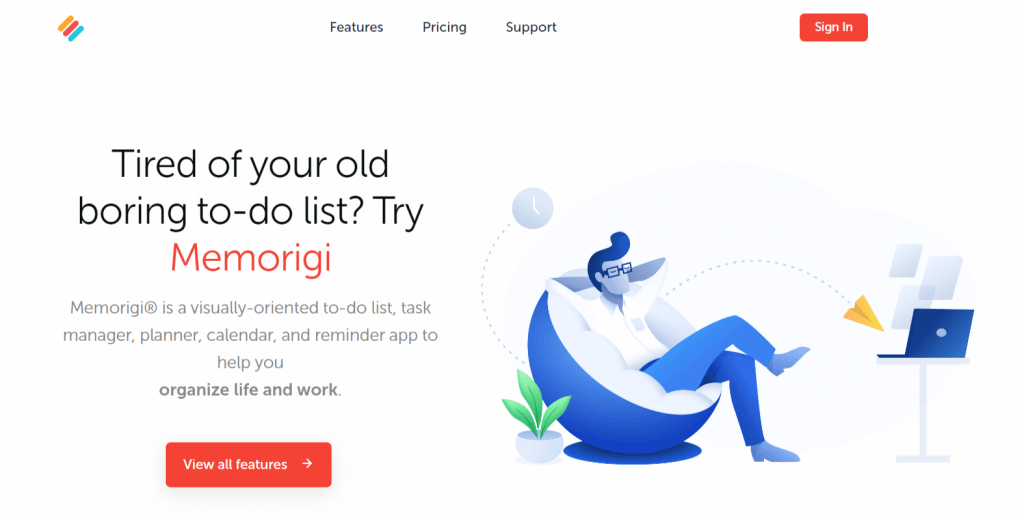 Another excellent to do lists tool for keeping track of your daily tasks is Memorigi. It's a great app that combines the features of a task planner, to-do list, calendar, and reminders. 
What's more, it's a great motivational app. With Memorigi, not only will you never forget an important task at hand, but you will also work your way towards achieving goals and building new habits, thanks to its inspiring notification system.
Perhaps there are better tools for managing a team, but for most personal tasks, like completing a book-to-read list or not forgetting anything when you go shopping next time, it's a great daily checklist tool. 
Highlights:
Beautifully designed app; 

Ability to group tasks in folders;

Ability to set and change priorities.
Downsides:
Not available on iOS and Web;

Limited task management tools.
Price:  Free | Premium starts from $1.99
Available for: Android
Our verdict
Memorigi is a nicely designed to-do app that includes everything you need to organize life and work. It's also a great tool for boosting motivation, making it ideal for those who often find it challenging to accomplish their goals.
8. Remember the Milk: Best used to organize tasks

Originally designed as a grocery list, the Remember the Milk app very quickly evolved into a personal to-do list app with a decent set of task management features. 
Now, not only does it allow you to create colorful lists of tasks, but it also can be integrated with other apps like Google Calendar, Gmail, and Microsoft Outlook, allowing you to keep up to date with your tasks through emails, texts, push notifications, and even messages on social media.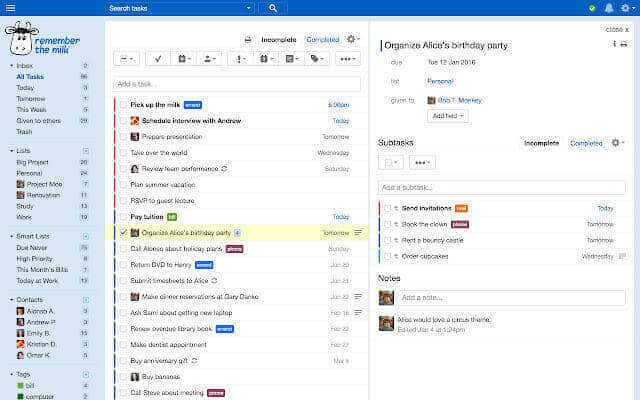 Like Memorigi, the Remember the Milk app is for personal use. Still, you could use it for simple projects, like organizing your workflow or prioritizing tasks that need to be done first.
Highlights:
User-friendly interface;

Smart sentence recognition;

Integration with calendars;

Available on all platforms.
Downsides:
The Pro version is quite expensive;
Price: Free | Premium starts from $3.33 per month
Available for: Android, iOS, and Web
Our verdict
Though quite simplistic, Remember the Milk is an excellent app for those who want to keep up with their tasks and organize their schedule most efficiently. 
How to choose the right daily checklist app? 
With so many options to choose from, how do you know which daily checklist app is right for you? We don't have an answer to this question because the decision is up to you, but we can offer you a few tips to help make up your mind and help you pick the best daily checklist app: 
1. Data Visualization 
How the data is displayed on the screen won't bother people who only use the app as a personal to-do list assistant. However, if you have multiple projects to manage at once, ensure that the app you choose allows you to customize your data views as you see fit.
2. Design
It is also important that the app is easy to use, and design plays a significant role here. If there's a steep learning curve when using the app interface, you might be better off with a more user-friendly alternative. 
3. Sync and Sharing Options
If you're looking for an app to use with your team, check if it supports sync and data-sharing options. These are essential collaboration tools that can improve communication within the team and help you control the project cycle. 
4. Budget
The budget is also an important point of consideration, especially if your business is relatively small and you're still determining if the project will thrive. Luckily, most daily checklist apps offer free plans, so you can try them before making a commitment. 
To do list & daily checklist apps – FAQs:
Is there an app for a daily checklist?
Yes, there is. You may be overwhelmed with choosing apps for your daily checklist. The market offers numerous options like Nifty, Asana, Todolist, and others.
How do I create a daily checklist?
The process is as simple as it gets. Think of all your tasks and write them down on your daily checklist app while prioritizing each task. The key is to organize tasks in order of priority to avoid missing anything important.
How do I make a daily checklist on my iPhone?
If you're an iPhone user, you have two options: use the proprietary Notes app, which will allow you to create a basic daily to-do list, or download the daily checklist app from the list we shared above, which will allow you to streamline much more complex projects than just keeping track of your grocery list.
Is there a free checklist app?
Yes, there are many free checklist apps in the market. Nifty, Google Task, ClickUp, and Todo list are popular free daily checklist apps.