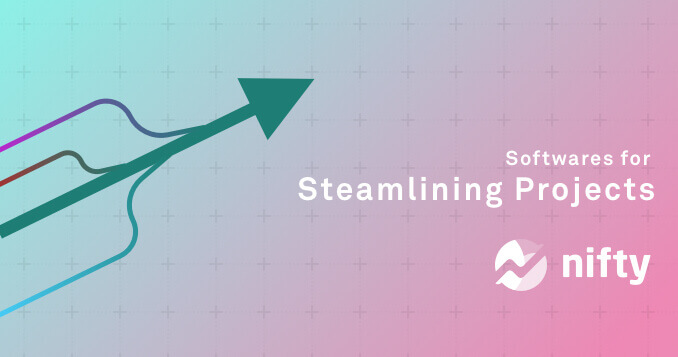 You can't achieve any project's full potential if you don't have the right team, the right team management software, and the right processes in place! 
With team management software, you can create a system for every cog in your project machine and engage in real-time collaboration.
With the right system in place, everyone understands their roles, their responsibilities, and their deliverables. 
Team management software can help you manage people, projects, and schedules seamlessly, from communicating with stakeholders to tracking timelines to allocating project resources.
That means …
No more information silos. No more confusion. And no more wasted time.
If you're ready to take the stress out of project management, stick around to learn about nine team management tools you can use to make your work easier. 
Why use team management software solutions?
They say it takes a village to raise a baby, but the same is true for projects. When you have big clients and important stakeholders to please, you may be surprised at how many people you actually need in the pulpit as you work to complete deliverables on time.
Whether you run multiple remote teams, manage a hybrid set-up, or work at a corporation, team management tools can help you keep everything — and everyone — in order.
You can set up workflows for each of your teams, access high-level overview dashboards to see how all projects progress in real-time, and manage your internal and external communication. 
Also, using user onboarding software can further streamline processes, particularly when welcoming new members to your team.
But team management software isn't just for established corporations and big project teams.
New businesses, freelancers, and small teams can also benefit greatly from using these tools. When brainstorming small business ideas and setting up internal operations, entrepreneurs have a lot to think about and manage, and keeping track of tasks and communication can be challenging.
Team management software can help by providing a centralized location for all tasks, messages, and files. This makes it easier to collaborate and communicate with team members, even if they're working remotely.
TL;DR: Businesses big and small can use team management software to collaborate on daily workflows and client management tasks.
Key features to look for in team management software
| | |
| --- | --- |
| Features | Benefits |
| User-friendly interface | Simplifies usage and reduces the learning curve |
| Task management | Streamlines workload and promotes effective task delegation |
| Time tracking | Helps monitor productivity and manage time efficiently |
| Real-time collaboration | Facilitates teamwork and boosts collaboration |
| File sharing and management | Aids in document organization and access |
| Communication tools | Enhances team communication and reduces miscommunication |
| Calendar and scheduling | Assists in planning and coordinating team events |
| Project planning | Provides a clear roadmap to achieve project goals |
| Reporting and analytics | Enables data-driven decision-making |
| Customizability | Allows the software to adapt to your unique needs |
| Mobile access | Ensures team productivity even on-the-go |
| Security features | Protects sensitive data and maintains privacy |
| Integration capabilities | Enhances functionality by working with other apps |
| Cost-effective pricing | Provides value for money and fits within budget constraints |
| Reliable customer support | Ensures timely resolution of issues and queries |
| Workflow automation | Saves time by automating repetitive tasks |
| Resource management | Optimizes use of available resources and prevents overloading |
Team management software solutions for streamlining project team staffing, payroll, and scheduling
Hiring an entire team is one thing. Setting up payroll and project training is another. Thankfully, with the following tools, you can staff your projects, facilitate onboarding and training, and pay your project team on time, every time.
1. Nifty
As a complete collaboration hub and project management OS, Nifty helps you unite your teams, goals, and actions in a single platform.
As a flexible work operating system, you can use Nifty however you see fit. For instance, you can use it to create clear project roadmaps, assign tasks, and automate progress reporting as tasks get completed. You can also replace busy work with custom if/then automations, set up operational workflows, and create beautiful docs, notes, and wikis.
You can use Nifty to manage everything from tracking projects to managing clients to communicating with your team.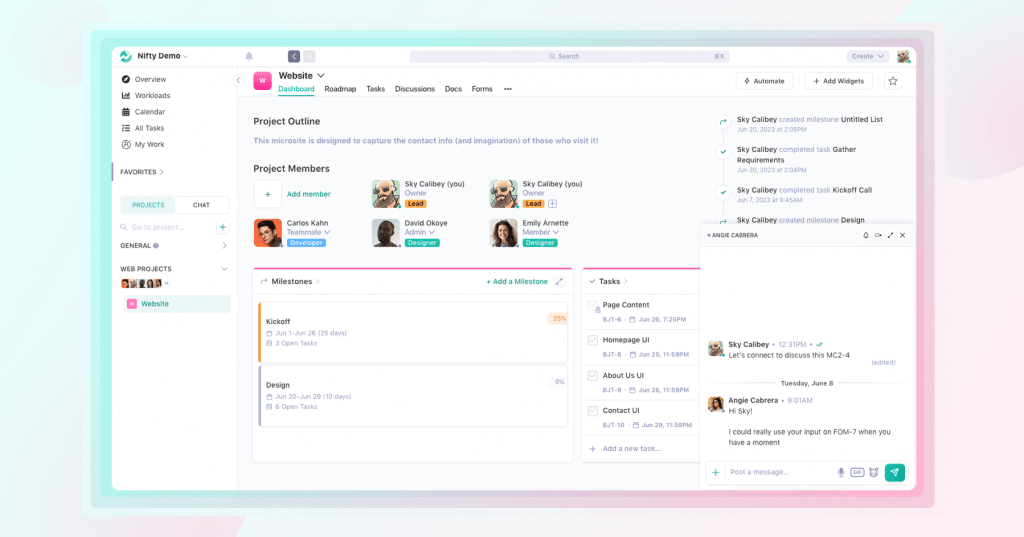 Some of Nifty's top features include:
Roadmaps (Gantt Chart)
Time tracking
Discussions
Tasks
Docs, forms, and files
Project portfolios
Reporting
Nifty offers plans from $0 to $16 per member per month, billed annually. If you need a plan that offers unlimited users and unlimited projects, contact the sales department for enterprise pricing.
2. Bambee

Hire subject matter experts for your project team, train them‌, and automate your onboarding process with Bambee, the ideal team management software for HRs. 
With Bambee, you'll have the help of a dedicated HR manager to ensure your project management business stays HR-compliant all year round.
In fact, Bambee claims its clients are 4x less likely to have a complaint filed against them.
Some of Bambee's top features include:
Custom HR policies to fit your specific needs
Employee management
HR audits to uncover your HR gaps
Two-way employee-employer feedback feature
Phone, email, and chat support
Data technology to help you stay informed about labor laws and avoid mistakes
If you don't have employees yet, Bambee's starter plan costs $99 per month to help you hire your first employee. If you have four or fewer employees, the fee is $299 per month plus a $500 one-time setup fee. If you have more than four employees, head to Bambee's pricing page for custom pricing.
3. Remote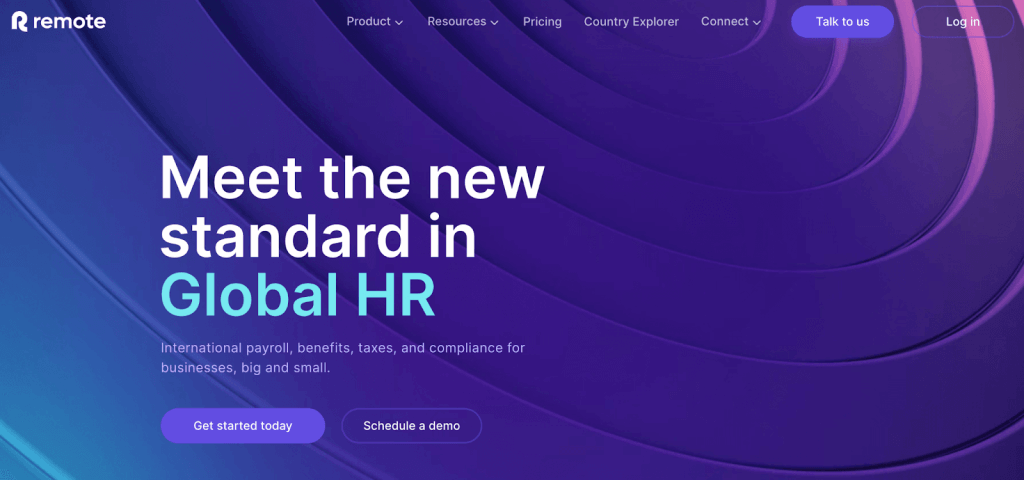 If yours is like many project teams today, you may have some or all of your employees working remotely — and some may also be overseas.
With various time zones and currencies, making sure team members receive timely and appropriate payment is essential, but getting it right can be tricky. Using software for international payroll processing, like Remote, can help simplify payroll management and guarantee that your project team members are paid on time and correctly, wherever they may be. 
Some of Remote's top features include:
Employee cost calculator
Misclassification risk tool 
Contractor management (pay contractors on time in their local currency with zero exchange fees)
Local payroll, benefits, taxes, and compliance
The ability to offer stock options and benefits 
Global Payroll
Remote relocation 
For contracted workers, Remote charges $29 per contractor per month. For hired workers, Remote charges $599 per employee per month, billed annually.
4. Connecteam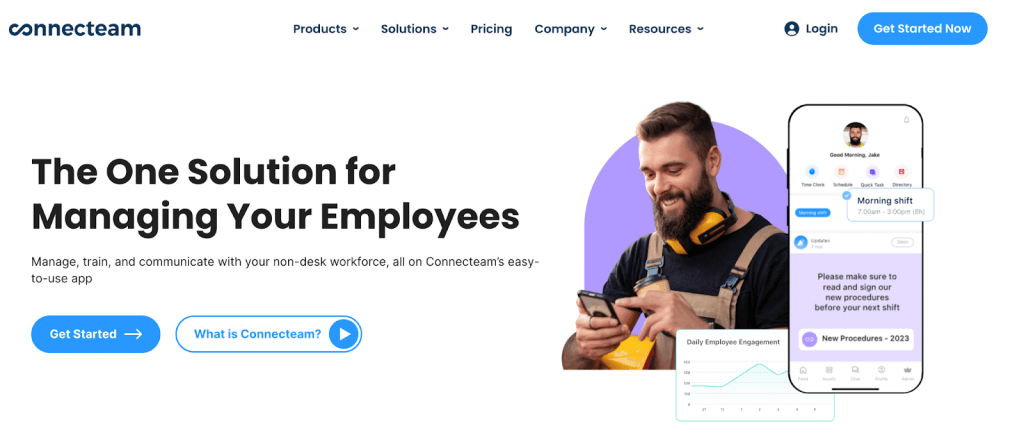 To boost productivity and ensure your project timelines stay on track, finding a strategic way to manage team scheduling and balance workloads is crucial. 
That's why we recommend getting your hands on a tool that can quickly draft and issue schedules for everyone on your team to optimize workflow. This can help everyone understand who's working and when which can prevent scheduling conflicts and can help you allocate resources.
Enter: Connecteam. 
With Connecteam, you can use premade templates to deploy schedules in seconds, increase productivity with geolocation, and gain full visibility on employee availability at any given moment.
Some of Connecteam's top features include:
Efficient shift management, from planning to distribution
Mistake-free time tracking with advanced GPS capabilities
Training and onboarding
Forms and checklists
Timeline feature
Time off feature
Recognition and rewards
Connecteam offers monthly plans from $0 to $99 for up to 30 users, billed annually. For pricing estimates on additional users, check Connecteam's pricing page.
Team management tools for project meetings, communication, and brainstorming
You've staffed, paid, and scheduled your project team. But how do you plan on facilitating ongoing meetings, communication, and brainstorming sessions — especially if your team is spread out across the globe?
Here are some tools that can help with that:
5. OnBoard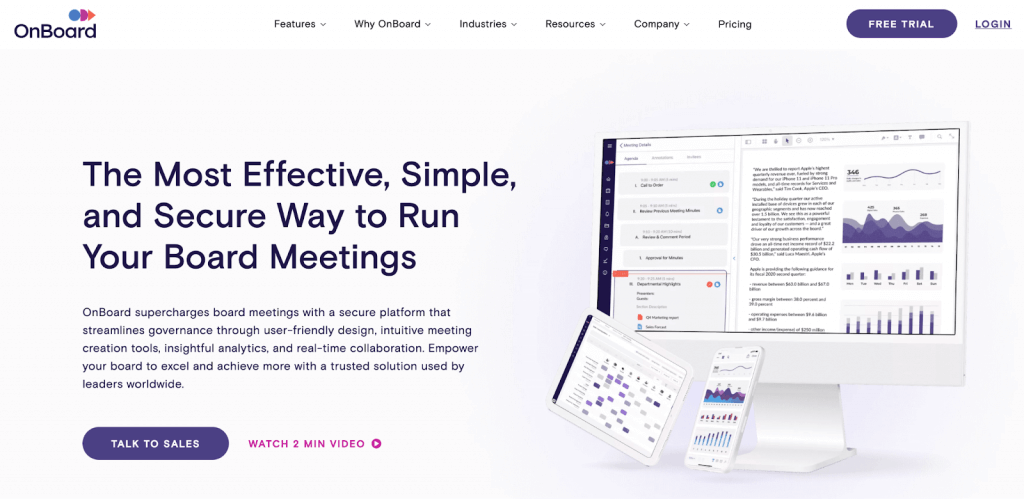 When working on a project team, finding a way to streamline meeting management and facilitate productive meetings is key to making the most of everyone's time.
While typical video conferencing tools can help with simple things like screen sharing and group calls, their features are limited.
That's why we recommend pairing them with board meeting software like OnBoard. With OnBoard, you have access to a secure platform with intuitive meeting creation tools, analytics, and real-time collaboration. Your meeting admins can move faster and simplify everything from meeting minutes to agenda creation, board materials distribution, and more.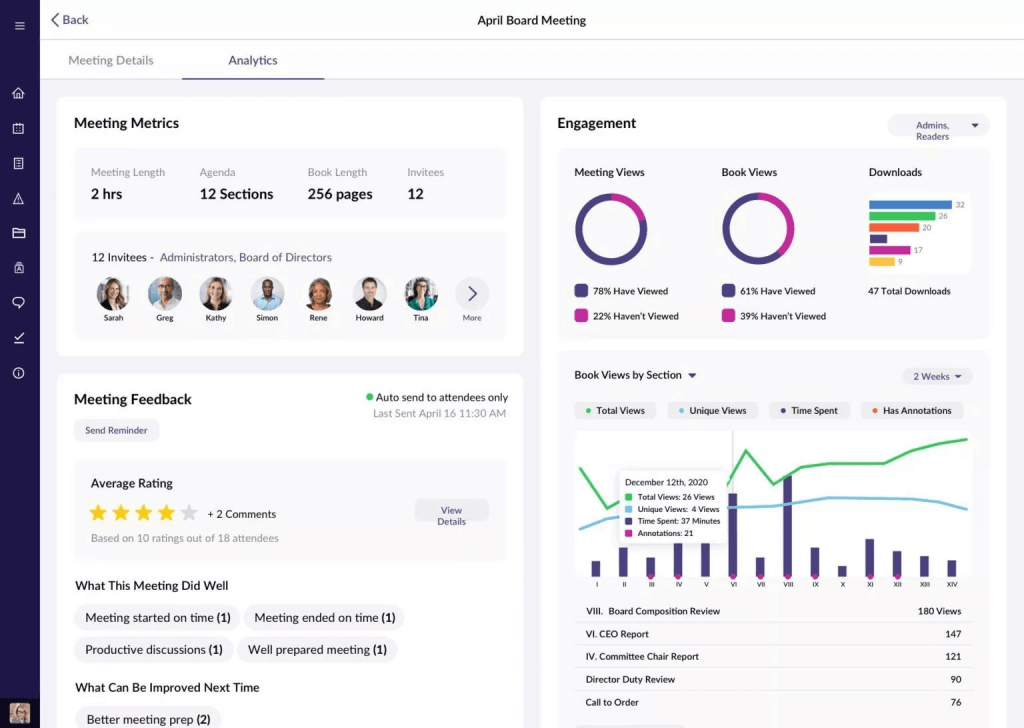 Some of OnBoard's top features include:
Meeting analytics — real-time anonymized and aggregated insights
Minutes builder
Agenda builder
Secure messenger (a built-in secure chat for private and group messages)
Zoom integration
Microsoft 365 integration
Voting and approvals
If you're looking for a one-stop communication shop that can help replace emails, text messages, and other communication channels with a secure, unified system of record, you'll love OnBoard.
OnBoard doesn't publish its pricing plans, but it does offer a free trial. If you're interested in a plan, choose the "get started" or "talk to sales" button on the plan of your choice for a custom quote.
6. Slack

When you need a simple, quick way to get in touch with any given employee or project team, you need an efficient team messaging tool like Slack.
Think of Slack as your project team's go-to communication hub. You can set up team "channels" for segmented project teams and departments, send a private message to anyone you need, and have a central place to leave an announcement for appropriate team members.
You can also use Slack to make audio and video calls and record and share clips.
Some of Slack's top features include:
Channels (focused project spaces for news, announcements, and team communication)
Messaging
File sharing
Search
Workflow builder
Huddles — audio and video calls
Clips (record and share info)
Slack offers plans from $0 to $12.50 per user per month, billed annually. Contact the sales department for enterprise pricing.
7. Miro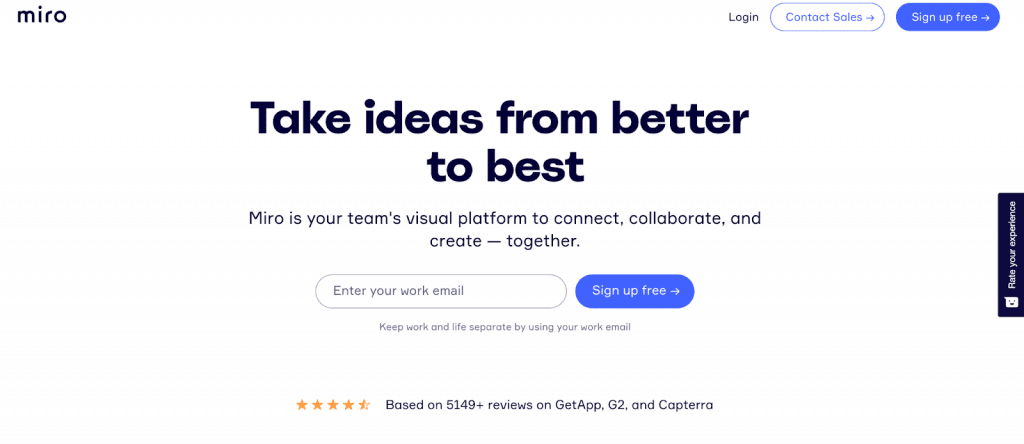 Brainstorming is one of the most pivotal stages new projects go through, yet many teams still rely on back-and-forth emails to discuss their ideas.
With Miro, that can change. 
With Nifty & Miro's integration, you can collaborate with your team to brainstorm ideas and create roadmaps ideas together, all without leaving Nifty.
With Miro+ Nifty integration, you can bring your vision to life with virtual sticky notes, mind maps, videos, images,  drawing capabilities, and more inside team management software.
Some of Miro's top features include:
Brainstorming templates with ready-made frameworks and proven workflows
Miroverse (templates from experts in the Miro community)
Online whiteboard
Online flowcharts
Online diagrams
Help Center
Miro Academy to level up your skills
Miro offers plans from $0 to $16 per user per month, billed annually. Contact the sales department for enterprise pricing.
Project planning, management, and tracking
Now that you have your HR and communication tools in place, you need team management tools to help you solidify your project plans, monitor project progress, and create efficient workflows. 
Here are the top choices we recommend:
8. monday.com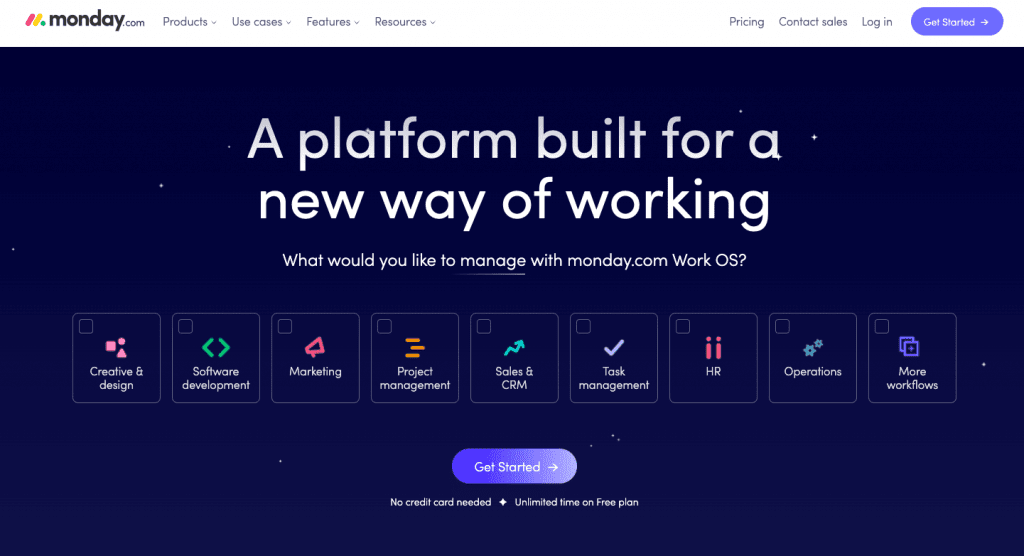 If you're someone that likes to build some or all of your task management setup from scratch, monday.com can help. 
With monday.com, everything starts with a visual board that you tailor to manage your projects, team members, tasks, or anything you need.
These boards are intuitive and interactive. You can build each column and row yourself, or use one of monday.com's templates and customize it from there.
With its customizable dashboards, you can also get a high-level overview of your organization so you can easily scale workflows and make data-driven decisions as your projects progress.
Some of monday.com's top features include:
Multiple view styles, including Kanban, Gantt, Calendar, and Timeline
Docs (turn words into workflows and collaborate in real-time)
Files
Forms
Automations
Integrations
Dashboards
monday.com offers plans from $0 to $16 per "seat" per month, billed annually. For enterprise-grade features, contact monday.com's sales department.
9. Trello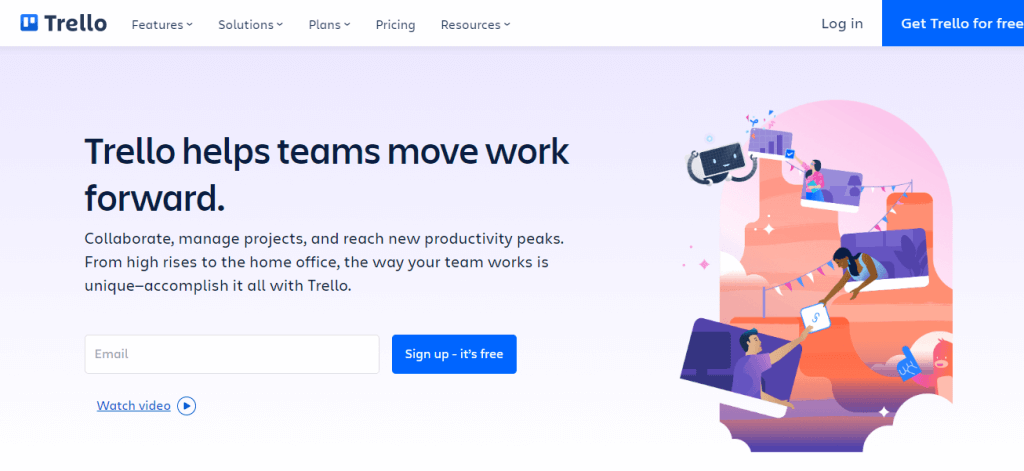 If you need an app to organize project tasks in a visually pleasing way, look into Trello, a Kanban-style productivity tool. 
While not the best option for complex projects, Trello gets the job done if you need a tool that tracks what needs to be done, what's in progress, and what's been completed.
In fact, the traditional Trello Kanban template has three boards, one that says "to-do", one that says "doing", and one that says "done".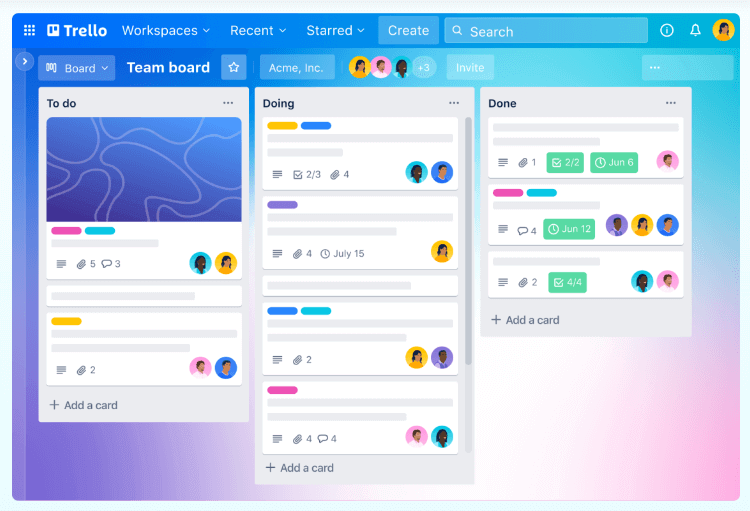 As you can imagine, you simply drag and drop your tasks from the "to-do" board to the "doing" board when they're in progress and then from the "doing" board to the "done" board when they're complete.
Some of Trello's top features include:
Boards
Lists
Cards
Views
Templates
Power-ups
Integrations
Automation
Trello offers plans from $0 to $10 per user per month, billed annually. For enterprise pricing, contact Trello's sales department.
Wrap up
And there you go! Today we covered nine team management software solutions you can use to streamline your projects.
From staffing your project team to hosting brainstorming sessions to managing daily responsibilities, the tools we covered today can help you take care of all of the todos on your list. 
And remember, if you need an all-in-one project management OS, you'll love Nifty. Book a demo or sign up for your free today. Getting started takes less than a minute!
What is team management software and why is it important for my projects?

Team management software is a tool that helps streamline the planning, tracking, and organizing of projects within a team.

It can significantly increase productivity, promote better communication, reduce the risk of errors and miscommunications, and provide real-time updates and reports.
How can team management software help in resource allocation?

Team management software often includes resource management features, which help in assigning and tracking resources (like team members' time or company assets).

With proper resource allocation, you can achieve balanced workloads, avoid overloading team members, and ensure that resources are used efficiently, contributing to the successful completion of projects.
Can I integrate team management software with other tools we use?

Yes, most team management software solutions offer integration capabilities with a variety of other tools and platforms, such as email clients, CRM systems, and file storage solutions.

Say hello to a seamless workflow where all necessary information and tools are available in one place.
Is team management software suitable for remote teams?

Absolutely! In fact, team management software is particularly beneficial for remote teams.

Features like task tracking, real-time collaboration, file sharing, and communication tools make it easier for team members to work together effectively, no matter where they're located.
How do I choose the right team management software for my team?

Choosing the right software depends on your team's specific needs. Consider factors like the size of your team, the complexity of your projects, your budget, and the specific features you need.

Additionally, look for software with a user-friendly interface, strong customer support, and positive reviews. It can be helpful to take advantage of free trials or demo versions to test out the software before making a decision.