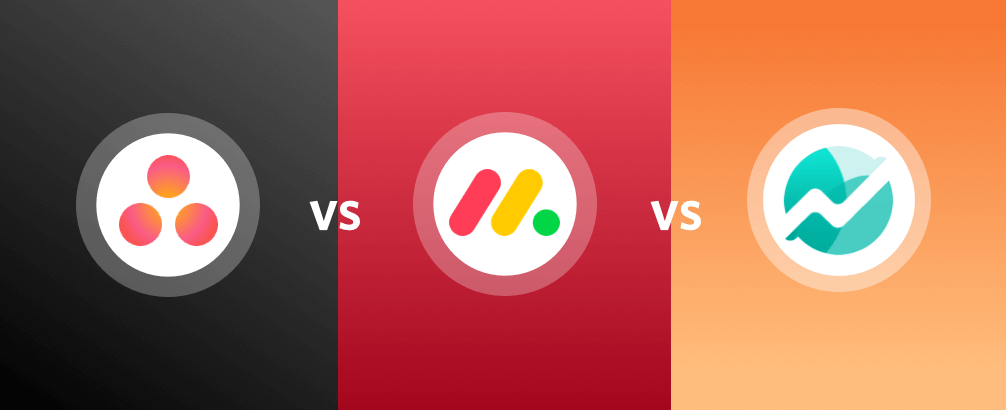 Three superstar project and task management softwares, yet unique in their own ways. 
Asana, Trello, and Nifty are all project management tools built to facilitate workflow management and increase productivity. They do so by visually organizing, prioritizing, and tracking tasks in projects.
In this post, we will go through a detailed comparison between Asana vs Trello vs Nifty to help you find the one that suits your business and productivity needs better.
Asana vs Trello vs Nifty
If you are reading this article, it is most probably because you cannot make up your mind about choosing between these tools. 
What we can already be certain about is that workflow management tools such as Asana, Trello, and Nifty have evolved to provide solutions to the growing pains of hybrid workflows. Having said that, these tools still differ greatly in the functionality, pricing, and approach they have towards digital collaboration and workflow management.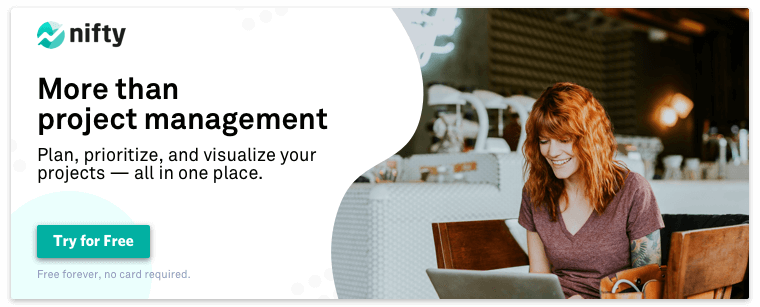 So, let's go through the pros, cons, and pricing of Asana, Trello and Nifty: 
1.  Asana Review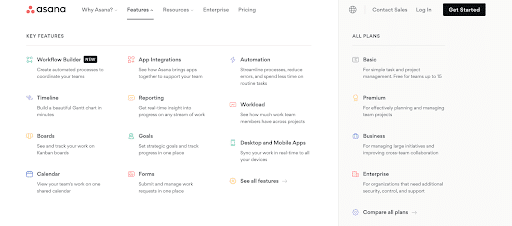 Asana's automation capabilities are powerful among many other project management tools. Asana's goal is to help everyone track their work by giving users a single platform to create projects, assign tasks to team members, establish deadlines, and communicate. It is affordable, and it is flexible enough to fit your organization. Plus, its free plan is unrivaled.
Asana's Pros
Free Plan:

The free subscription of Asana includes an infinite number of teams, projects, and tasks and basic features. You can stay on the free plan indefinitely if you have fewer than 15 users and just handle basic projects. You can also integrate with your preferred time tracking tools for free.

Multiple Project Views:

Users may view and manage projects and tasks in a variety of ways with Asana, including Kanban boards, lists, and calendars. Each team member may handle responsibilities in the most efficient manner for them, allowing them to be as productive as possible. You may also develop project dashboards that you can customize the way that suits the project best.

Process Management Automation:

Asana allows you to automate the repetitive tasks in workflows that span many business applications. You may use Asana's graphical workflow builder to create simple workflows that span dozens of people, tools, and tasks, such as cascading due dates, assigning a task to a team member, etc. Automating procedures ensures that things are done without wasting time so you have the amount of time that you need to do more critical responsibilities that cannot be automated. Though this comes at a great cost.

Collaboration:

Asana has a file-sharing feature that helps you share PDFs, JPGs, and Google Docs, with team members. Users can delegate tasks to team members, define task dependencies, give priority, set due dates, and communicate with one another. Without having to struggle with sending many emails to team members every day, teams can plan around each other's schedules and stay on the same page. Asana is also used to manage all project conversations and to-do lists. Asana also integrates with email apps and third-party messaging platforms, depending on your team's preferred method of communication.

Agile and Scrum Support:

Asana also supports agile project management with its

scrum board

feature. It allows you to use features like sprint planning, bug tracking, product launches, roadmaps, feedback, and task iteration monitoring.

Integrations:

Asana integrates with many third-party apps like Slack, Dropbox, Google Drive, Zapier, Tableau, Zoom, and Salesforce.
Asana's Cons
Mobile App is Limited: Every Asana plan includes a free iOS and Android mobile app. While the mobile app is generally satisfactory, it might be difficult to use at times. In general, Asana performs better on a PC with a full screen the screen of a mobile device is not large enough to be suitable for the boards on Asana which may be a problem for many users. 
Tasks Cannot be Assigned to Multiple Users:

Tasks cannot be assigned to more than one user in Asana. In theory, this is intended to make it apparent who is in charge of a specific task. To include additional users in the loop, you can add a task collaborator or use subtasks. You may also make copies of tasks for other users in Asana. However, tasks will only have one principal assignee which is a drawback because there may be tasks that require more than one team member to be completed.

Too Many Email Notifications:

Many Asana users especially the new users are annoyed by the volume of emails they receive to get notified about what is happening to a task on Asana. The good news is that you will have complete control over your notification preferences. As a result, you have the option to modify it at any moment. However, when your inbox is clogged with Asana notifications, it can be a little frustrating at first until you make those modifications.
Asana Pricing
Basic Plan – Free: Including Unlimited tasks, Unlimited projects, Unlimited messages, Unlimited activity log, Unlimited file storage (100MB per file), Collaborate with up to 15 teammates, List view projects, Board view projects, Calendar view, Assignee and due dates, Project Overview, Project Brief, iOS/Android mobile apps, Time tracking with integrations, 100+ free integrations with your favorite apps
Premium Plan – $12/user/month: Including Timeline, Workflow Builder, Unlimited Dashboards, Reporting across unlimited projects, Advanced search, Custom fields, Unlimited free guests, Forms, Rules, Start dates and times, Task Templates, Milestones, Admin Console, Private teams & projects
Business Plan – $26/user/month: Including everything in Premium Plan plus Portfolios, Goals, Workload, Custom rules builder, Forms branching & customization, Approvals, Proofing, Lock custom fields, Advanced integrations with Salesforce, Adobe Creative Cloud, Tableau, Power BI
2. Trello Review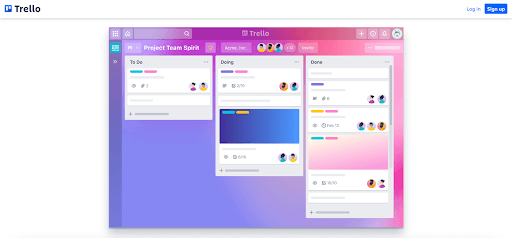 Trello is a project management tool for organizing, coordinating, and tracking your projects. The selling point of this Kanban board tool is its ease of use and ability to encourage cooperation with both internal and external teams. Let's take a look at Trello's pros and cons.
Trello's Pros
Apps and Interactivity:

Trello is available on the web as well as on desktop (macOS, Windows) and mobile apps (Android, iPhone, and iPad). The online interface runs swiftly and has excellent drag-and-drop capabilities, which come in handy when uploading attachments. Installing the desktop app has a few advantages. You receive desktop notifications and quick-add options. With a compatible Mac, you also get Touch Bar capabilities and support for additional keyboard shortcuts.

Card Features:

Color-coded labels are another option for card organization. Each label necessitates the use of a color, which means that after about 10 labels, you may mix up the function of each color. For color-blind users, there is an option to enable patterns. 

Automation:

In Trello, the rules of your board may state that you must always follow one action with another action. You can develop automation if this is the case. When a card is moved to the Done column, for example, the action can be to automatically check off any subtasks on that card. If you transfer a card to the Delayed column, the due date may be automatically extended by 10 days.

Flexible:

Trello is a tool for managing work and procedures collaboratively. Trello's flexibility means it may take some trial and error to figure out how to use it effectively for your team and the workload you manage. When you don't require a heavy-duty project management system, Trello may be a good collaboration tool. It's also a little lighter than Asana, which has a more versatile interface than merely kanban boards.
Trello's Cons
Suitable for Small Projects Only:

Trello is not suited for large, complex projects. Trello might not be the greatest answer for a huge business with a lot of tasks, boards, tasks, subtasks, lists, and cards. Trello is best used for general project management with small teams and straightforward schedules.

No Free Add-Ons:

Gantt Charts, Calendars, and Priorities are among the add-ons that Trello customers must pay for. This is a significant drawback because a project management solution should already have these add-ons without requiring payment. 

UI is Poor and Limited:

Trello users can only explore the Kanban board view. It has limits in terms of presenting the complete workflow, including priorities, making project management more difficult for project managers rather than easier.

Not Suitable for All Teams:

Trello is a tool that is not suitable for every team in your company. Trello is great for content writers, but your marketing or sales team might prefer a list-based solution for their assignments. It creates a new challenge for the project manager because they are unable to keep the teams on the same page.

Not Show Task Dependencies: Trello is not designed to show task dependencies and it might cause a lot of confusion and misunderstanding during the project. In order to obtain the necessary information, project managers require task dependencies. Without the usage of a Gantt Chart, team members may find it difficult to coordinate, plan, and track tasks. Gantt Charts are essential for project planning, schedule updates, stressing critical paths, and visualizing work in a timeline format.
Trello Pricing
Free Plan – Free: Including Unlimited cards, Up to 10 boards per Workspace, Unlimited Power-Ups per board, Unlimited storage (10MB/file), 250 Workspace command runs per month, Custom backgrounds & stickers, Unlimited activity log, Assignee and due dates, iOS/Android mobile apps, 2-factor authentication
Standard Plan – $5/user/month: Including everything in Free Plan plus Unlimited boards, Advanced checklists, Custom Fields, Unlimited storage (250MB/file), 1,000 Workspace command runs per month, Single-board guests, Saved searches
Premium Plan – $10/user/month: Including everything in Standard Plan plus Dashboard view, Timeline view, Workspace Table view, Calendar view, Workspace Calendar View, Map view, Unlimited Workspace command runs, Admin and security features, Workspace-level templates, Collections, Observers, Priority support, Google Apps sign-on, Simple data export
Enterprise Plan – $17.50/user/month: Everything in Premium Plan plus Unlimited Workspaces, Organization-wide permissions, Organization visible boards, Public board management, Multi-board guests, Attachment permissions, Power-Up administration, Free SSO and user provisioning with Atlassian Access
3. Nifty Review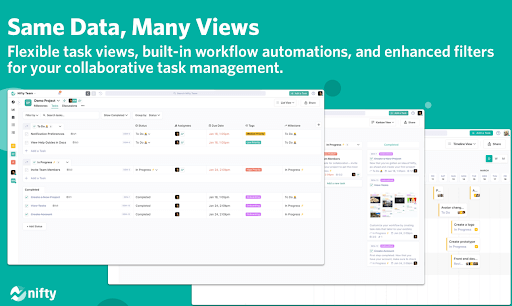 Nifty is a modern project management solution that is significantly more powerful and easier to use than Asana and Trello. Nifty helps you with every aspect of project management which would not only result in meeting the project deadlines in time but also a motivated team who is collaborating efficiently. 
Nifty's Pros
Collaborative Task Management:

There are various flexible views for every need. You can choose a board view, list view, timeline view, and calendar view to see all the tasks in your projects. The customizable custom fields make Nifty fit any workflows. Filters to dive down across initiatives to make them more tailored to your needs have been improved. In addition, the built-in automation builder allows you to automate the tasks so that you do not have to waste time on repetitive work on the tool during the day.

Interactive Roadmaps:

Since plan initiatives can be prioritized visually, you can get to know the prioritized tasks at a glance. Moreover, you can get automated progress reporting regarding task completions. Another great feature is that you can share your roadmaps with public sharing links.

Built-in Docs:

In addition to two-way Google Docs, Nifty allows you to create docs, wikis, and SOPs and share them through public sharing links. You can also add them to discussions, tasks, and projects.

Workflow Automation:

You can

automate your workflows

with a custom if/then workflow builder. Since you can have over 2000 integrations with Nifty, you can simply move your other workflows to Nifty without having to do the same thing again.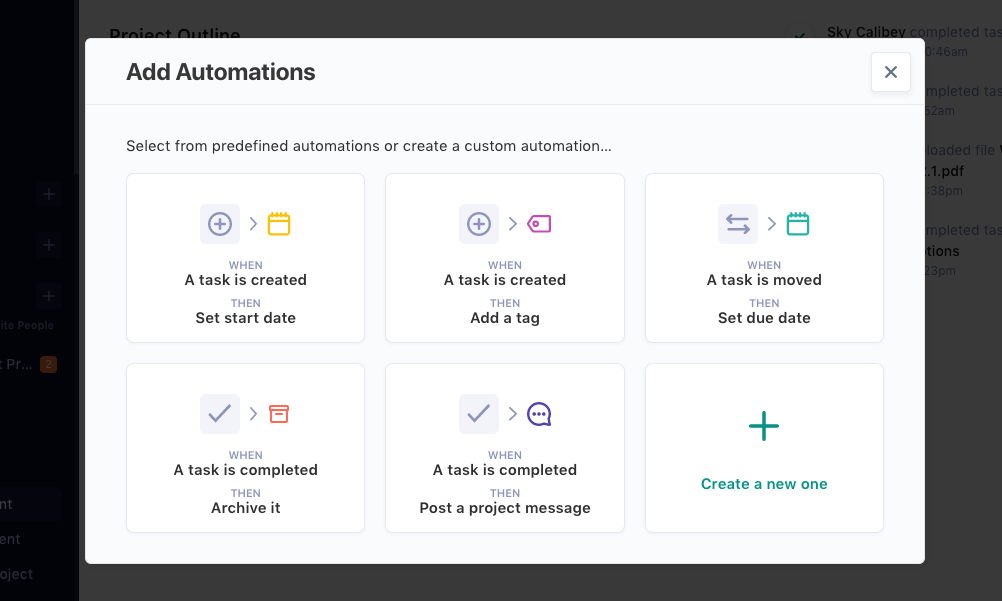 Nifty Pricing
Keep in mind that Nifty's pricing is not based on seats or users, so you can expand as much as you want.
Free Plan – free forever:

Includes Unlimited members, 100 MB storage space, 2 Projects

Starter Plan – $39/month:

Includes 10 Members, 100 GB storage space, 40 Projects, Unlimited guests & clients

Pro Plan – $79/month:

Includes 20 Members, 500 GB storage space, Unlimited Projects, Unlimited guests & clients

Business Plan – $124/month:

Includes 50 Members, 1 TB storage space, Unlimited Projects, Unlimited guests & clients

Unlimited Plan – $399/month:

Includes Unlimited Members, Unlimited storage space, Unlimited Projects, Unlimited guests & clients
👉 Does Nifty offer a free trial? Yes, Nifty offers a free 14-day trial on all plans. Get started now 🎉
Conclusion on Asana vs Trello vs Nifty Review
With the comparison made between Asana vs Trello vs Nifty, you should now have a better insight into these three platforms. Based on the requirements of your business for efficient project management, you can now make an informed decision about implemented one of these project management tools into your business. Wish you the best of luck!
For more project management tool comparisons, take a look at Asana vs Monday vs Nifty and Monday vs ClickUp vs Nifty. In these posts, we will talk about the advantages and disadvantages of each tool so that you can make smart buying decisions.