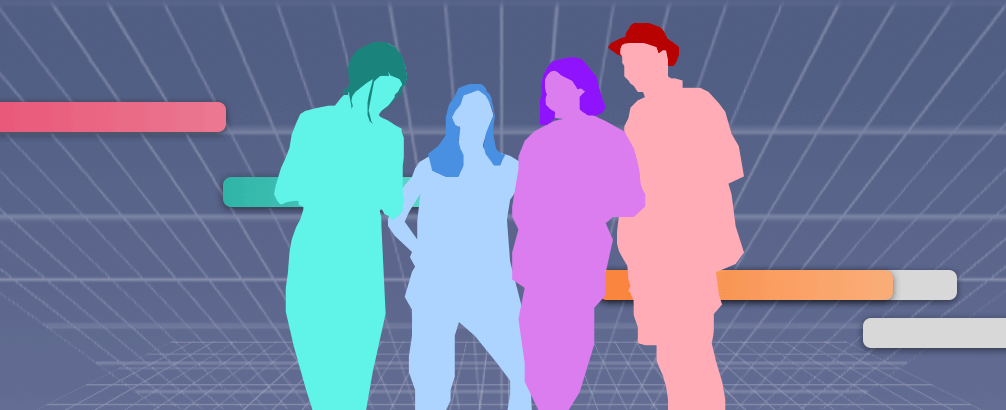 Projects serve as the foundation for a firm's survival and expansion. When projects go wrong, growth comes to a standstill, and success drives away. In today's rapidly growing corporate world, a firm has to manage numerous projects at the same time. This raises the likelihood of project errors and emphasizes the necessity to standardize processes throughout the project lifecycle, from preparation to execution. Don't get caught up in chaotic initiatives as your small business expands, trying to keep up with an ever-growing customer base. Choosing a best project management software for small teams can help you in such situations.
Project management software is a kind of collaboration tool. Everyone involved in a project can see what and when they're required to do certain tasks. Teams can also keep track of the task progress and add additional information, such as comments on any adjustments. Members of the team can also access what other team members are doing, what criteria they must meet in order to complete the task, and when they need to do further.
The appropriate software, or a mix of these software, can help you organize and streamline your workflow. As a small team, you're probably avoiding software that costs a lot, requires a lot of specialization, or burdens your team with features you don't need.
Best Project Management Software for Small Teams
We'll take you through the top sixteen project management solutions available right now. Use this as a starting point for locating project management software for small teams that are a good fit for your company.
Nifty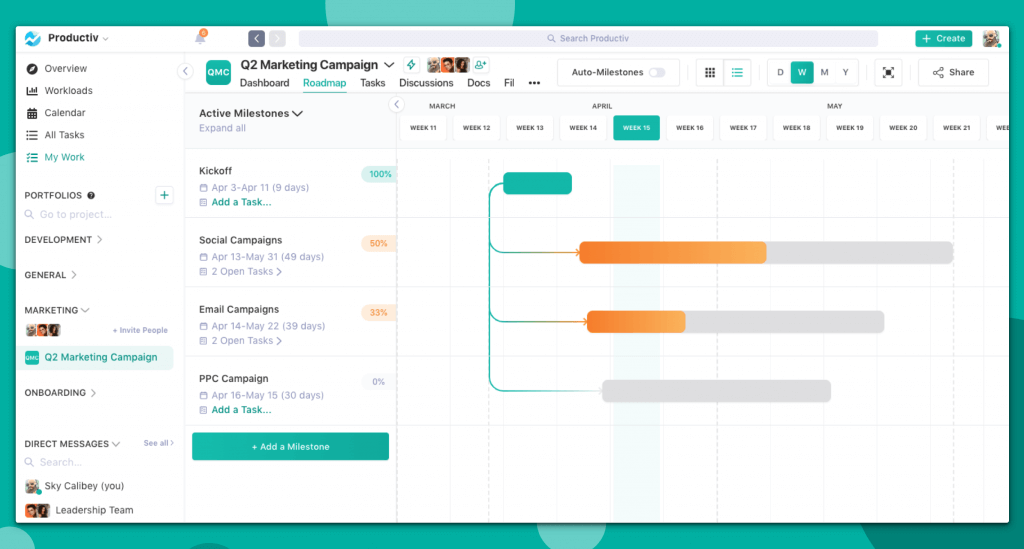 Nifty is a project management tool that allows you to collaborate on big projects with a group of people. It's a collaborative workspace that allows you and your team to plan projects, monitor time, organize documents, and more, all in one spot, like most project management tools. It helps streamline, centralize, and modernize work operations by providing team collaboration, job scheduling, reports, timesheets, and much more.
Key Features:
Different user permissions and roles

Time tracking

Portfolio management

Milestones for better planning

Discussions

Reporting

Milestones

Task management
Pricing:
Includes a free plan for up to 2 projects.

Includes a paid plan of Nifty Starter for $39/month for up to 10 members, Nifty Pro for $79/month for up to  20 members, Nifty Business for $124/month for up to 50 members, and Nifty Unlimited for $399/month with an unlimited number of projects and members.
Chanty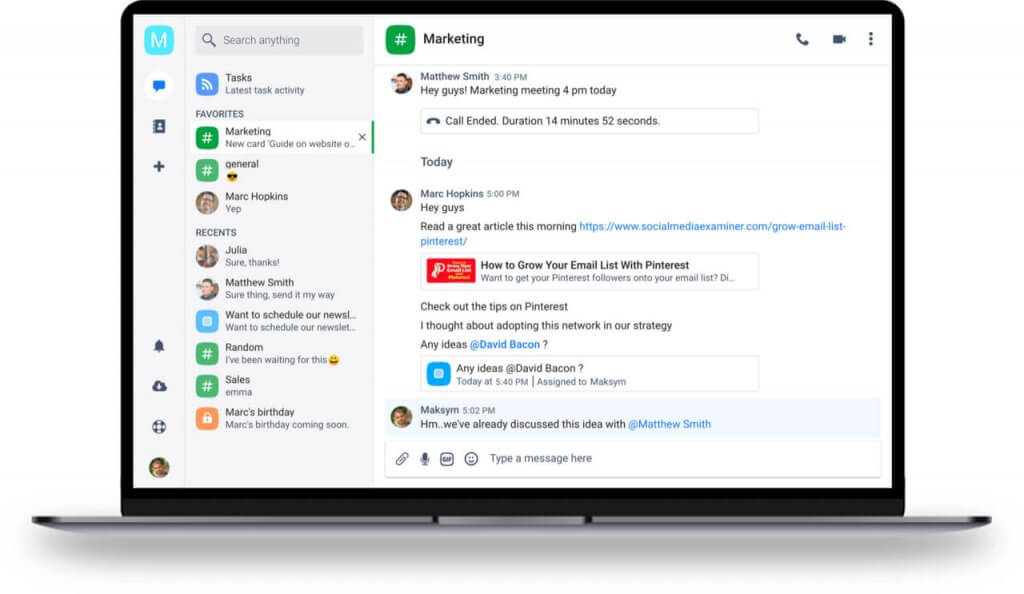 Chanty is a team collaboration tool that helps teams communicate and collaborate enabling them to manage their tasks more efficiently. It promises to increase your team's productivity by 55% with its neatly organized chats and task management boards. The Kanban board feature ar Chanty allows you to optimize your workflow as you enjoy a visually flexible way of switching between tasks. Speaking of tasks, it also lets you convert any message into a task, set a due date to it and follow it for further updates. 
Key Features:
Task management with the Kanban board

Unlimited searchable messaging history

Audio and video calls

Voice messages

Pinned messages

Integration with other apps

Personalized notifications
Pricing:
Free plan up to 10 members.

Paid plan of Chanty Business for $3/user per month.
ClickUp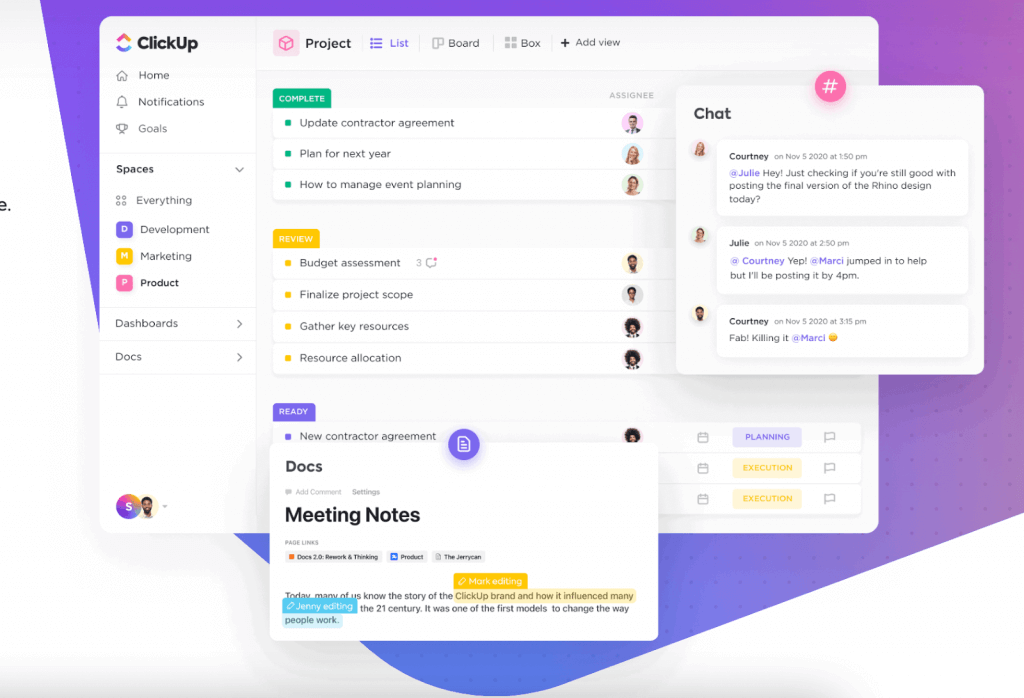 ClickUp is a cloud-based work tool for teams and enterprises of all sizes. It brings together critical business apps and consolidates firm data into a single online solution. Users can choose from eight distinct display options in ClickUp to help them manage tasks and projects. Users of ClickUp can define customized statuses for every project, which can be changed, reordered, and colored to meet the demands of the business.
Key Features:
Task management

Process management

Complete customization of workspace

Third-party app integrations

ClickUp proprietary actions

Team collaboration and reporting

Assigned comments
Pricing:
Includes a free plan for personal use.

Includes a paid plan of Click Up Unlimited for $5/user per month, Click Up Business for $12/user per month, Click Up Business Plus for $19/user per month, and a customizable Click Up Enterprise plan.
Trello: Best Project Management Software for Small Teams (Free Category)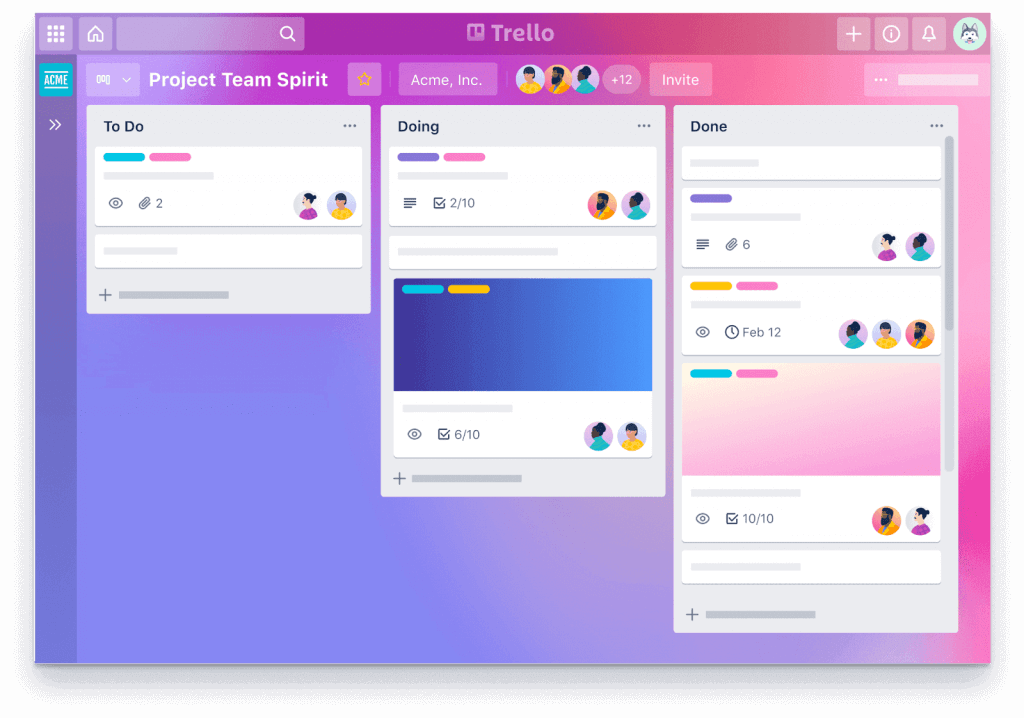 Trello is a dynamic project management software that allows you to visually organize your projects and assignments. Trello is an easy-to-use and interactive way to keep a track of what's on the line and what's done. Consider Trello to be a canvas with rows of yellow notecards, but with a lot more capability and versatility. Trello's strength comes from the cards you organize into a custom list. Tasks, comments, projects, files, and almost anything else that helps your team work efficiently can be put in these cards.
Key Features:
In-line editing

Deadline alerts

Drag and drop cards

Card records archive

Progress meter checklist

Group or individual task assignment

Comprehensive and speedy overviews of cards

Easy organization of cards with tags, labeling, and comments
Pricing:
Includes a free plan

Includes a paid plan of Trello Standard for $5/month, Trello Premium for $10/month and Trello Enterprise for $17.50/month
ProofHub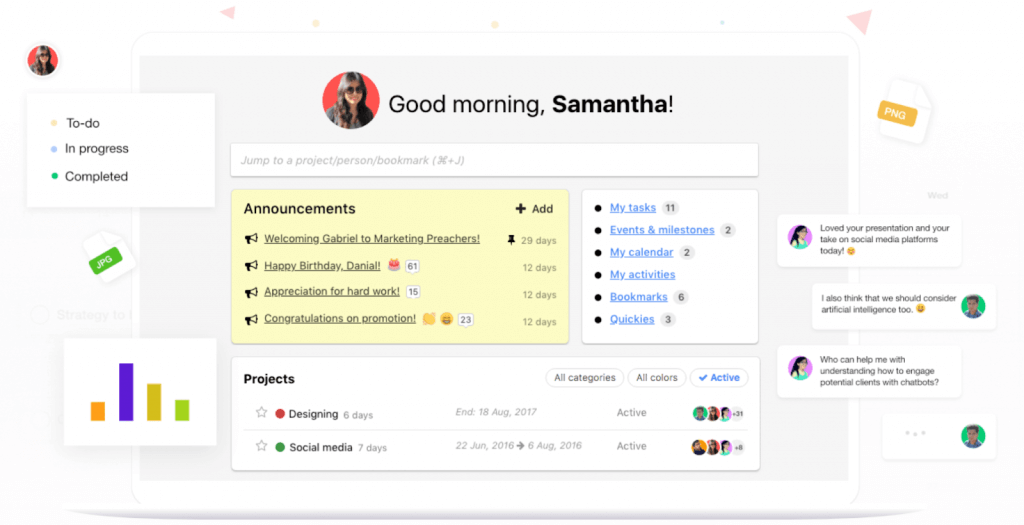 ProofHub , one of the best project management software for small times is a widely used to provide employees with a centralized location for project completion and collaboration. Besides remote collaboration, this program also includes capabilities for improved communication, accessibility, progress monitoring, and transparency. Firms are better able to tackle and complete tasks from the use of it. 
Key Features:
Comes in multiple languages

Kanban board

Customizable report making

Announcement features

Customizable notifications

Activity logs

Time tracker

Multiple integrations
Pricing
Includes a free trial.

Includes a paid plan of ProofHub Standard for $90 flat per month, ProofHub Premium for $135 flat per month, and a customizable premium plan depending on the number of users.
nTask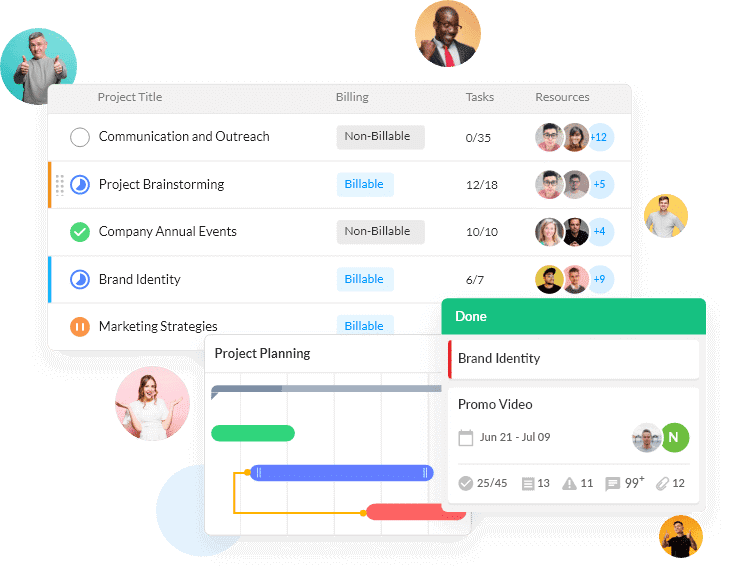 nTask is a project management tool that helps teams complete tasks more quickly and efficiently. nTask is a popular Gantt chart application for both small and big teams. It promises to design and monitor all tasks with dependencies and milestones for task management. They also have some excellent features, such as the ability to establish a schedule, write constructive comments, sync periodic meetings, and schedule follow-up tasks.
Key Features:
Task tracking

Extension features

Project planning

Task planning

Assignment of tasks

Kanban board

Workspace personalization

Timesheets
Pricing:
Includes a free plan of 14-day premium trial.

Includes a paid plan of nTask Business for $12/month and a customizable plan for enterprises.
Proprofs project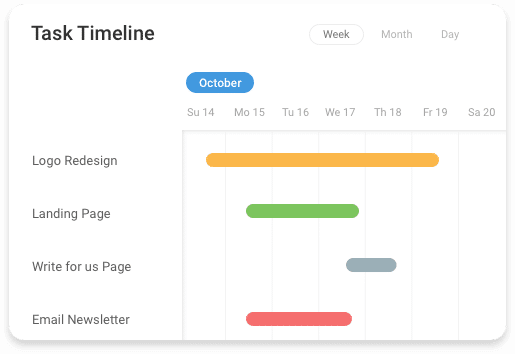 To conclude our list, we chose Proprofs project which is another project management tool used by employees widely. It includes everything you'll need to effectively optimize your team's communication. With online project management software, you may leave input on tasks, receive email alerts about project status, plan projects with teammates using a shared calendar, and share files on the move.
Key Features:
Generate presentation ready reports

Drag and drop projects based on priority 

Task comments and feedback

Multiple integrations

Time tracker

Bill customization

Real time notifications

Timeline reports for tasks
Pricing:
Includes a free trial of 15 days on every plan.

Includes a paid plan of Proprofs Essentials for $2/user per month and a Proprofs Premium for $4/user per month.
Monday.com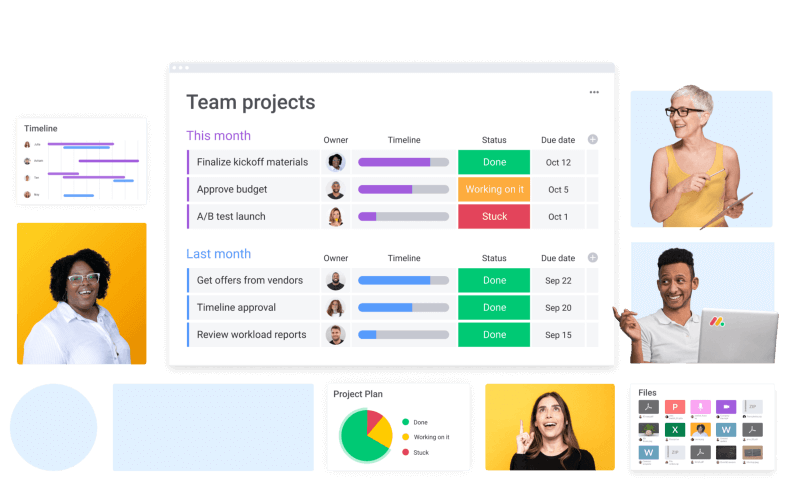 Monday.com serves as the hub for all planning software. Whether you are looking for enterprise project management software, individual project management software, or project management software for small teams, Monday has something for you. In Monday, you can access various tasks, give different attributes to them through colored labels, and then examine them from various perspectives to see what has been completed by whom. It's a simple software that works well for both large and small teams as they can access processes and several projects. It also has some excellent time-tracking capabilities and communication tools.
Key Features:
Task assignment and creation 

Efficient collaborative properties

To-do lists

Intuitive user interface

Drag and drop properties

Easily manageable workloads

Analytics and reporting

Customer support
Pricing:
Includes a free plan for up to 2 seats

Includes a paid plan of Monday Basic for $8/seat per month, Monday Standard for $10/seat per month, Monday Pro for $16/seat per month and a customizable enterprise plan.
Asana; one of the best project management software for small teams (after us 😁)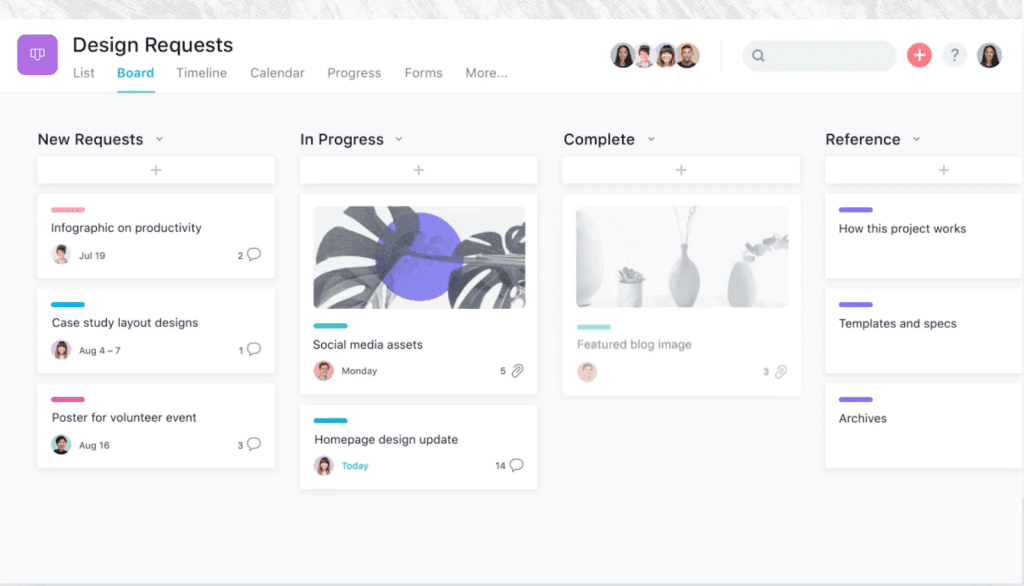 In an ocean of project management software, Asana (also one of the best project management software for small teams) shines out as a powerful solution that supports numerous project management methodologies and gives you complete freedom over how you visualize and organize your work. It has a simple structure of features and a straightforward UI. The menu bar located on the left allows you to access multiple projects, statistics, your inbox, and your personalized task list. The primary area shows a set of projects, their deadlines, and who is responsible for each task. Each task can be assigned to various projects and have a lot of subtask assignments as well.
Key Features:
Customized dashboards

Custom calendar

Individual task lists

Activity feeds

Assignment of subtasks

Tracking of each task or subtask

Prioritization of various tasks

Task or project creation
Pricing:
Includes a free plan.

Includes a paid plan of Asana Premium for $10.99/month and Asana Business for $24.99/month.
Jira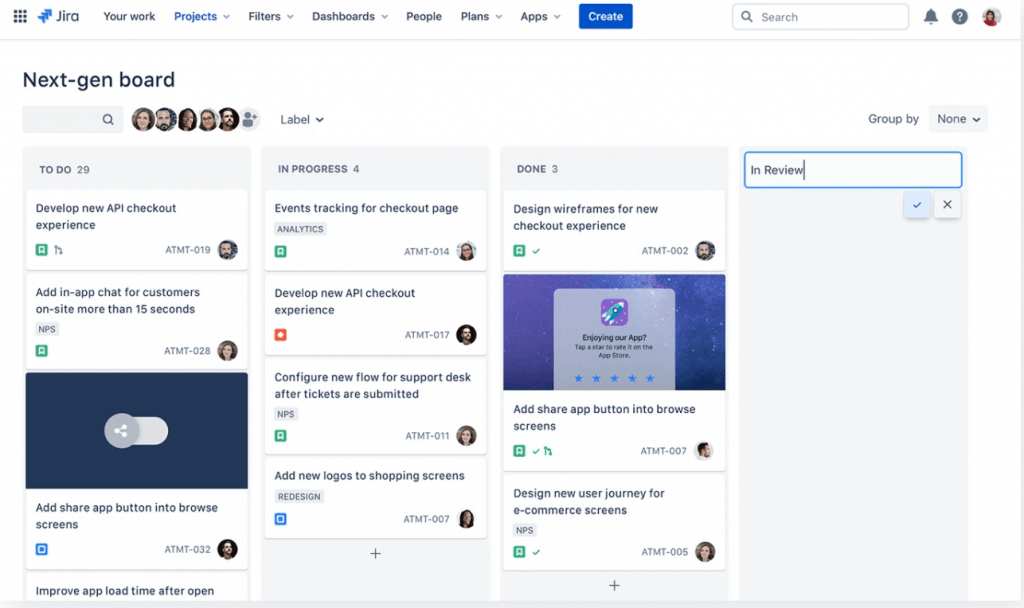 Jira is among the top scrum software available in the market today. It is deeply rooted in the Agile methodology, however anyone unfamiliar with the methods and language of this project philosophy of management will certainly find it ineffective. On the other hand, if you're in an Agile team, Jira is the tool for you as its sole function is to create boards that monitor stories and issues. You can also use them to act as traditional kanban boards. It's being used by both big and small teams all around the world. Jira is an exceptionally helpful tool for a software development organization.
Key Features:
Customizable scrum boards

Individual team actions

Roadmaps to sketch out plans

Kanban boards 

Multiple integrations

Report makings

Real time notifications

Activity logs
Pricing:
Includes a free plan for up to 10 users.

Includes a paid plan of Jira Standard for $7.50/user per month, Jira Premium for $14.50/user per month and a customizable enterprise plan.
ProjectManager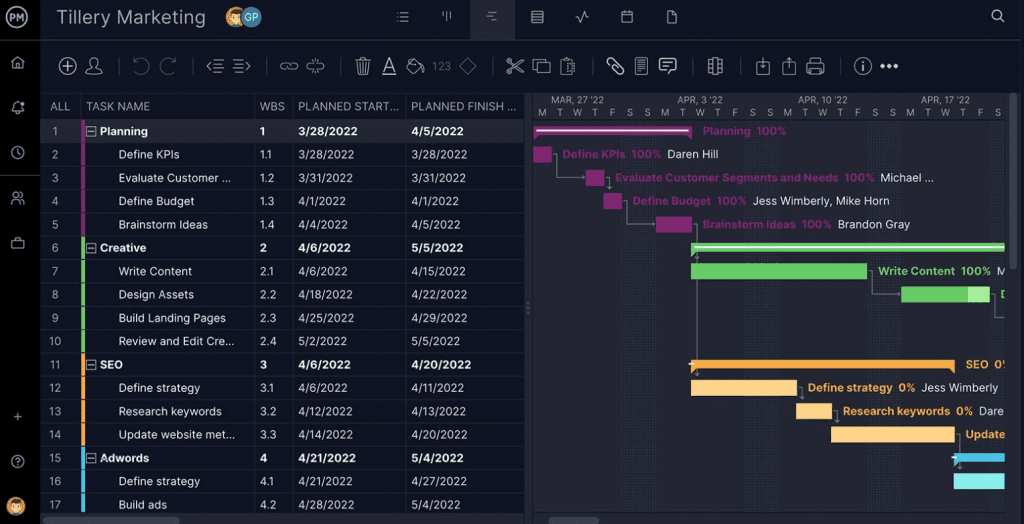 ProjectManager is a comprehensive cloud-based software product that blends collaboration with project planning and scheduling features. It offers a drag-and-drop feature that lets you easily change your timetables while engaging with your team via file attachments and discussions. With its ability to compare anticipated and actual project progress that sets it different from other solutions. This helps you to see how well or poorly your projects are developing and take corrective measures.
Key Features:
Project creation

Task scheduling

Resource allocation

Progress monitoring

Real-time dashboards

Instant reports

Timesheets

To-do lists
Pricing:
Includes a free plan for up to 3 users.

Includes a paid plan of ProjectManager Team for $11.50/user per month, ProjectManager Business for $20.50/user per month and a customizable enterprise plan.
Wrike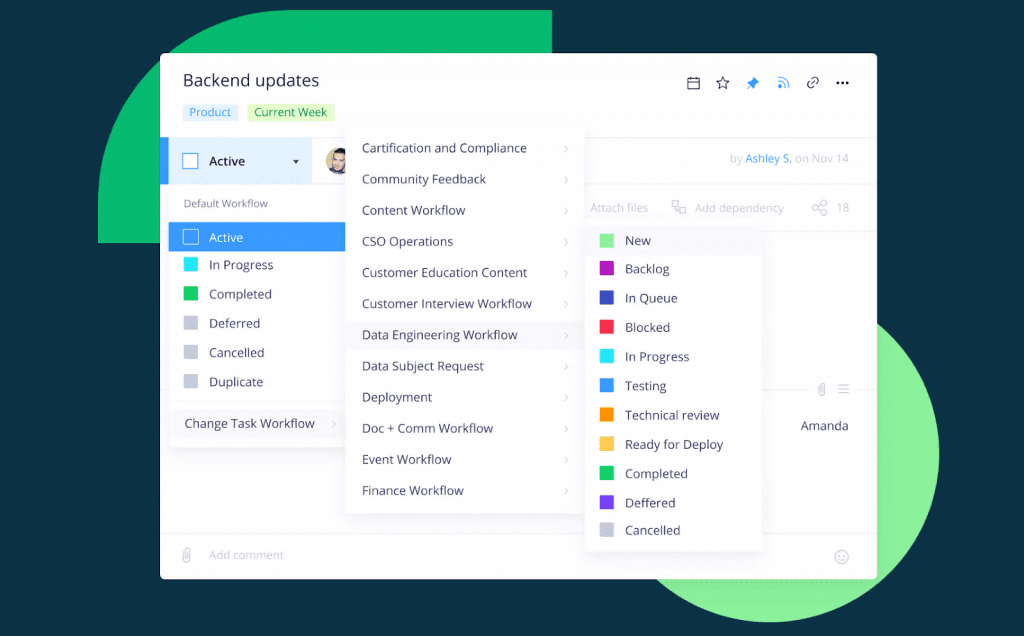 You'll certainly continue to maintain some aspects of your tasks via email, regardless of how strong your project management software is. Through Wrike's built-in email compatibility, you can link your inbox activities to Wrike and keep a track of it all in one place. This email linkage is established within your account, and all you have to do is add and authenticate one or more email accounts. You can use emails to develop a new Wrike task, delegate a task, add attachments, schedule a task, modify the progress status, set task priority, post a comment, and add an assignment to a subsection or multiple folders.
Key Features:
Facilitate collaboration and file sharing with your team

Two-factor authentication support

Multi-pane view to keep everything at reach

Keep a track of work progress and the project plan

Detailed analytics and insights to calculate deliverables

Folders and tags to share and view project data

Requests and forms to fulfill and create tasks

Various charts for visual descriptions
Pricing:
Includes a free plan for up to 5 users.

Includes a paid plan of Wrike Professional for $9.80/user per month, Wrike Business for $24.80/user per plan and a customizable enterprise plan.
Basecamp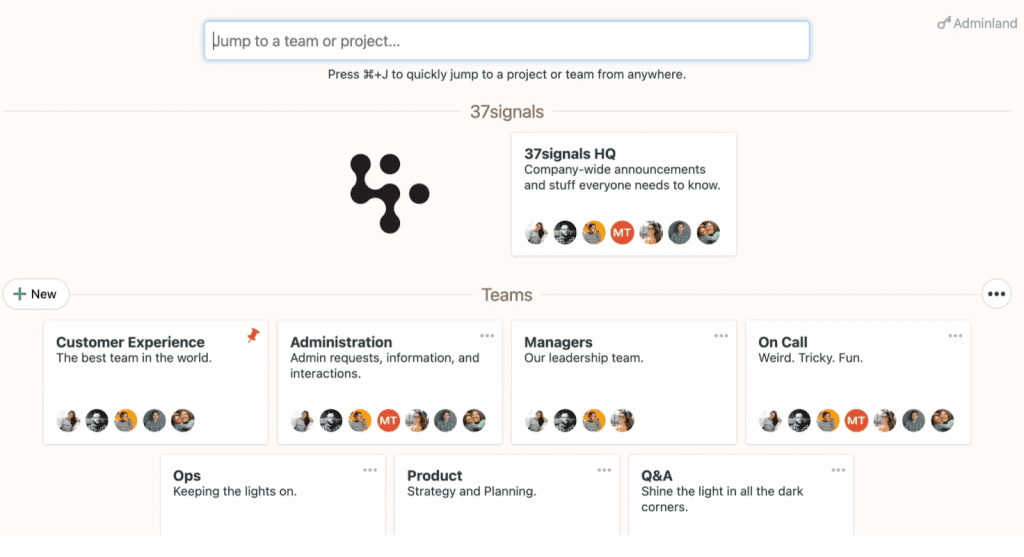 Basecamp is among the most well-known, commonly used, and effective project management platforms for bringing all of your projects together. It accomplishes this by displaying a broad picture of everything going on in your business on your homepage, from which you can drill down to learn more about tasks, individuals, and conversations. Basecamp enables you to publish and exchange files, keep a record of projects in process, and much more. It provides teams with a more efficient way to collaborate than email with a bulletin board, action items, event schedule, and a conversation room, among many other features.
Key Features:
To-do list

Message boards

Schedules

Documents and file storage

Real time group chats

Check-in questions

Client Access

Charts
Pricing:
Includes a free plan of Basecamp Personal.

Includes a paid plan of Basecamp Business for $99/month flat.
Hive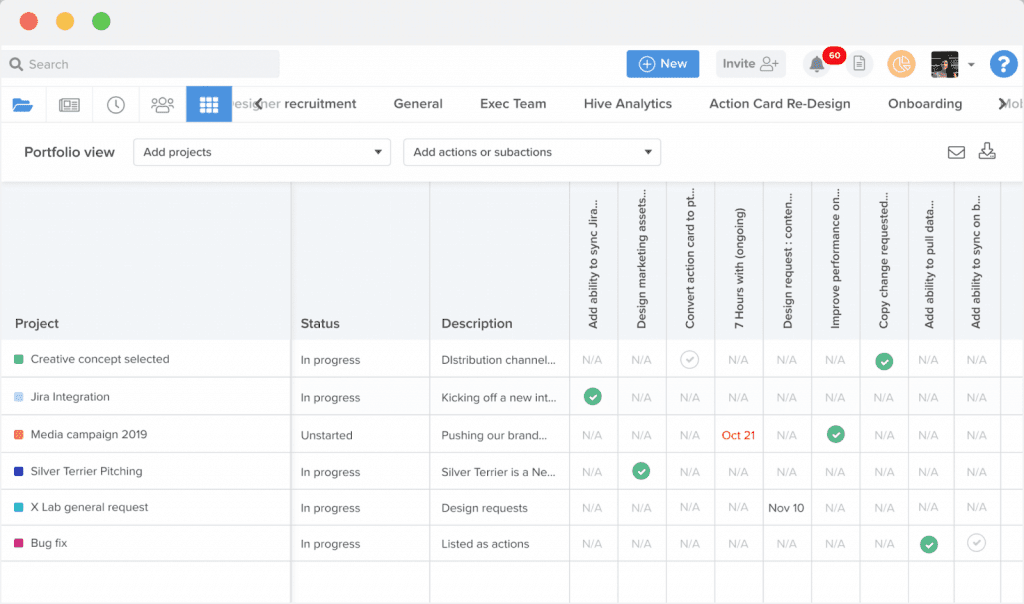 Hive is a complete, straightforward, all-in-one project management software — the only tool you'll need to get your tasks completed. Since it is the world's original democratic productive tool, Hive is unlike any software on the market. Now, precisely, what does all this imply? Hive is continually developing new functionality based on customer feedback on the Hive Forum. You understand what you need from a tool to help you perform more effectively and efficiently, and Hive has a dedicated development team that is dedicated to developing software that meets user needs. It's the only application on the market that's been created by customers for customers.
Key Features:
Integrations and cross-platform

automation tools

 

Intake forms

Flexible project views

Scalable, fast, and uses familiar concepts

Multi-project overviews

Personal to-do lists

Agile tracking

Tables and databases get created first; then data gets loaded into the proper tables
Pricing:
Includes a free plan of Hive Solo.

Includes a paid plan of Hive Teams for $12/user per month and a customizable Hive Enterprise plan.
Airtable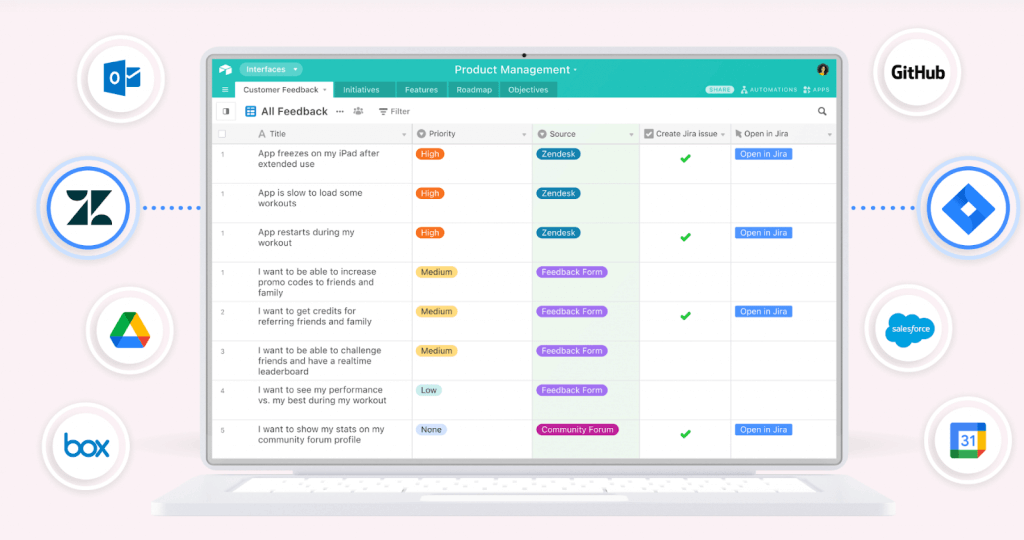 Airtable is an intriguing application since it appears to be old fashioned without actually being so. Airtable is a spreadsheet-based application at its core, but more towards being a well-executed tool as it appears as clean and sophisticated. Unlike the other top competitors on this list, Airtable's primary aspect are spreadsheets, from which all outputs flow. While this may at first appear to be similar to Wrike or Asana in terms of functionality, there are a few important differences. For one thing, there's less area for customized data, and the Kanban board isn't as reactive as specialized tools' boards.
Key Features:
Easy to use interface

Manage inventory data 

Track lists of reference items 

Build a makeshift CRM software

Custom views for different applications

Document storage keeps project files in one place

Task management and tracking 

Integrations
Pricing:
Includes a free plan for up to 5 users.

Includes a paid plan of Airtable Plus for $10/user per month, Airtable Pro for $20/user per month and a customizable enterprise plan.
Best Project Management Software for Small Teams: Emerging Players
 Paymo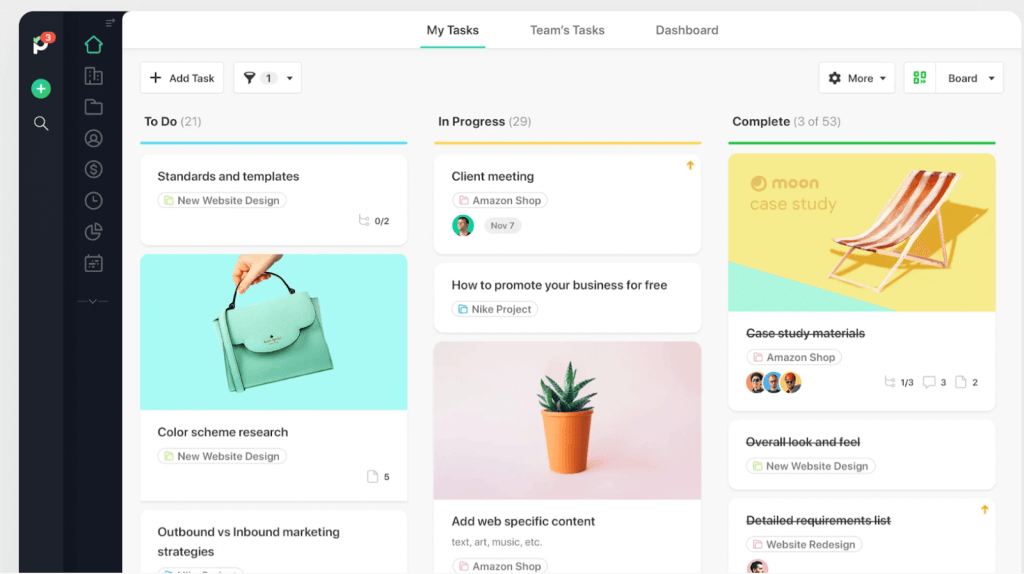 Paymo would suffice if you need to invoice customers but have a highly complicated project job structure. Tasks are established per customer in its invoicing structure, and you can choose whether the task is payable based on hourly rates or a flat price. Because the functionality includes a schedule, you can keep track of how much time you spend on each activity and assignment, and Paymo will generate invoices based on that evidence. Each task has its own set of subtasks, which can be viewed in one of three ways: as a checklist, on a Kanban board, or on a timetable. You may also use Paymo's filters to organize all of your jobs by status, deadlines, and prioritization for each customer and project. You may check timesheets, chat with collaborators, and preserve all project-related data within each project.
Key Features:
Task management

Time tracking

Planning & scheduling

Resource management

File management

Financial management

Team collaboration

Customization
Pricing:
Includes a free plan up to 10 members.

Includes a paid plan of Paymo Small Office for $9.95/user per month and a Paymo Business for $15.79/user per month.
 Yodiz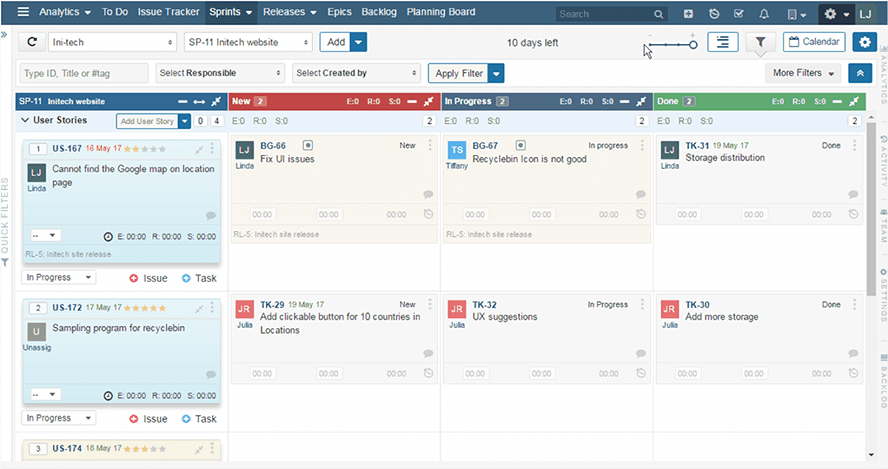 Yodiz is a useful software for Scrum and Agile teams. This agile project management tool allows you to organize your tasks, deliveries, and iterations in a variety of ways, including creating user experiences, nesting story points within epics, creating sprints and setting sprint deadlines, adding estimations in both user story and hours, and viewing sprint performance on sprint boards. Yodiz has distinct sections for a task list, issue tracker, deadlines, milestones, epics, archives, planning board, and flex board, so you can accomplish a lot with it. If you're feeling overwhelmed, the to-do list is a fine place to begin because it gives you an overview of in-progress activities, active user stories, and active issues at the projects, sprints, and releases.
Key Features:
API

Agile Methodologies

Alerts / Escalation

Assignment Management

Audit Trail

Backlog Management

Billing & Invoicing

Bug Tracking
Pricing:
Includes a free plan for up to 3 users.

Includes a paid plan of Yodiz Issue Tracker for $3/user per month, Yodiz Agile Tool for $5/user per month, and a customizable enterprise plan.
 Zoho Projects
Zoho Projects is a widely used project management tool in a variety of sectors. Its extremely customisable interface is the reason behind this. Costume designers to construction companies are among the business users. This merely goes to illustrate how adaptable the programme is. It also comes with many collaborative tools. Components for managing team forums and conversations are also included. This is in addition to standard capabilities such as chat groups, comments, and document sharing.
Key Features:
Kanban boards

Time logging

Budgeting

Expense tracking

Sales force automation

Process management

Omnichannel

Sales enablement
Pricing:
Includes a paid plan of Zoho Standard for $14/user per month, Zoho Professional for $23/user per month, Zoho Enterprise for $40/user per month and Zoho Unlimited for $52/user per month.
Bottom Line
Project management software can make or break the team's effort of completing their tasks efficiently so make sure to choose the best one for your organization. By setting up the desired project management software, you can ensure effective communication and collaboration within and between different teams. With these fourteen on the list, I hope you find the one that suits your team's needs the most; however, it might be suitable to first take a trial for the required software and then fully implement.