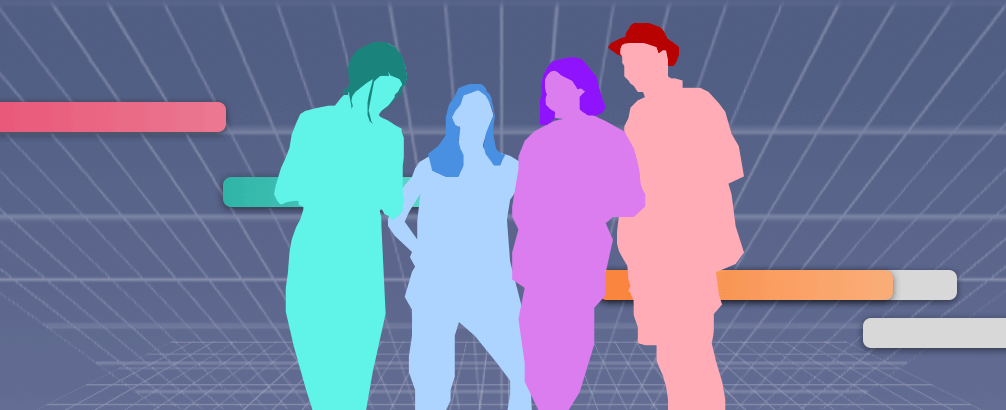 Small teams need to be efficient, focused, and productive.
The best project management software for small teams is designed to help them with this.
Problems arise when there are too many projects to handle or when each project has many moving parts. There is a need for better collaboration, keeping tabs on deadlines, and making sure that all contingencies are planned for.
Studies show that:
67% of projects of organizations that undervalue project management result in failure.
An average of 11.4% of investment is wasted due to poor project performance.
The best project management software for small teams can prevent this. It helps with planning and scheduling. It simplifies collaboration, reporting, budgeting, and time management.
Here is a guide to some of the options for project management software suited to small teams, with pointers to help you make up your mind.
Project Management Software for Small Teams: The Choices
We'll take you through the top sixteen project management solutions available right now. Use this as a starting point for locating project management software for small teams that are a good fit for your company.
1.
Nifty

: Best project management software for small teams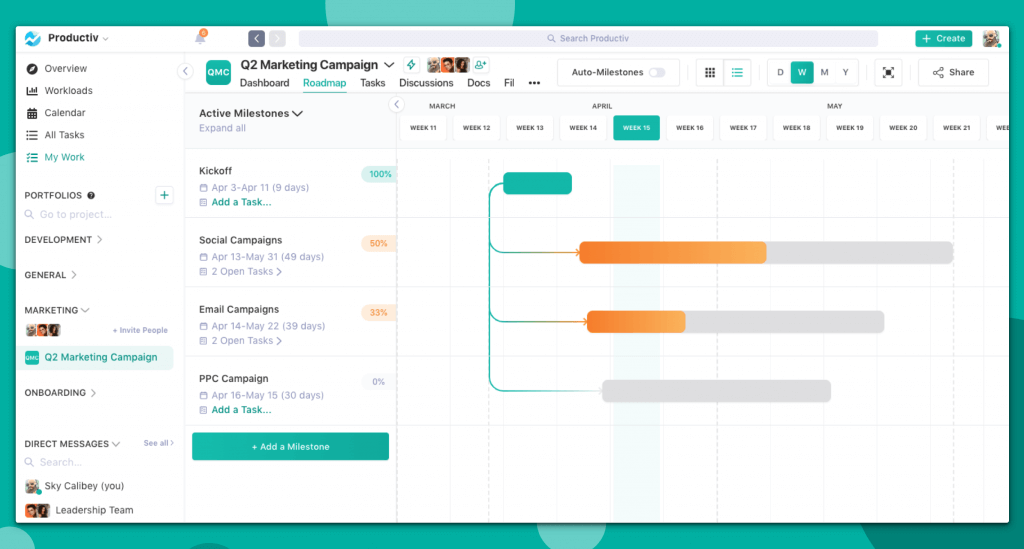 For many, Nifty is the best project management software for small teams. It is designed to be an all-in-one workspace.
With Nifty, team members can focus on managing actual work, instead of juggling tools. With chat, tasks, goals, docs, and files in one place, Nifty becomes a centralized hub for small teams. Actions become goal-oriented, and collaboration becomes focused and easy.
It is designed to keep track of project milestones, stakeholder alignment, and timeline schedules. Tasks can be managed through Kanban, List, and Timeline views.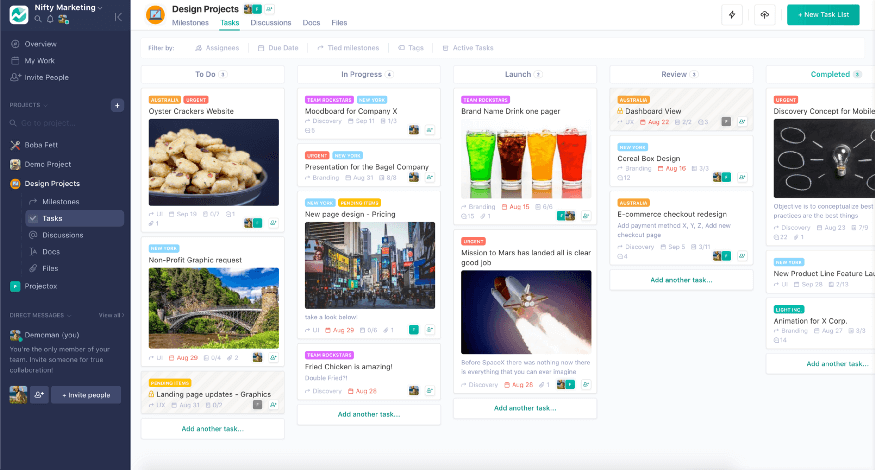 Every project can be linked to an individual discussion thread. Integrations with Google, Outlook, and other popular programs make Nifty even more useful.
The self-serve help center and priority support services mean teams using Nifty will always have the support they need whenever needed.
Key Features:
Milestones for better planning
Portfolios to group projects into folders based on departments, locations, managers, etc.
User roles and permissions
Task dependency planning and tracking
The result? Milestone-driven progress automation keeps stakeholders aligned and ensures team goals are on schedule. 
The interface is tight and functional. One can feel the quality of user experience and effectiveness. Say's one Nifty user
Pricing:
Nifty offers a free forever plan with unlimited users and tasks; with paid plans starting at only $5/month per user, making it one of the best project management software for small teams.
✨ Get started with Nifty for free.
2.
ClickUp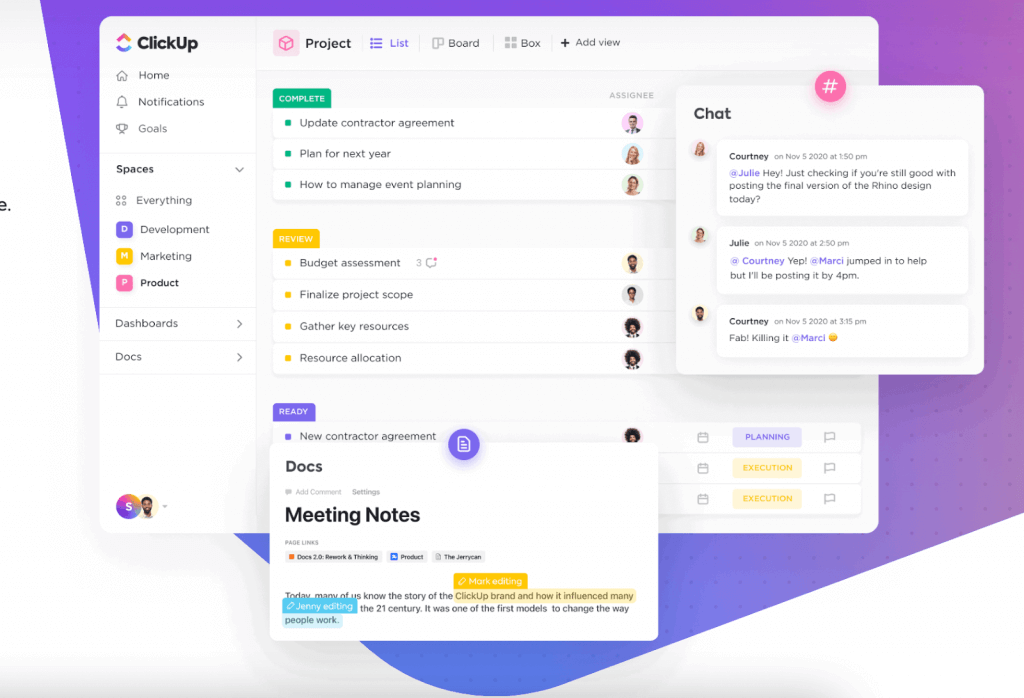 ClickUp lets you quickly organize projects, collaborate with teams, and track goals. It is easily customizable with an attractive and simple UI.
Tasks can be broken down into sub-tasks and can be assigned to team members. This helps with more complex projects. Deadlines can be tracked through graphical interfaces.
Projects can be tracked from start to finish. Resources can be managed via List, Box, Gantt, Board, or Calendar views. Visual widgets can remind team members about essential project indicators.
ClickUp also has several native integrations that allow you to merge project planning with other enterprise applications. Project workflows can be seamlessly streamlined and managed. Overall, it is suitable for small enterprises, start-ups, and non-profits.
Key Features:
Fully customizable software that offers

task management

&

process management

Complete customization of workspace

Third-party app integrations

ClickUp proprietary actions

Team collaboration and reporting
Pricing:
ClickUp has a free slab with limited functionality, and other packages go up to a full-featured Business Plus category. There is an Unlimited tier for small teams at USD 5 per member per month.
3. Chanty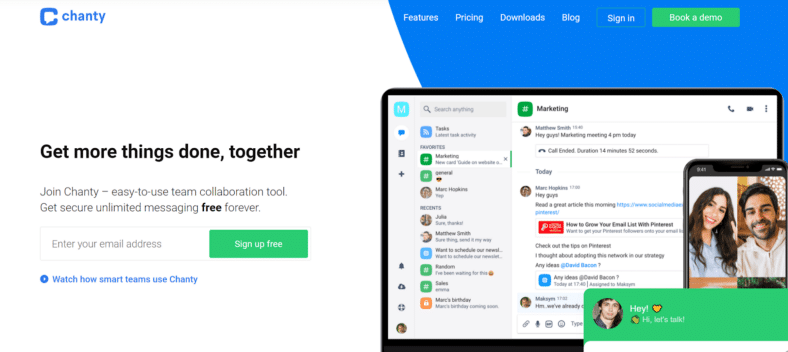 Chanty is a convenient collaboration tool for small teams. It allows them to conduct video and audio calls on multiple devices.
Task management is integrated with the communication aspects. And one can create new tasks from scratch and even convert messages into tasks with related deadlines.
Workflows can be integrated with existing apps that the team may be using. The Kanban board view makes it easy to track status and deadlines. There is also fast file sharing as well as notifications.
Chanty is a single hub for tasks, conversations, messages, and other shared content. The process is secure and encrypted. Tasks can be assigned and filtered by status, dates, and team members.
Key Features
Hub for the entire message history
Multiple content sharing feature
Roles and privileges can be set and controlled
Easy third-party app integration
Pricing
Chanty offers a free plan for teams with up to 10 members. There is also a business plan, starting at USD 3 per user per month, with additional features and unlimited members.
4.
Trello: Best Project Management Software for Small Teams (Free Category)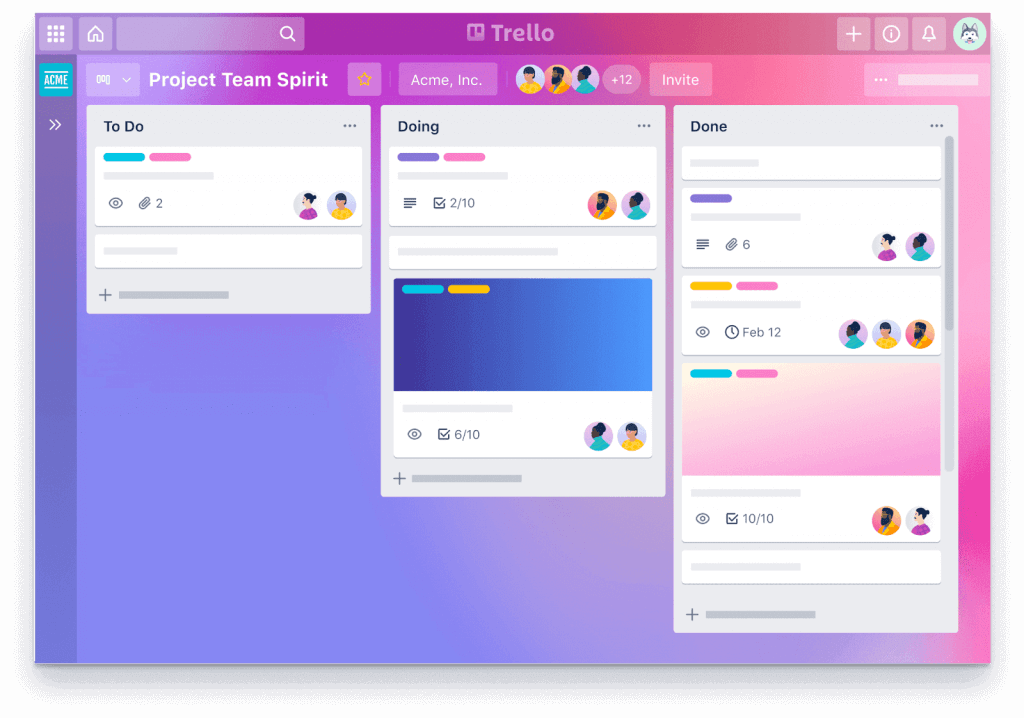 Trello is the best free project management software for small teams, and it can be used via boards, lists, or cards. It offers a clear view of tasks assigned, tasks in progress, and tasks completed.
It has assigned workflows for project-related tasks, from brainstorming to meetings to task management. A timeline view also provides a look at tasks that are coming up.
Integrations allow you to merge Trello's capabilities with other apps used by the team. Trello also allows you to automate simpler project tasks. The cards and boards are designed to be simple, flexible, and intuitive. Each can have attachments, labels, lists, and descriptions, making it easy to track necessary information.
Key Features:
Multiple views to manage projects
Customized templates for different sectors
Automated tasks and workflows
Plug-ins to link other team tools
Pricing:
Trello has a free tier and a Standard tier at USD 5 per user per month if billed annually. This tier makes sense for small teams that need to manage work and scale collaboration.
5.
ProofHub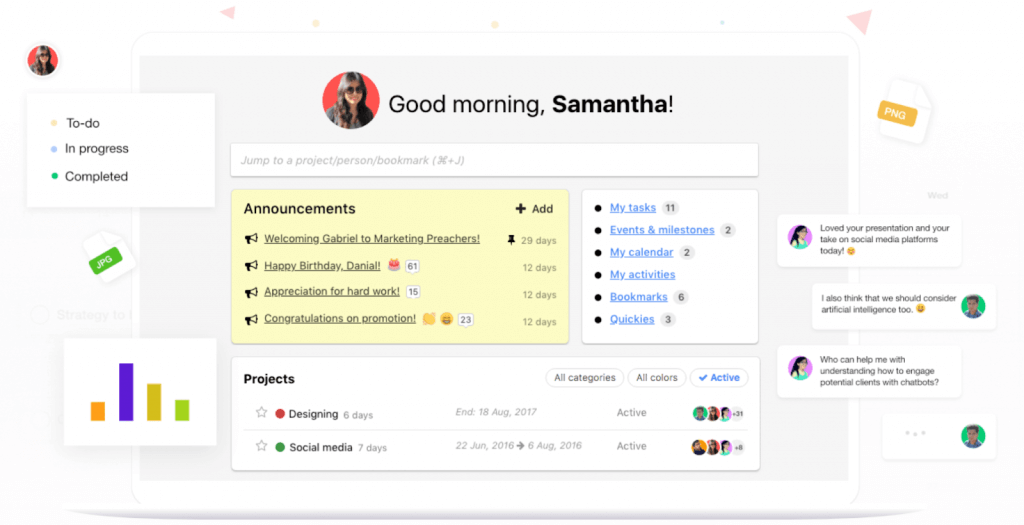 ProofHub is project management software that provides multiple team tools under one roof. It gives small teams better control over projects.
Among the advantages of ProofHub is the ability to track on-time deliveries and assign accountability. It also has a simple learning curve.
Project leaders can plan, collaborate, organize, and deliver projects of all sizes through table views, Kanban boards, and Gantt charts. You can also create custom workflows. This project management software for small teams offers robust integration capabilities and integrates with apps such as Google Calendar, Dropbox, Google Drive, OneDrive, and Outlook.
ProofHub has the ability to assign custom fields, labels, and milestones to projects for better tracking. There is a daily agenda and capabilities to check task dependencies and categories.
Key Features:
Table, board, and Gantt views
Shared team calendars
Customized project templates
Milestone and overview features
Pricing
There is a free trial. After that, small teams can opt for a USD 45 per month package billed annually. This allows you to manage 40 projects with unlimited users and 15GB of storage.
6.
nTask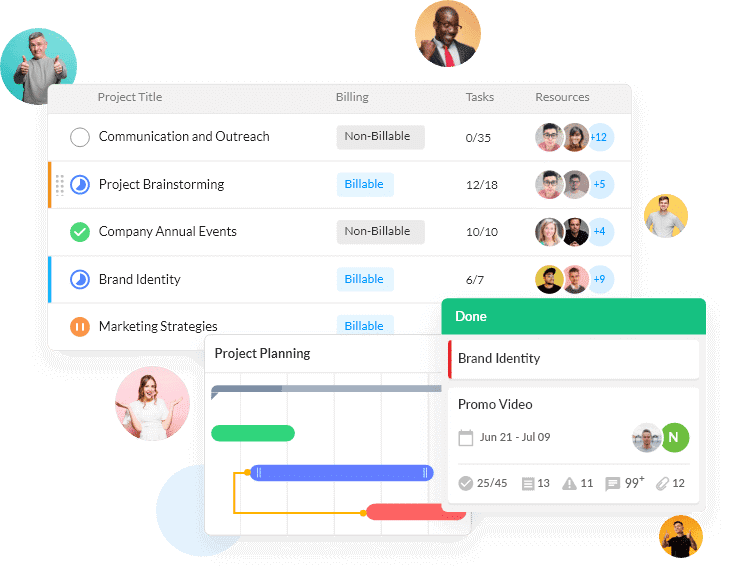 With nTask, smaller teams can break down large projects and enable members to collaborate, plan, analyze, and manage daily tasks. Its features help with project planning, resource management, task dependencies, and financial summaries.
Kanban boards provide helpful overviews. List, Grid, and Calendar views make task management simpler.
The collaboration tools of nTask can improve team accountability and transparency via better communication and task allocation. Time tracking is also made convenient.
To-do lists, issue tracking, and meeting management are other aspects of nTask that help small teams to coordinate and plan activities productively. It can be integrated with over 1000 other apps.
Key Features:
Kanban boards and Gantt charts
Team and meeting management
Online risk management
Pricing:
There is a free seven-day trial. After that, teams can opt for a Business plan at USD 8 per month, billed yearly, or a more basic USD 3 per month plan, billed yearly.
7.
Proprofs project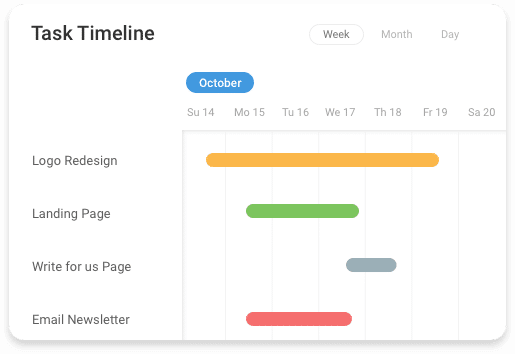 ProProfs Project is a project management software that promises small teams can plan, work and deliver on time. Collaborations become simpler as due dates and progress can be tracked.
ProProfs can be used to create billable time and invoices across projects with reports. It also allows teams to discuss and collaborate on projects in real-time. Other real-time advantages are checking on completed tasks and assigning new ones.
A simple dashboard is displayed to offer overall project visibility at a glance —the built-in analytics help to identify potential bottlenecks so that managers can create risk mitigation plans.
Key Features:
Single dashboard to check progress and resource allocation
Gantt charts to visualize milestones
Time tracking abilities
Industry-specific invoice generation
Pricing:
There is a free 15-day trial period. Post this, small teams can choose an annual plan at USD 39.97 per month, which provides access to all the features, support, and a dedicated onboarding manager.
8.
Monday.com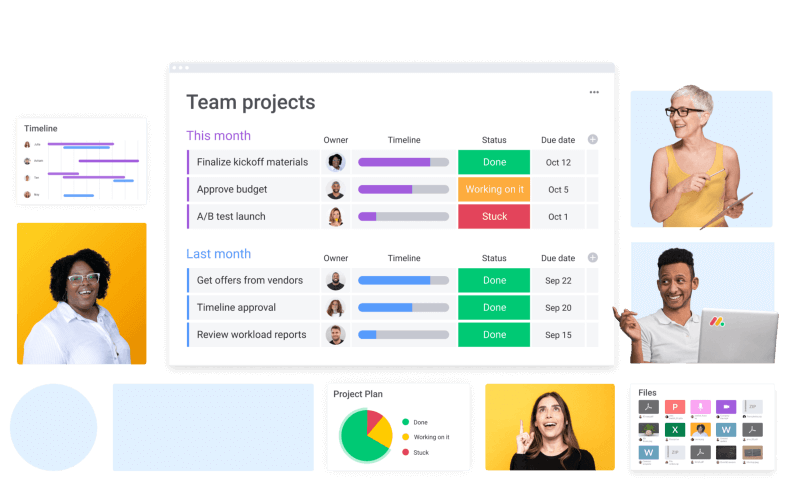 Monday offers project management capabilities claim to create better alignment, Efficiency, and productivity for small teams. It can customize any workflow to fit your needs.
Work, processes, tools, and files can be streamlined and centralized. Automated real-time notifications lead to organizational collaboration. Dashboards provide a high-level overview of projects and progress.
Visual boards can be tailored for tasks and departments. Similarly, there are tailored workflows for different needs.
Check out why Nifty is an ideal Monday alternative
Monday.com also lets you create separate use cases for finance, operations, design, and more. There are readymade templates to kick off work, which can be tweaked to match the project's needs.
Key Features:
Dashboards and widgets for real-time insights
Integrations for seamless work processes
Gantt charts for project visualizations
Easy add-ons for marketing, management, and productivity
Pricing:
For small teams, Monday has a basic plan of USD 8 per user/month when billed annually. There is also a standard plan which costs USD 10 per user per month. It includes features for collaboration and optimization.
9.
Asana; one of the best project management software for small teams (after us 😁)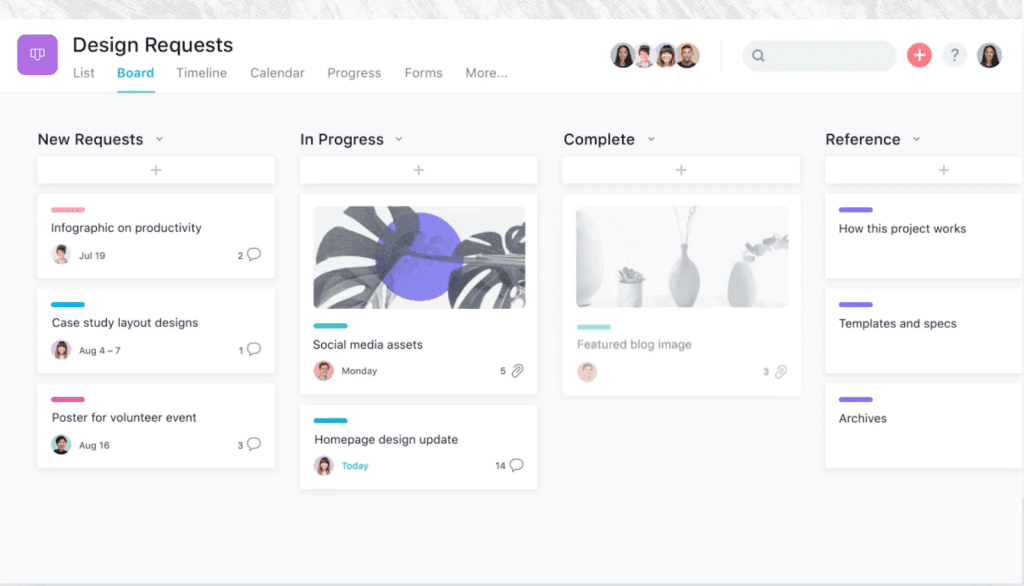 With Asana, small teams can make plans, check progress, and discuss work in one place. Asana's Timeline helps in creating projects and planning deliverable dates and dependencies. Hence, changes can be swiftly incorporated.
Project details and requests can be assigned to team members, along with real-time status updates. Sensitive work can be protected by assigning roles and permissions.
Pre-assigned templates let you control and manage workflows. Plenty of integrations across apps create a seamless experience for teams who are used to working with other apps. Common tasks can be automated to free up time as well as reduce errors.
Key Features:
Automated workflow builders
Gantt charts and other visual timelines
Centralized dashboard for goals and strategic milestones
Workload management to distribute tasks
Pricing:
There is a free basic plan with limited features and collaboration. This makes it one of the best free project management software for small teams.
Small teams can also opt for a premium plan billed as USD 10.99 per user per month, charged annually, and has extended project management features.
10.
Jira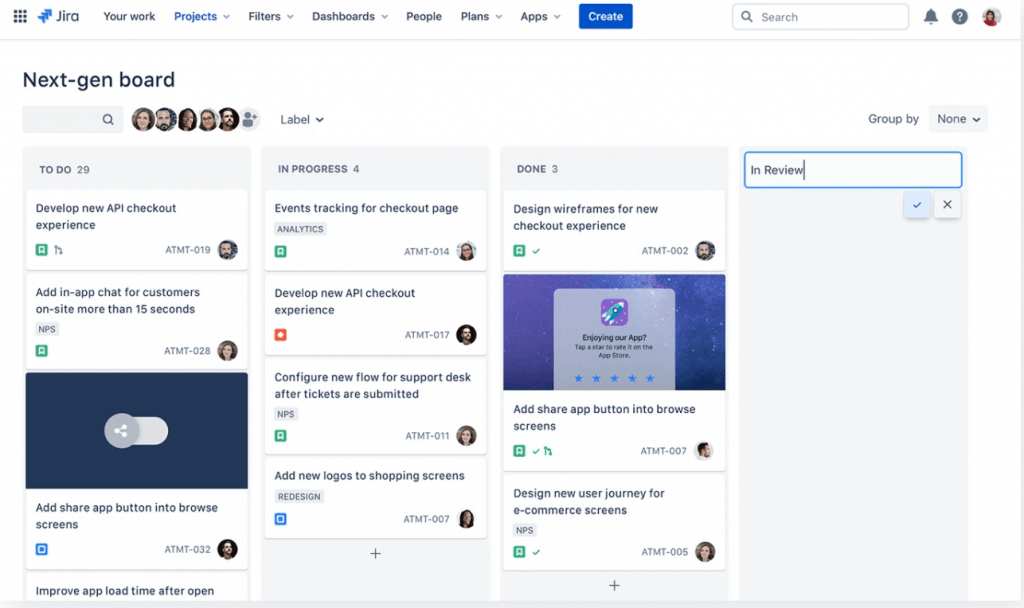 Small teams use Jira to create workflows, charge collaboration and move work forward. It supports Scrum and other methodologies. Teams can start with basic features and then proceed with more advanced ones.
Teams can start with a pre-assigned template and then move on to customized workflows. This can increase transparency and maximize productivity. With Jira, teams can create roadmaps for the big picture, enhance communication and keep members on the same page.
A no-code builder can create automated rules; the reporting features provide detailed insights. This leads to more visibility and project knowledge. Teams that use other software will find numerous seamless integrations to make their work easier.
Key Features:
Agile and Scrum boards for easy visualization and tracking
Roadmaps to measure progress
Report and insights
Flexibility with tweaked workflows
Pricing:
There is a free tier for up to ten users. A useful standard tier costs USD 7.75 per user per month. This allows thousands of users to get the benefit of Jira's features for single projects.
11.
ProjectManager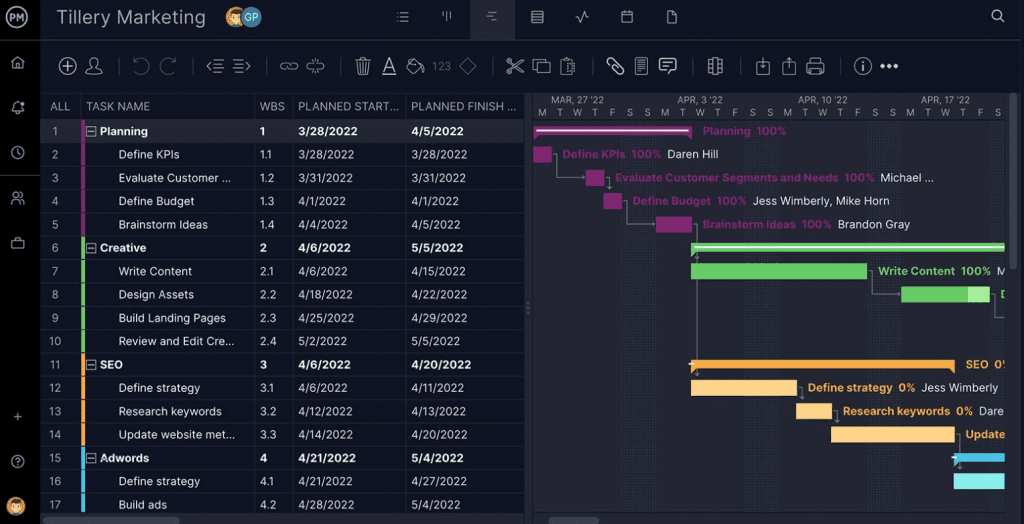 With Project Manager, teams can collaborate, plan projects and manage resources. They get insights into progress and profitability with a real-time budget and resource tracking.
Teams can adjust schedules and workload allocation. Team members can access their own schedules and tasks. The collaborative aspects allow them to share updates and speed up progress.
Dynamic views, whether a Kanban board, Gantt chart, spreadsheet, calendar, or simple task list, can easily be enabled. There are pre-set templates along with native integration with other common productivity tools. Project Manager also has drag-and-drop functionality for easy changes in schedules and re-assignments.
Key Features:
Real-time progress tracking
Reporting features for data-driven insights
Different project views
Sector-specific templates
Pricing:
There is a team tier at USD 13 per user per month, which enables planning and collaboration. The business tier allows teams to access advanced project, portfolio, and resource management features at USD 24 per user per month.
12.
Wrike

: Best project management software for small creative teams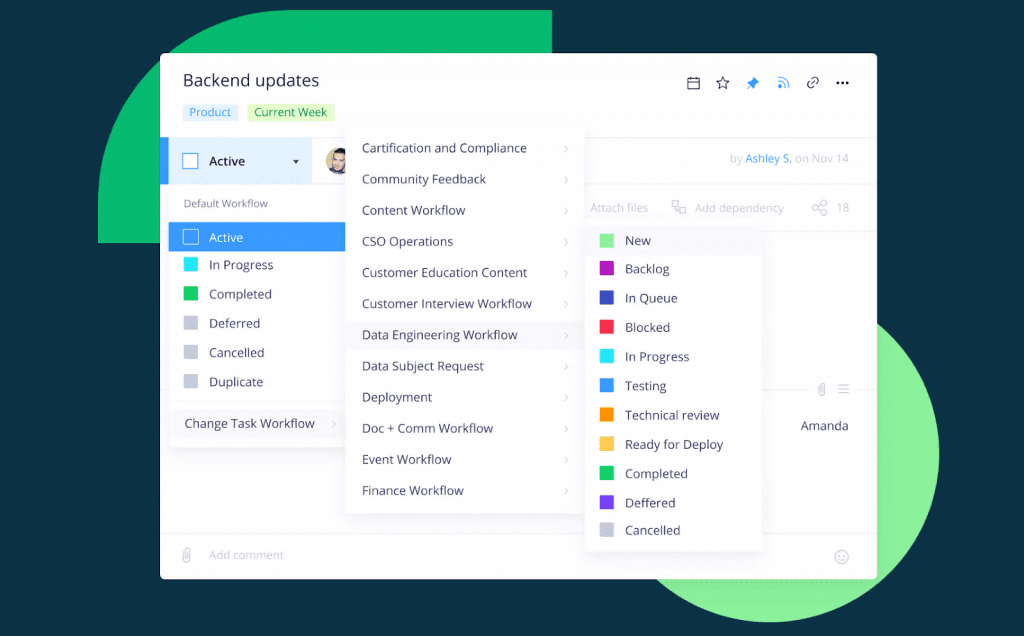 You'll certainly continue to maintain some aspects of your tasks via email, regardless of how strong your project management software is. Through Wrike's built-in email compatibility, you can link your inbox activities to Wrike and keep a track of it all in one place.
This email linkage is established within your account, and all you have to do is add and authenticate one or more email accounts. You can use emails to develop a new Wrike task, delegate a task, add attachments, schedule a task, modify the progress status, set task priority, post a comment, and add an assignment to a subsection or multiple folders.
Key Features:
Facilitate collaboration and file sharing with your team

Two-factor authentication support

Multi-pane view to keep everything within reach

Keep a track of work progress and the project plan
Pricing:
Includes a free plan for up to 5 users. It has a paid plan of Wrike Professional for $9.80/per user per month, Wrike Business goes for $24.80/per user per month, and a customizable enterprise plan.
13.
Basecamp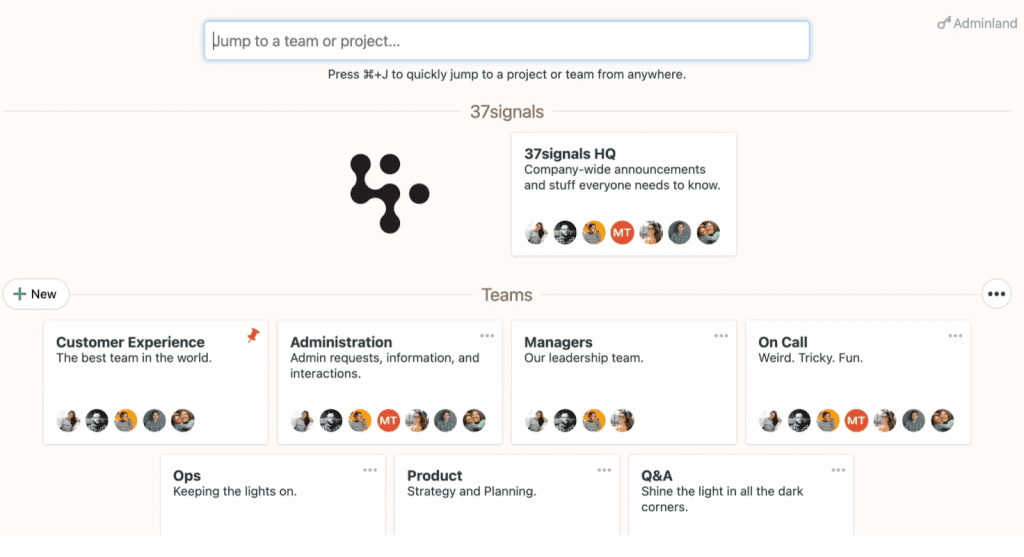 Basecamp is among the most well-known, commonly used, and effective project management platforms for bringing all of your projects together. It accomplishes this by displaying a broad picture of everything going on in your business on your homepage, from which you can drill down to learn more about tasks, individuals, and conversations.
Basecamp enables you to publish and exchange files, keep a record of projects in process, and much more. It provides teams with a more efficient way to collaborate than email with a bulletin board, action items, event schedule, and a conversation room, among many other features.
Key Features:
To-do list

Message boards

Documents and file storage

Real-time group chats

Charts
Pricing:
Basecamp Personal is available for free, and Basecamp Business starts at $99/month flat.
14.
Hive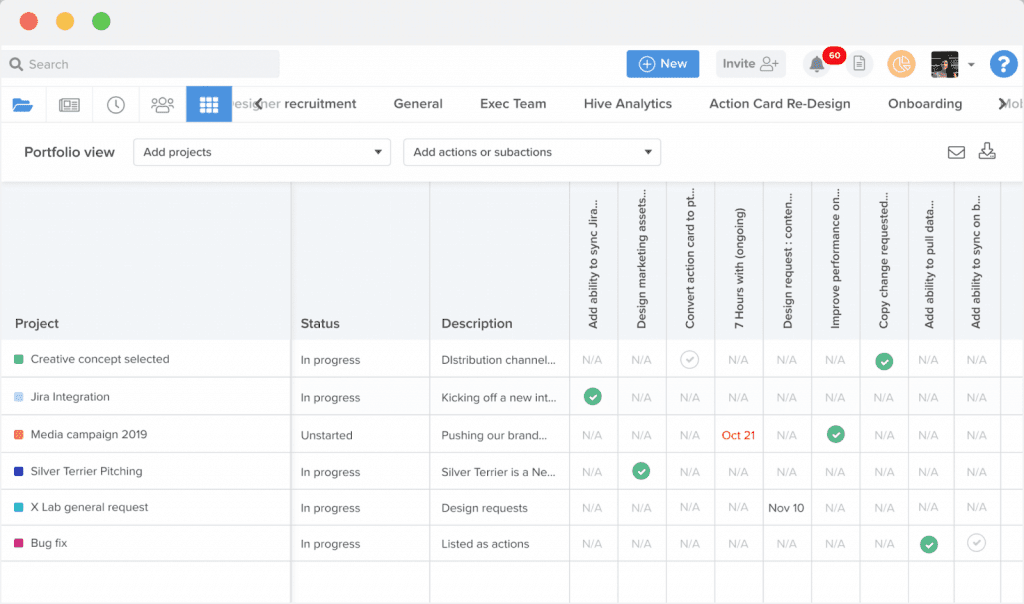 Hive is a complete, straightforward, all-in-one project management software — the only tool you'll need to get your tasks completed. Since it is the world's original democratic productive tool, Hive is unlike any software on the market. Now, precisely, what does all this imply? Hive is continually developing new functionality based on customer feedback on the Hive Forum.
You understand what you need from a tool to help you perform more effectively and efficiently, and Hive has a dedicated development team that is dedicated to developing software that meets user needs. It's the only application on the market that's been created by customers for customers.
Key Features:
Integrations and cross-platform

automation tools

Intake forms

Flexible project views

Scalable, fast, and uses familiar concepts

Tables and databases get created first; then,

data gets loaded into the proper tables
Pricing:
The Hive Solo plan is available for free. Hive Teams is available for $12/per user per month, and there's also a customizable Hive Enterprise plan.
15.
Airtable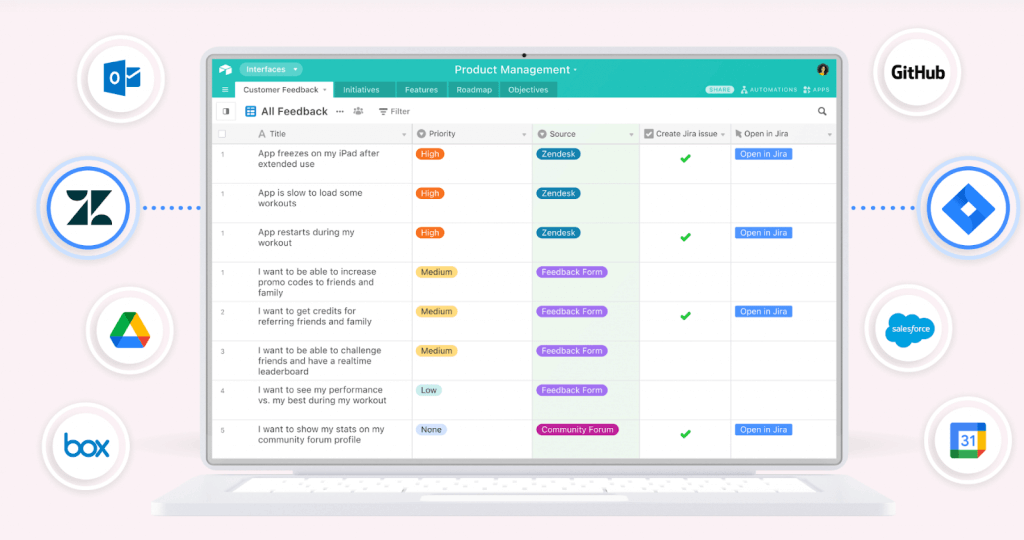 Airtable is an intriguing application since it appears to be old-fashioned without actually being so. Airtable is a spreadsheet-based application at its core, but more towards being a well-executed tool as it appears as clean and sophisticated.
Unlike the other top competitors on this list, Airtable's primary aspect is spreadsheets, from which all outputs flow. While this may at first appear to be similar to Wrike or Asana in terms of functionality, there are a few important differences.
For one thing, there's less area for customized data, and the Kanban board isn't as reactive as specialized tools' boards.
Key Features:
Easy to use interface

Manage inventory data

Track lists of reference items

Build a makeshift CRM software

Integrations
Pricing:
Airtable offers a free plan for up to 5 users. A paid plan of Airtable Plus is for $10/per user per month, Airtable Pro is for $20/per user per month, and a customizable enterprise plan.
Best Project Management Software for Small Teams: Emerging Players
16. Paymo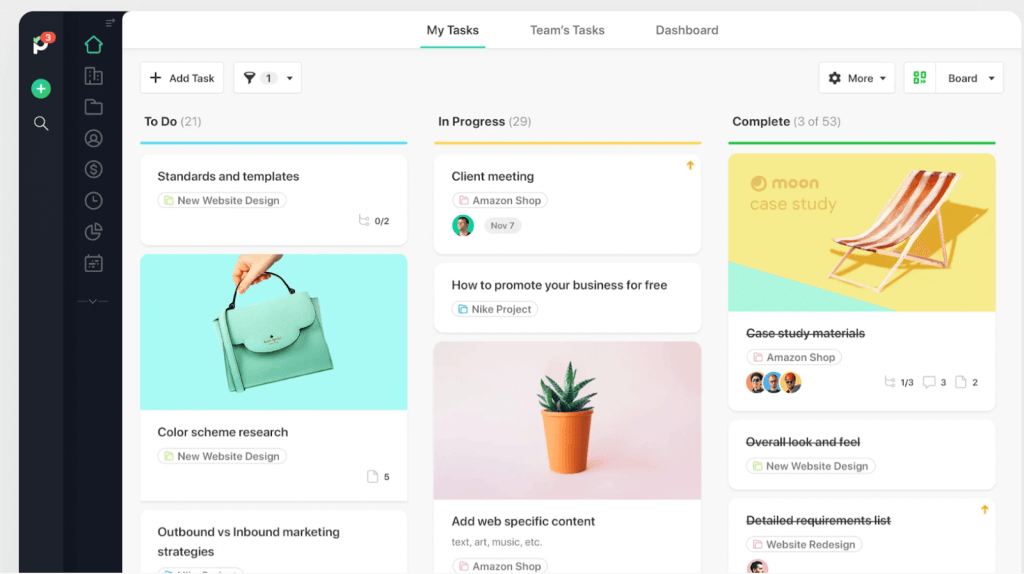 Paymo would suffice if you need to invoice customers but have a highly complicated project job structure. Tasks are established per customer in its invoicing structure, and you can choose whether the task is payable based on hourly rates or a flat price.
Because the functionality includes a schedule, you can keep track of how much time you spend on each activity and assignment, and Paymo will generate invoices based on that evidence. Each task has its own set of subtasks, which can be viewed in one of three ways: as a checklist, on a Kanban board, or on a timetable.
You may also use Paymo's filters to organize all of your jobs by status, deadlines, and prioritization for each customer and project. You may check timesheets, chat with collaborators, and preserve all project-related data within each project.
Key Features:
Task management

Time tracking

Planning & scheduling

Resource management

&

File management
Pricing:
The tool offers a free plan for up to 10 members. A paid plan of Paymo Small Office for $9.95/user per month and a Paymo Business for $15.79/user per month.
17. Yodiz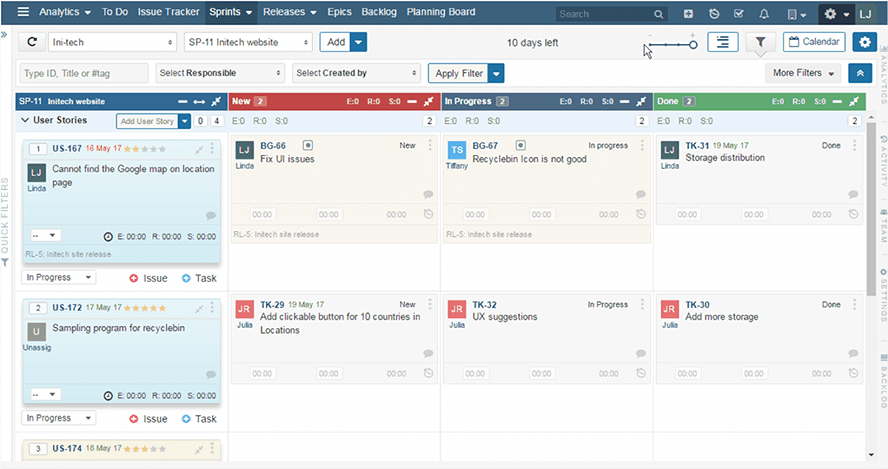 Yodiz is a useful software for Scrum and Agile teams. This agile project management tool allows you to organize your tasks, deliveries, and iterations in a variety of ways, including creating user experiences, nesting story points within epics, creating sprints and setting sprint deadlines, adding estimations in both user story and hours, and viewing sprint performance on sprint boards.
Yodiz has distinct sections for a task list, issue tracker, deadlines, milestones, epics, archives, planning board, and flex board, so you can accomplish a lot with it. If you're feeling overwhelmed, the to-do list is a fine place to begin because it gives you an overview of in-progress activities, active user stories, and active issues at the projects, sprints, and releases.
Key Features:
Assignment Management

Audit Trail

Backlog Management

Billing & Invoicing

Bug Tracking
Pricing:
Yodiz has a free plan for up to 3 users. Paid plan of Yodiz Issue Tracker for $3/user per month, Yodiz Agile Tool for $5/user per month, and a customizable enterprise plan.
18. Zoho Projects
Zoho Projects is a widely used project management tool in a variety of sectors. Its extremely customizable interface is the reason behind this. Costume designers to construction companies are among the business users.
This merely goes to illustrate how adaptable the program is. It also comes with many collaborative tools. Components for managing team forums and conversations are also included. This is in addition to standard capabilities such as chat groups, comments, and document sharing.
Key Features:
Kanban boards

Time logging

Omnichannel

Sales enablement
Pricing:
Paid plan of Zoho Standard for $14/per user per month, Zoho Professional for $23/per user per month, Zoho Enterprise for $40/per user per month, and Zoho Unlimited for $52/per user per month.
How to choose the right project management software for small teams
What are the points to keep in mind when it comes to choosing the best project management software for small teams?
Here are the important ones that you can consider.
1. Identify the issues
Think about the day-to-day issues you face when it comes to completing projects on time and according to expectations. Are there communication gaps? Or are team members overworked? Are there too many complex aspects to keep track of?
You can then choose project management software that addresses these concerns. For example, Nifty can be used to keep track of project milestones, keep stakeholders aligned, and navigate schedules.
2. Get team feedback
You can also ask your team what they need in order to make their tasks achievable. Perhaps they seek more collaboration. Or it could be that they need real-time status updates. They may seek more clarity on how their roles affect the entire project. There are many software that are designed to take care of these aspects.
3. Consider cost options
For small teams, the cost is an important issue. When choosing software, you should consider the right package that will not eat into your monthly budget. Take a long-term view and check whether the costs can be amortized in the coming financial quarters.
4. Take test runs
Many software packages have trial periods. You can opt for one of them and test it thoroughly during that time. If it exceeds expectations, you know that it is worth going for the paid option. For example, Nifty has a 14-day free trial.
In Conclusion
Small teams must choose the right project management software to increase efficiency, reduce costs, and ensure projects get completed on time.
There is a wide choice out there, from Nifty to other options. The correct choice will help managers create and assign tasks, track deadlines, and manage resources as best as possible.
FAQs:
How do you manage a small project team?
Make sure that there is enough capacity for the upcoming project.
Set shareholder expectations before commencement.
Be clear about project milestones and task dependencies, if any.
Insist on regular communication.
Can project management software be used in small projects?
The right project management software can definitely be used for small projects. In fact, it can even help you scale up. Make sure you identify the important issues that the team is facing and choose software that will address them. Features such as graphical representations of schedules, collaboration, and task allocation will greatly benefit small teams.